WESTERN CAPE NEWS - Today I chaired an Extended Cabinet Bosberaad with municipalities, attended by the Western Cape Government Cabinet, Heads of Department, Mayors of District and Local Municipalities, as well as Municipal Managers.
To ensure that we adapted to the "new normal" of conferencing, the engagement was organised as a 'hybrid' session – with many participants attending via the digital platform MS Teams.
The purpose of the meeting was to further our work on recovery interventions for the Western Cape that create jobs, ensure safety and realise dignity and well-being for all our people. Local government is an essential partner in making this happen, and our goal is to ensure a joined-up response.
In my introduction, I made clear that we have to keep on with our province-wide Covid-19 response, so that we continue to flatten the curve, and extinguish bushfires wherever they occur. We must be an outlier and not allow a second wave in our province, and we need to work with all our residents so that we can avoid this potential future spike.
But I also emphasized that we must keep on moving forward and ensure that we recover from this crisis. In doing so we must learn from the agility and innovation that we demonstrated during the Covid-19 pandemic and replicate it with similar courage and determination so that we get the job done.
We had a positive discussion on the importance of thinking differently, despite the very serious challenges facing us and the growing number of tasks expected of municipalities because of ineffective national government. We need to keep on getting our clean audits and doing whatever we can to realise these three priorities in line with our respective mandates, but we need to find new ways of getting it done.
We must cut through the red-tape and deliver innovatively, efficiently and cost-effectively.
I was particularly pleased with the discussion on steps being taken to create jobs across the province. Input included boosting digital skills in municipalities, allowing small towns to become work-from-home hubs for people in bigger cities by getting better online connectivity, doing more to lobby for the revival of commercial rail, continued economic support to the agriculture sector which remains a top job creator, and leveraging small-scale embedded generation and the green economy to boost growth.
Inputs from today's session will be incorporated into our Western Cape Recovery Plan. District Mayors and the City of Cape Town will also continue to attend the weekly Extended Cabinet meetings which I chair, and we will monitor the execution of our plans to create jobs, safety and dignity in our province.
Tomorrow we will continue with an internal cabinet meeting where we will be reflecting on the national government MTBPS, and proposed mechanisms to deal with the fiscal pressures which have arose as a result of it.
Gugulethu shooting requires swift action from South African Police Service
I share our people's anger at the horrific massacre that took place in Gugulethu last night, where 8 people have been murdered. I extend my deepest condolences to the families and loved ones of those who have been killed.
There must now be swift action from the SAPS to ensure the arrest and prosecution of all those involved. No stone must be left unturned.
Today, our Minister of Community Safety, Albert Fritz, also called for the transversal steering committee on organised crime to urgently convene and address this latest incident. This committee was to be established following our engagement with the National Minister of Police on 16 September 2020.
I echo Minister Fritz's request that any person with information on this matter to immediately come forward and report such to their local SAPS station, call Crime Stop on 08600 1011 or use the Tip-off function on the MySAPS cellphone application.
While SAPS is a core national competency, we will continue to do whatever we can to play our part in building a safer Western Cape. That is why during my special address to the legislature last month I said that we will continue with our boots-on-the-ground commitments, including the deployment of an additional 500 officers to those 500 already deployed.
We all need to work together to win this war on violence and crime in our province.
Update on the coronavirus by Premier Alan Winde
As of 13:00 on 3 November, the Western Cape has 3 184 active Covid-19 infections with a total of 116 631 confirmed Covid-19 cases and 109 078 recoveries.
The Western Cape has recorded 8 additional deaths, bringing the total number of COVID-19 related deaths in the province to 4 377. We send our condolences to their loved ones at this time.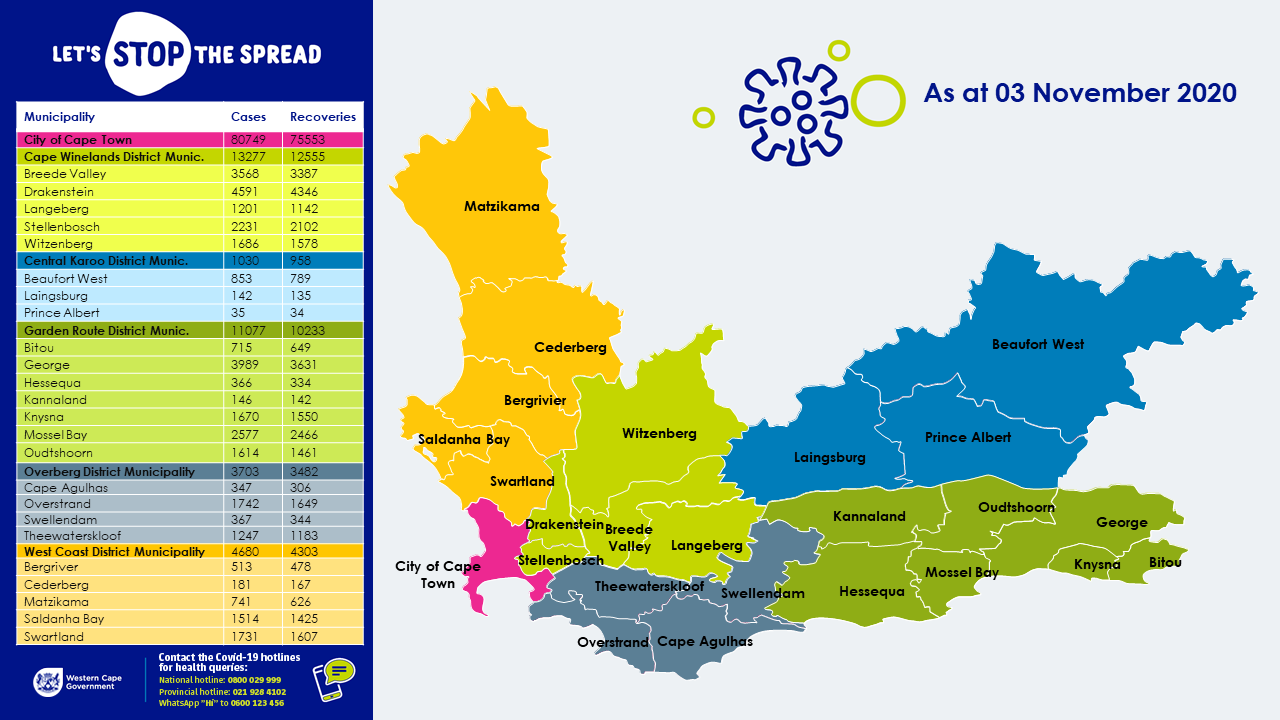 'We bring you the latest Garden Route, Hessequa, Karoo news'