SUID-KAAP NUUS - Op inisiatief van die voorsitter, Ena Jacobs, van die Suid-Kaap Fynproewersgilde het die eerste virtuele demonstrasie in die geskiedenis van die gilde plaasgevind op Donderdag 14 Mei.
In die industriële kombuis van die Bahia Blue Café (Diaz-hotel) was sjef Emil Nel 09:00 gereed vir aksie voor sy selfoon, staangemaak op 'n self-geprakseerde driepoot. Die gildelede?
Heerlik snoesig tuis voor hulle tablette of rekenaars, aangeteken op die gilde se Facebookblad.
Ena Jacobs het bykomende opnames gemaak om te gelegener tyd op YouTube te laai. Dit mag wel 'n nederige begin wees, maar groot baanbrekerswerk is gedoen.
Sjef Emile het hierdie demonstrasie op 'n meesterlike wyse hanteer. Hy het deurentyd gemaklik met die kykers gekommunikeer en het die gevoel oorgedra asof dit iets is wat hy elke dag doen.
Die geregte wat gedemontreer is, is heerlike winterstrooskos en het bestanddele uit jou eie koskas bevat of so nie, maklik bekombaar. Ons is immers ingeperk in hierdie grendeltyd!
Die eerste dis was Franse uiesop bedien met naanbrood mildelik bestryk met gesmelte knoffelbotter. Die volgende aan die beurt was die veeldoelige Thai-klapper-groenkerriesous.
Emile het aanbeveel dat daar 'n goeie voorraad op een slag hiervan voorberei word en dan in kleiner hoeveelhede gevries word vir latere gebruik by mossels (as voorgereg) of hoender-en-garnaalkerrie (as hoofgereg). Dit kan ook 'n heerlike bedruipsous wees by vis- of hoenderbraai.
Hierna het Emile die sitrusneutbottersous (sy eie innovasie) voorberei. Dis 'n wenner by ricotta, tiemie- en geroosterde-botterskorsie-ravioli en saam met 'n Asiatiese hoenderslaai. Dit kan selfs as 'n marinade vir hoender-/bees-/varkvleis gebruik word of by "pot stickers".
Die demonstrasie is afgesluit met 'n heerlike gemmerpotpoeding wat jou na jou ouma se lang etenstafel laat verlang het. Die kommentaar van die lede gedurende die demonstrasie het getoon dat hulle begeesterd is om die geregte te beproef. So nie kan dit by Emile bestel word vir aflewering wanneer dit op sy spyskaart kom.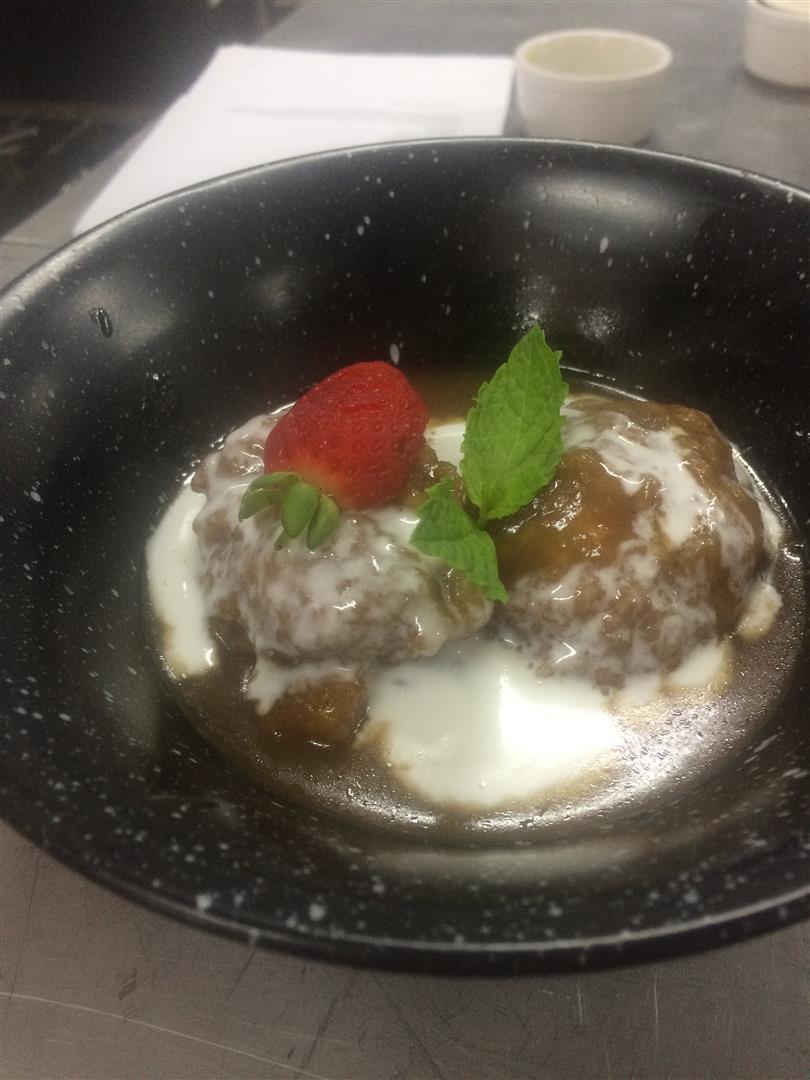 Gemmerpotpoeding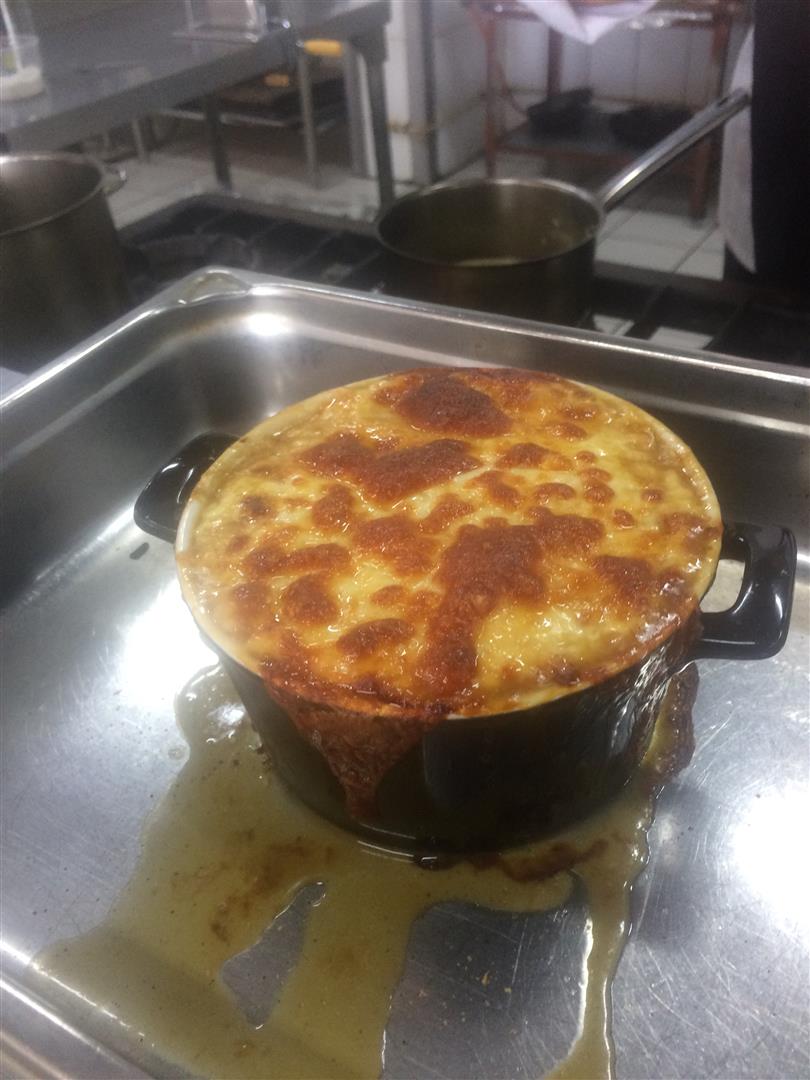 Franse uiesop.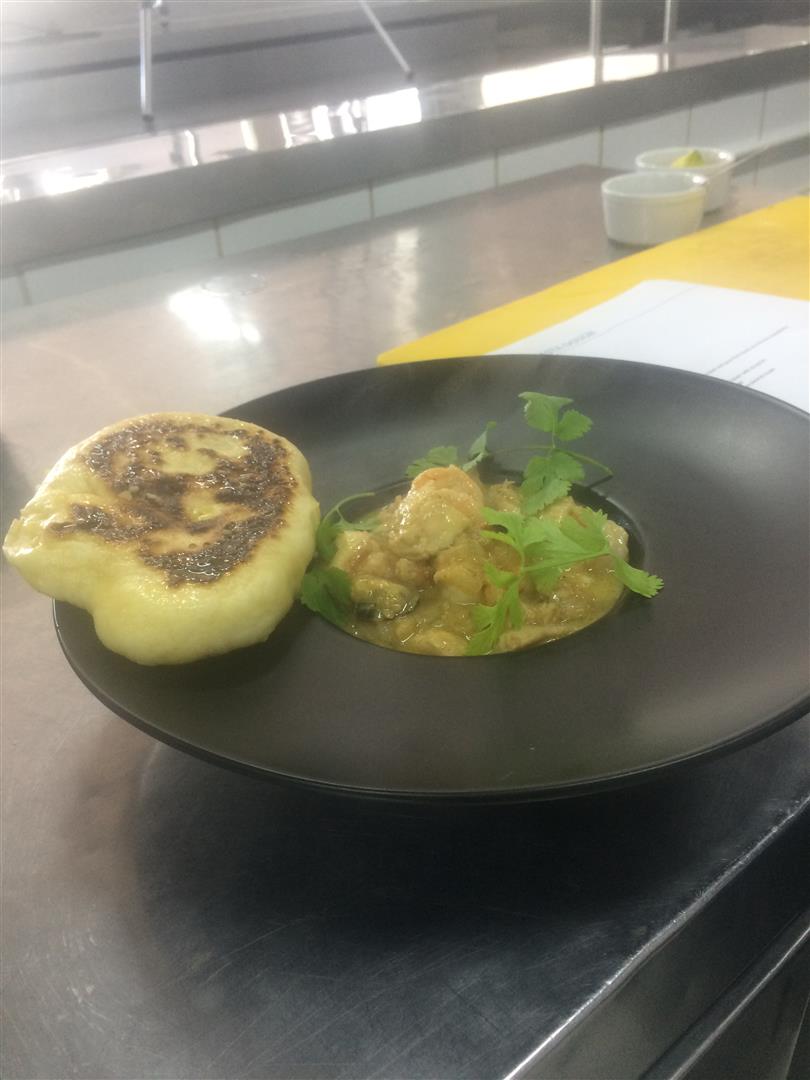 Thaise klapper-groenkerrie met naanbrood.
'Ons bring jou die nuutste Tuinroete, Hessequa, Karoo nuus'