WESTERN CAPE NEWS - Western Cape Premier Alan Winde kicked off his first digital press conference of the year on a high note with news of a definite downward trend in Covid-19 cases in the Garden Route.
"A flattening in the Metro have also been observed – it is very encouraging for all of us," said Winde.
Winde noted that the number of trauma cases have dropped significantly in the hospitals, compared to a week ago. "We had the quietest New Year, it definitely gave us a gap in our hospital systems," he said.
Winde thanked all the other frontline workers – municipalities, law enforcement and the police: "Right now, everyone knows someone who has lost someone, who needs oxygen. We are not over it yet, we are in the midst of this war, but continue to fight."
Western Cape Minister of Health Nomafrench Mbombo thanked the communities for having responded to the government's calls regarding alcohol use. "We applaud you. Hospitals could focus on Covid," she said. Mbombo also thanked the paramedics for their work as the first contact in the health system.
A slow decline
Head of the Western Cape Health Departement, Dr Keith Cloete, said since three weeks ago, when the reproductive number of Covid-19 cases was at its highest, the number of infections has been slowly declining.
"The rate of reported new infections is starting to decrease. One must keep in mind that we have not tested as many people because of the public holidays. It is too early to be certain, but the rate of new submissions has started to decline. It is too early to say we have reached our peak, but there are a number of good signs," said Cloete.
"The only district with a clear sign of declining, is the Garden Route. That is why we can say the Garden Route has an established decline. For everybody else there is still an upward incline and a potential that we might be stabilising."
Cloete said the Garden Route has passed the peak of the second wave and continues on a down ward trajectory: "The Covid-peak has started easing."
He stressed that even if it is still stabilising, there are still deaths in the Garden Route. "At any given time, you can have a peak again, if there is an outbreak," said Cloete. "The big one that we can announce today is that the trauma in hospitals has decreased significantly, especially over the last seven days."
According to Cloete the emotional strain on health care workers, all essential workers and the general public is tremendous. "Knowing and hearing about family members and co-workers being treated in hospital or being moved to ICU have a tremendous emotional impact on health care workers," he said.
Interesting facts:
Immediately after the alcohol ban, daily trauma presentations on average decreased by 47%. The maximum daily trauma presentations saw a decline to the order of 58%.
The combined oxygen utilisation in the Western Cape Public and Private hospital sectors is approximately 76,4 tons daily.
Afrox have put contingency plans into place by bringing additional oxygen into the province daily, to augment the provincial supplies to provide a total capacity of 95 tons of oxygen per day.
A peak means your rate of increase in new cases is starting to slow down. You get to a point where your seven-day average of new cases, over a period of time, are starting to become the same.
Slides presented by Dr Keith Cloete on the current Covid situation: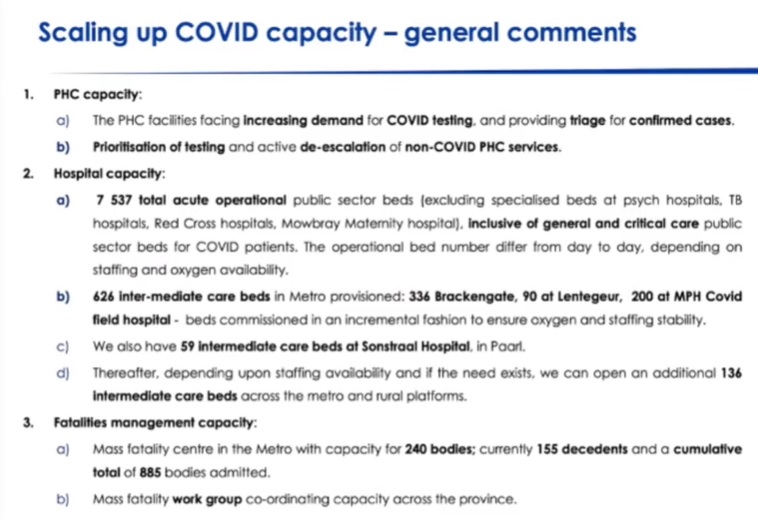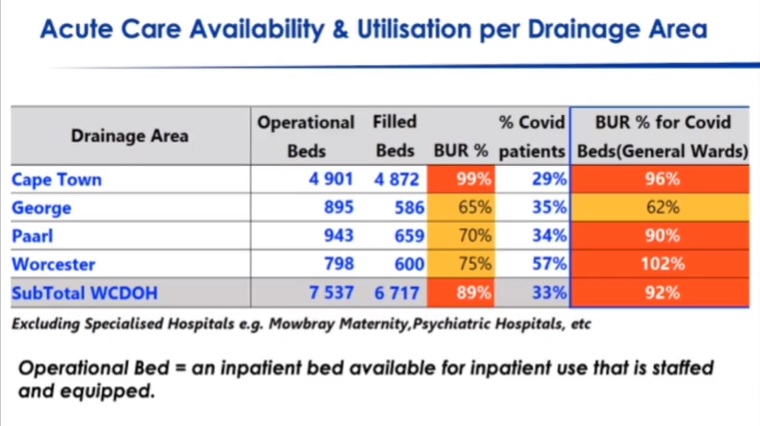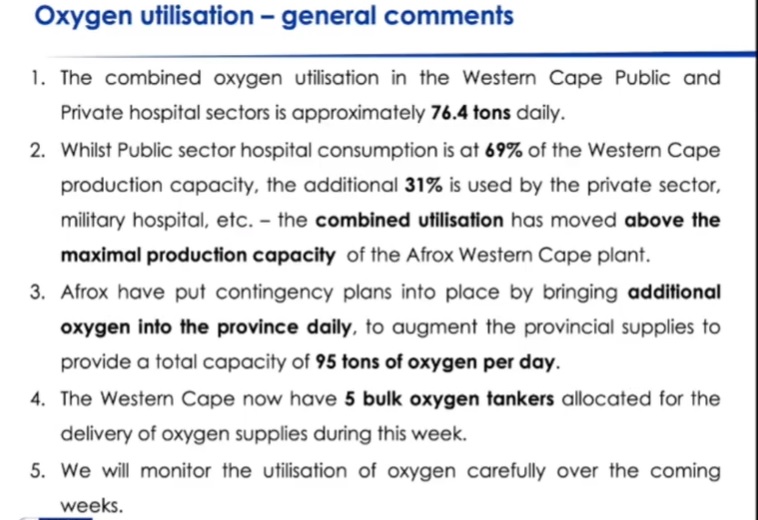 'We bring you the latest Garden Route news'