WESTERN CAPE NEWS - The Western Cape is experiencing "a gentle easing of pressure" in Covid-19 hospitalisations and deaths in the Metro, but this is just an "early indication" and "we cannot let our foot off the pedal", said Premier Alan Winde today, 16 July, in a digital conference.
Winde also mentioned that the easing could be a possible decline. "This is noticed in the most robust data available to us: hospitalisations and deaths. But let me be crystal clear: it is simply too early to say the worst is over. We simply do not know enough about the virus to claim so. We are still in the midst of a serious health pandemic.
"So, if anything, we must be even more vigilant and alert than before so that we can continue to flatten the curve and save lives in the Western Cape."
Health platform is managing
Winde said the Western Cape Department of Health is managing the case load. "The department manages its health platform in an integrated manner, allowing them to closely monitor capacity at any given point. This allows patients to be moved between different facilities, if capacity is reached.
Update on Covid-19 in the Western Cape
As of 13:00 on 16 July, the Western Cape has 14 241 active cases of COVID-19, with a total of 82 264 confirmed cases and 65 530 recoveries.

The Western Cape has recorded an additional 38 deaths, bringing the total number of COVID-19 related deaths in the province to 2 493.
"We send our condolences to their loved ones at this time."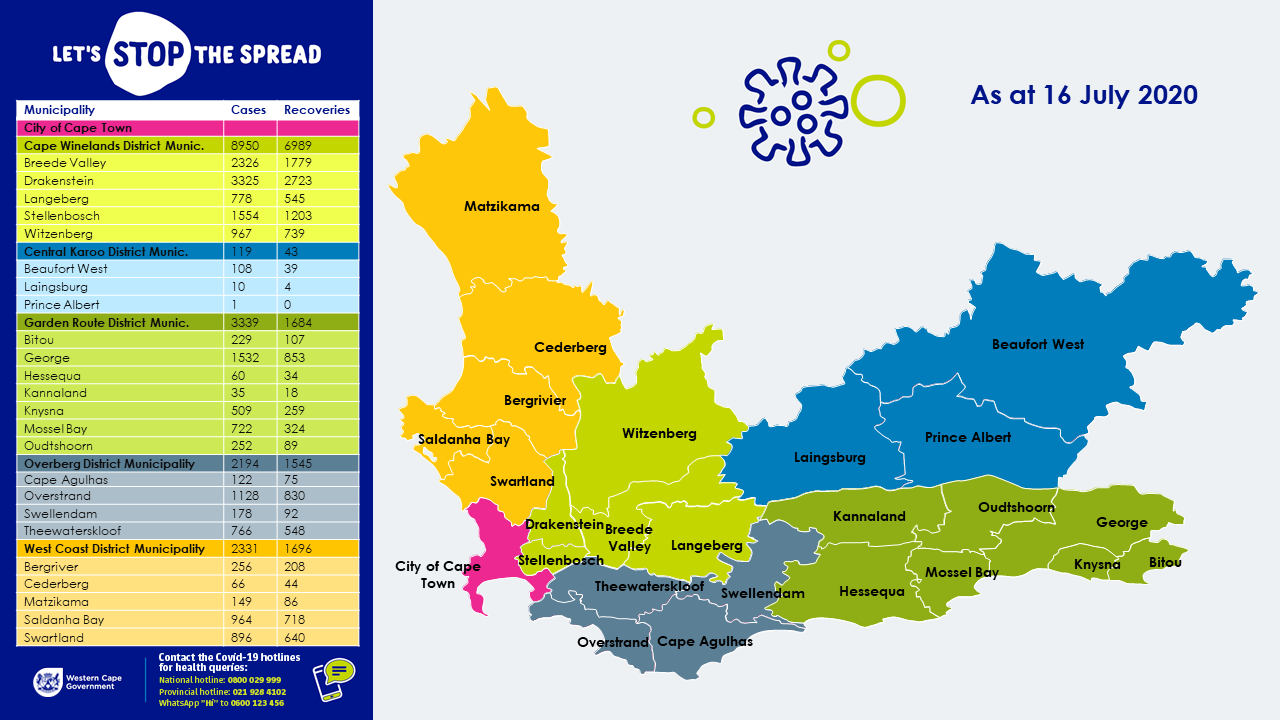 The following observations regarding Covid-19 in the Western Cape were noticed:
* The hospital admissions for Covid-19 have stabilised over the last 10 days, across public and private hospitals.
* The critical care bed occupancy rate reached a daily maximum of 320 patients. It is currently at 270-280 patients.
* Total Covid-19 admissions reached a daily maximum of 1900 patients, and now currently stands at 1600-1700 patients.
Winde said the province's response to Covid-19 from the beginning was to be evidence based and data-led.
"We would follow the best scientific advice in making projections on what was needed from our health platform, so that we were as prepared as possible. We have done this to the best of our ability - planning for the very worst, but always intervening to get the best possible outcome. This has happened in the context of inevitable uncertainties, as our scientists learn about the virus and how it impacts our communities."
They are continually re-assessing their projections and provisioning scenarios. To date, they have undertaken an early provisioning scenario, and two additional calibrations with the National Covid-19 Modelling Consortium. "We are now working towards a third calibration with this grouping, using the latest available data."
He said their teams worked around the clock during lockdown to ensure that they will have enough staff, supplies and additional temporary care facilities (field hospitals). "They have faced, and continue to face, enormous pressures. This is an unprecedented crisis, that has pushed our systems, finances and capacity."
He thanked residents for their cooperation in following the golden rules of wearing a mask, washing their hands, and keeping a safe distance. "Yes, there are still some who are not – but the overwhelming majority of people are playing their part. Thank you for leading from the front and being role models for other members of our community to follow."
'We bring you the latest Garden Route, Hessequa, Karoo news'