WESTERN CAPE NEWS - The Department of Health in the province has conducted another comprehensive analysis of the comorbidities associated with COVID-19 related deaths in the province.
Diabetes and hypertension remain the leading comorbidities in the 2 181deaths in people over the age of 20 in the Western Cape as at 8 July. Diabetes was a comorbidity in 1 042 of these deaths, and hypertension in 1 086 deaths.
In almost a quarter of these deaths (513), patients had three or more comorbidities.
The data also reveals the following other comorbidities:
68 (cardio vascular disease)
277 (chronic pulmonary disease)
35 (cancer)
274 (HIV)
66 (TB current)
233 (TB previously)
99 (other comorbidities)
*Numbers will not add up several people had more than one comorbidity
When looking at the age breakdowns, the greatest number of deaths were recorded in people over the age of 50.
Of the 2 181 deaths:
673 were over 70 years of age
573 were aged between 60 and 69
512 were between the ages of 50 to 59.
These numbers show that it is vitally important that anyone who falls into these risk groups take every precaution to protect themselves.
This means staying at home as much as possible, and ensuring that if you are on any medication, that you continue to take this. Always wear a mask outside of your home, practice social distancing and wash your hands regularly. Avoid touching surfaces or your face.
If you do fall into one of these risk groups and you are experiencing symptoms such as a sore throat, fever, cough, or loss of taste and smell, it is best to get tested early, to ensure that you receive the appropriate care early on.
And while the risk of death is lower for younger people and those without comorbidities, anyone who falls into these groups can still become ill, or infect someone who has a much higher risk profile.
Each death we record in this province is one too many. We must avoid seeing these deaths only as statistics. Each of these lives had value, these are people who had families and loved ones, aspirations, stories to share and lessons to teach. We must acknowledge their humanity and ensure that we do everything in our power to protect others and save lives.
Update on the coronavirus by Premier Alan Winde
As of 13:00 today, the Western Cape has 13 352 active cases of COVID-19, with a total of 84 340 confirmed cases and 68 334 recoveries.

Data note: As we move closer to the peak, it is not possible to check and verify that the address data supplied for each new recorded case is correct, within the time frames required to provide regular and timely updates. This means that in some instances, cases could be allocated to the wrong sub-districts. We are working with the sub-districts to clean and verify the data and where errors are picked up locally, cases will be re-allocated to the correct areas.
The Western Cape has recorded an additional 38 deaths, bringing the total number of COVID-19 related deaths in the province to 2654. We send our condolences to their loved ones at this time.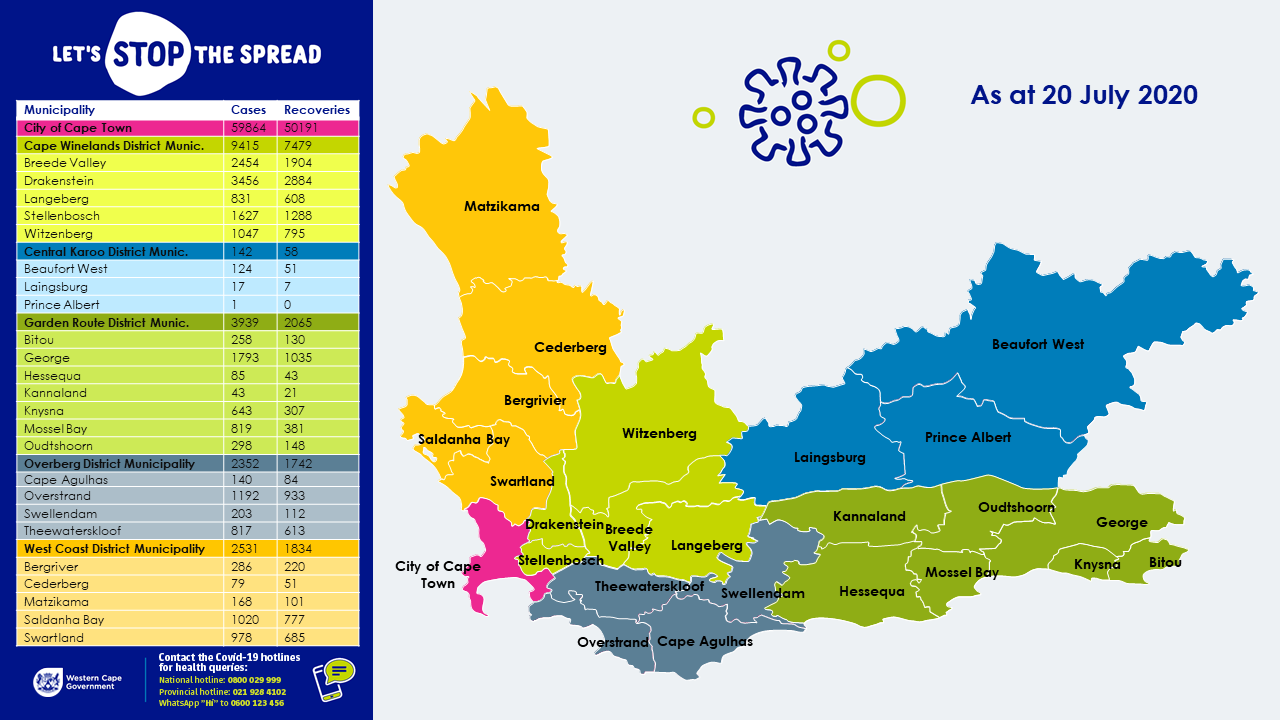 Acts of human kindness:
I would like to acknowledge the staff at Helderberg Hospital for going beyond the call of duty and helping to make the birthday of a COVID-19 patient special. Being in hospital at this time can be a very lonely experience as visitors aren't allowed, but Mrs Wilhelmina Williams, still got to celebrate her 65th birthday with cake and balloons last week thanks to the kindness of some healthcare workers.
I would also like to wish Mrs Williams a belated happy birthday and a speedy recovery.
Over the past week, I have joined forces with the Maskathon challenge to collect mask donations for Mandela Day. I am pleased to say that we have managed to collect pledges for over 23 500 masks.
Some people have supported local mask makers, others have made cash donations while others have lovingly handcrafted masks. I would like to thank all of those businesses and individuals who have answered the call to donate, and help to make a difference in our communities.
Anyone still wishing to donate can do so by clicking here.
'We bring you the latest Garden Route, Hessequa, Karoo news'