Gallery Video
GEORGE NEWS & VIDEOS - Don't be surprised if you see later this year that CJ Stander, our locally grown export product who plays rugby for Ireland, has honed his already excellent skills. He is currently practising with nothing less than 50kg bags on the farm. Stander (30) arrived at his family's farm Buffelsdrift, near George, with his wife and little daughter days before lockdown.
Keeping fit
He says for rugby players, lockdown has its unique challenges. He has to keep fit for the rugby season later this year, when the world has returned to some form of normality.
Stander wanted to be near his family, and knowing that the farm offers the freedom of doing physical work, he decided to come home for the duration of the lockdown.
He knows the area well. As a young boy he did a lot of training on the farm. This is also where his father, Jannie, erected a bar for him to do pull-ups.
During lockdown he trains in the morning, starting by going for a run. He works on the farm till somewhere between 18:00 and 19:00. Lifting 20kg to 50kg-bags of maize during his working day is part of his weight training.
Photo gallery: CJ Stander keeps fit during lockdown
They recently sold 1 000 cabbages to a client - an ideal opportunity for him to practise about 1 000 passes!
His father normally employs between 90 and 100 people, but with this number reduced to about 10 because of the lockdown, his help on the farm is very welcome. CJ's younger brother, Janneman, also farms there.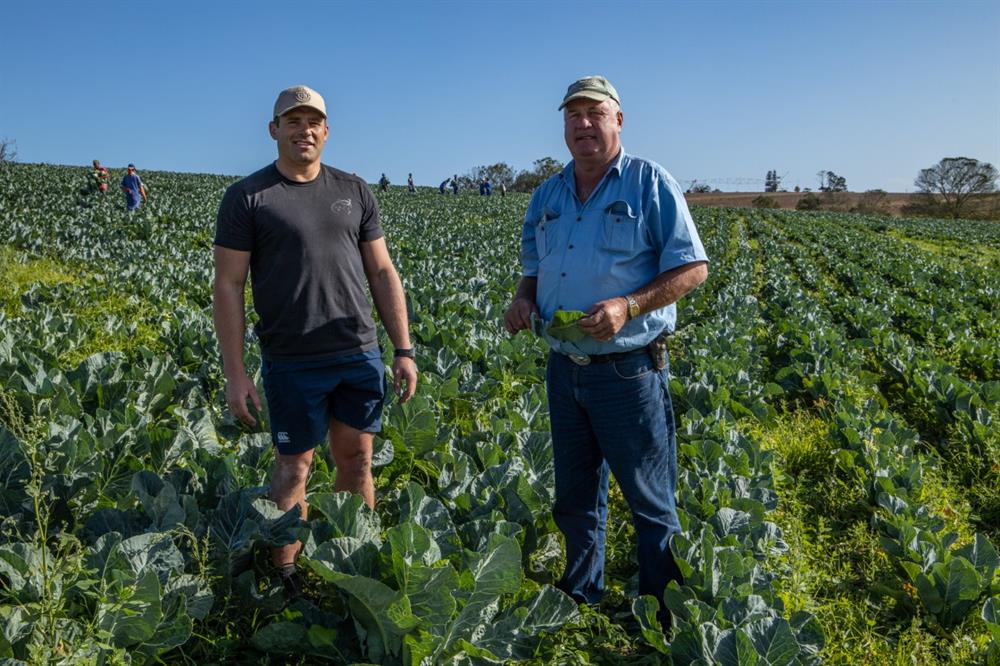 International rugby player CJ Stander with his father, Jannie, on one of the family farms where cabbages are produced. Photo: Wessel van Heerden
Watch 2 videos below:
A team sport
CJ says the lockdown has a massive impact on rugby players. "Rugby is not an individual sport," he says. "We are used to training groups of between 40 and 50 guys. You have to stay fit but also practise your passing, tackling and contact skills."
Ireland is also under lockdown and he hasn't seen his fellow players for almost two months. They have online team meetings twice a week to make sure everybody knows their jobs and drills. "We must make sure everybody is on the same page."
The rugby season is not over. Depending on how the coronavirus situation pans out globally, big international games lie ahead, such as the Six Nations and the Springboks playing against Ireland in November.
CJ's advice to people is: "I know it is difficult, but keep indoors. Also keep mentally busy and train a little."
He and his family might return to Ireland early in May, depending on the Covid-19 situation.
CJ Stander does weight training with a 50kg bag.
CJ Stander lifting a 50kg bag. Photo: Eugene Gunning
'We bring you the latest George, Garden Route news'