GEORGE NUUS - Die Rosemoor-buurtwag sou graag meer ondersteuning van hul gemeenskap wou ontvang. Hoewel hulle eers onlangs akkreditasie ontvang het, lewer hulle al 13 jaar lank veiligheidsdiens aan die gemeenskap.
So sê Mongi Louw, die voorsitter en stigter van die buurtwag. Hulle plaas daagliks hul lewens op die spel om ander veilig te hou, sê hy, "Maar wie hou my familie veilig as ek vannag gaan patrolleer om ander se families veilig te hou?" Buurtwagwerk is Louw se passie, maar dis 'n ondankbare werk. Hy sê mense sê hy moenie kla nie, maar wie sou dan die werk doen?
Volgens Louw kry die buurtwag, wat tans sowat 60 lede sterk is, min ondersteuning, hetsy moreel of finansieel. Mense gee soms 'n bydrae van R20 of R50 vir die maand ter ondersteuning van die buurtwag. Die meeste buurtwaglede het geen ander inkomste nie en skarrel deur die maand om die ligte aan te hou en brood op die tafel te sit.
Louw sê toe hulle sowat ses maande gelede akkreditasie gekry het, is hul diensarea ingeperk. "Hoe sê jy my ek kan net twee strate veilig hou, maar nie die derde straat nie want dit val buite ons grense? Ons sal liewer almal wat die diens nodig het wil help, as wat ons sal terugstaan omdat daar grense is."
Om hierdie rede het Rosemoor-buurtwag onlangs nou begin saamwerk met die nabygeleë buurtwag van Proteapark om in die groter area misdaad te bekamp en die strate veilig te hou.
'n Paar van die wapens wat die buurtwag gekonfiskeer het.
Hulle het ook die afgelope paar naweke nou saam met Conville-polisie gewerk en kon van die misdaadelemente vasvat, asook wapens konfiskeer. Hy bedank die Conville-polisie vir hul samewerking.
Volgens Cayla Murray, woordvoerder van die Wes-Kaapse minister van gemeenskapsveiligheid, Albert Fritz, het Rosemoor-buurtwag in September 2018 akkreditasie gekry. "Die buurtwag het ook in Desember 2018 die R10 000 finansiering gekry wat gebruik moes word vir operasionele en administratiewe kostes."
Murray sê buurtwagte wat akkreditasie kry ontvang ook 'n stel basiese toerusting wat 'n T-hemp, pet, flits, reflektorbaadjies, noodhulpkissie, brandblusser en fluitjies insluit.
Volgens Louw het hulle maar onlangs hul toerusting ontvang en moes in Desember daardie geld gebruik om self toerusting te koop.
Nog wapens wat oor 'n naweek gekonfiskeer is.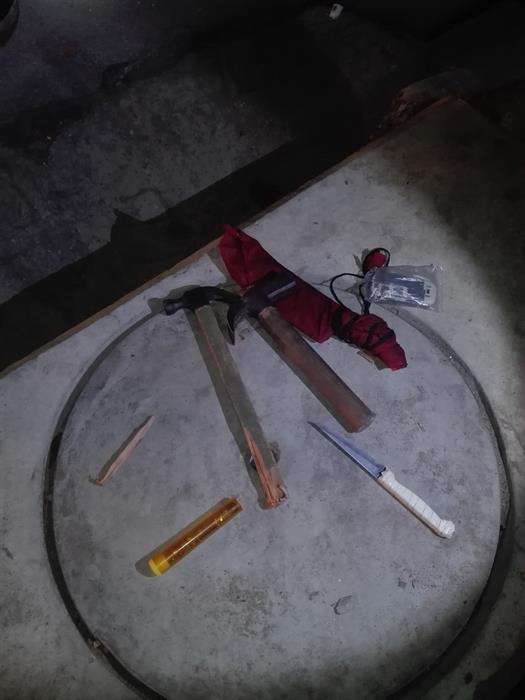 Nog wapens wat oor 'n naweek gekonfiskeer is.
'Ons bring jou die nuutste George, Tuinroete nuus'