GEORGE NEWS - Three knowledgeable judges of good standing in the art world recently commented that Annamarie Stone's works stand out head and shoulders because of the originality and depth of feeling portrayed in everyday subjects.
Colleagues agree. Stone should make her mark in South African art history in years to come and happy are we who identified her and have her living in our midst. Art investors should seriously consider giving this young artist's work some serious inspection.
Many glorious words have been used to describe art, but in her case the most important is "brilliant". This artist is really in the "now". She has the ability, skill and versatility to portray any small slice of South African life in big and small paintings in different mediums.
In a recent art competition involving works from 75 regional artists, she won three prizes: a first in the Animal category with a wonderful rendition of her dog napping on a large bed; a second for her still life entitled I'm home; and the third prize was for a three-view triptych entitled Maiden Africa.
These portraits of a young African maiden are inspired by the 17th century artist Anthony van Dyck, who painted three views of the face of King Charles I of England. One image looks straight ahead while those on the sides are almost in profile.
Stone hails from Kuruman and acquired a rich art, music and ballet education before studying for a BA in fine arts at Pretoria Technikon. She took part in a number of group exhibitions and had three solo exhibitions in Pretoria. She also took part in group exhibitions all around the country.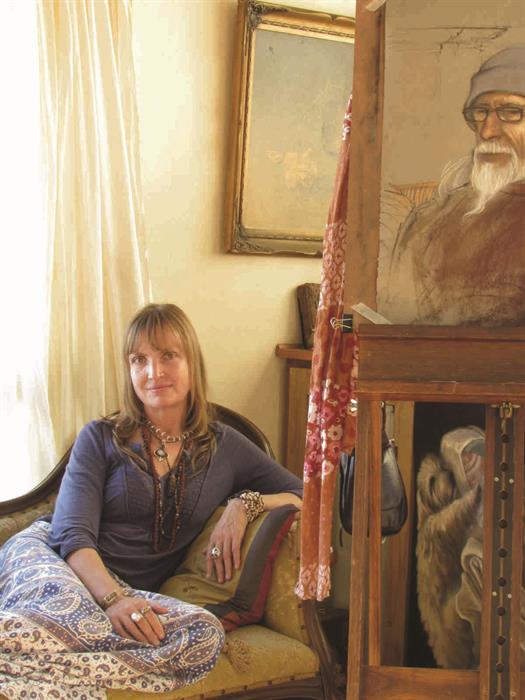 Annamarie Stone has ability, skill and versatility to portray any small slice of South African life in painting in different mediums.
In 2006 she enjoyed a painting experience in Paris and stayed at the Cité for three months. While there, she took part in two group exhibitions before exhibiting in Ireland and Amsterdam.
Her favourite medium is pastel on fine canvas. Her passion is to do live portraits using charcoal or conté on paper, which she can be seen doing at the Scarab Craft Market in Sedgefield on good weather days.
She also values the assistance of photographs and, like all artists, commissions are always welcome.
Her work is included in Scava's current exhibition which will run until the end of October. If you want to see 'genius', do so now. The George Museum Art Gallery is open from 09:00 to 16:30 each day and only until 12:00 on Saturdays. There are 246 pieces of art and sculpture on display.
Stone's painting of her dog napping on a large bed.
Article: Maura St.John
'We bring you the latest George, Garden Route news'