Video
GEORGE NUUS EN VIDEO - Inwoners van Blesboksingel in Parkdene is ontevrede oor 'n verbinding met die nuwe voetgangerbrug oor die N2 tussen Thembalethu en Parkdene wat voetgangers in hul rustige straat gaan afvoer.
'n Groep inwoners het gisteroggend, Woensdag 11 Maart, die kontrakteur wat die verbinding bou, gevra om sy werk te staak. Die span het toe die perseel verlaat.
Volgens een van die inwoners, Shoalin Syster, het konstruksiewerkers uit die bloute verlede week opgedaag en begin werk om die verbinding tussen die brug en Blesboksingel te skep.
"Dit was nog altyd 'n baie stil en veilige straat. Ons gaan nou nie meer so lekker slaap nie, en die ergste is dat ons nie vooraf enige kennisgewing gekry het nie. Daar is reeds twee bestaande, geplaveide roetes vir voetgangers in Parkdene in. Waarom nog een skep?"
Ariël Markgraaff, 'n senior burger wat in die straat woon, het gesê hulle het dit reggekry om misdaad te bekamp deur middel van hul eie buurtwag. "Ons het nagte deur gewerk om misdaad te stop. Nou gaan dit weer van voor af begin. Daar word nou al mense op die brug beroof. Misdadigers sal 'n oop pad hê om te vlug as hierdie verbinding geskep word."
Wykskomiteelid Sammy Vorster, was teenwoordig om namens die inwoners die kontrakteur aan te sê om nie verder te werk nie. Laasgenoemde en sy werkers het nie lank daarna nie vertrek.
Kyk 'n video hieronder:
Die George-munisipaliteit het die George Herald na die SA Nasionale Padagentskap (Sanral) verwys en gesê konsultasie met die munisipaliteit het plaasgevind nadat Sanral met die konstruksie van die brug begin het. "Sanral het versoek dat 'n serwituut oor twee privaat eiendomme in Blesboksingel geregistreer word. Sanral sou die eienaars direk genader het," het die kommunikasieafdeling gesê.
Sanral se westelike areabestuurder, Randall Cable, het by navraag gesê hulle neem kennis van die inwoners se kommer. "Sanral sal op 'n later stadium in meer besonderhede kommentaar lewer wanneer al die feite behoorlik oorweeg is."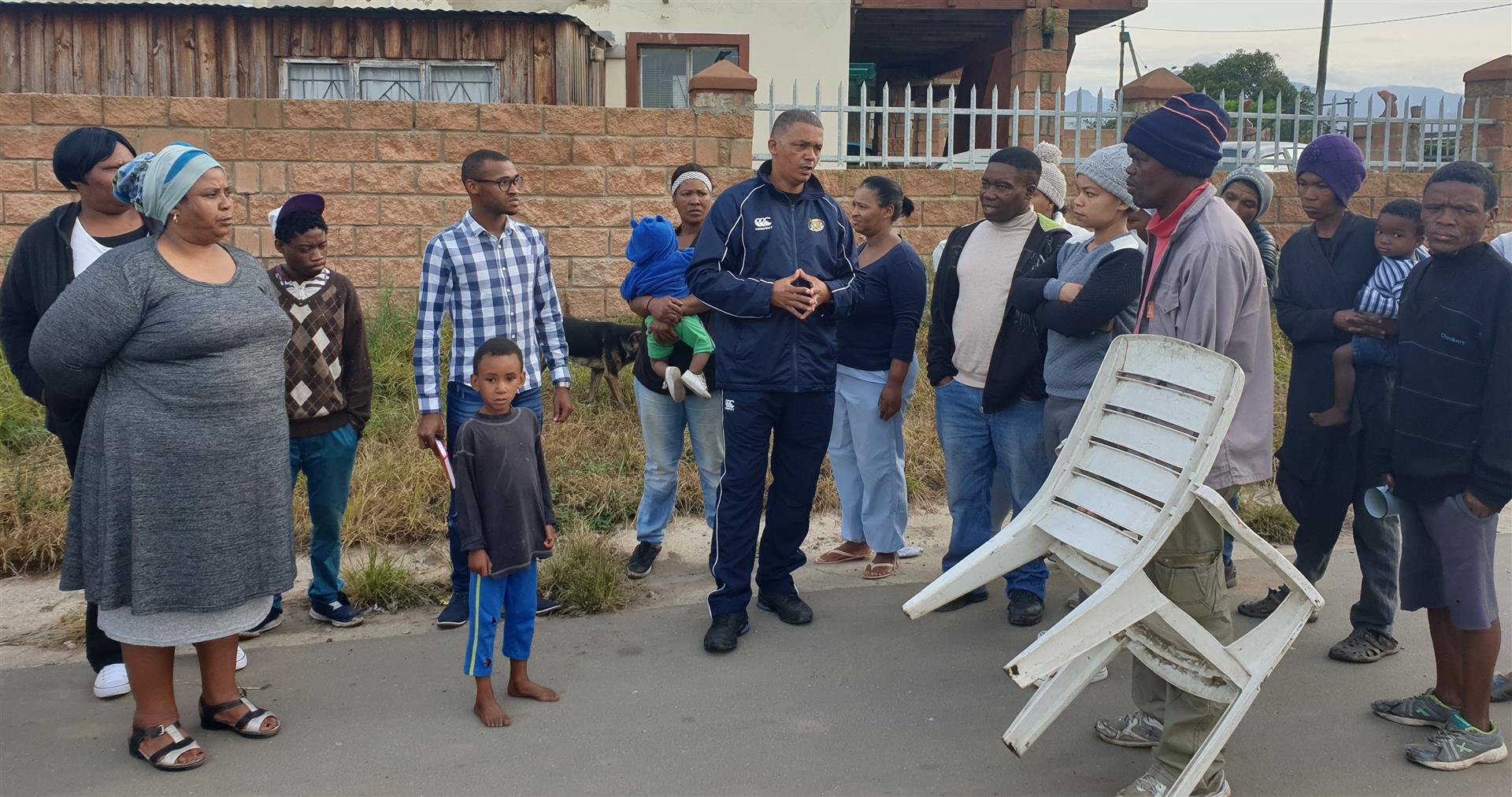 Foto's: Alida de Beer
Residents of Blesbok Crescent in Parkdene stopped a contractor yesterday morning, 11 March, from working on a walkway that will connect their street directly with a new pedestrian bridge over the N2 between Thembalethu and Parkdene. They fear an increase in crime in their peaceful street as the link will create an escape route for criminals who are, according to them, already active on the bridge. According to the George Municipality, Sanral registered a servitude over two private properties to enable the connection with the bridge and undertook to speak to the affected residents themselves.
'Ons bring jou die nuutste George, Tuinroete nuus'