Gallery Video
GEORGE NEWS AND VIDEO - Widely loved local police sergeant Luzuko Derrick Desha (38) of Thembalethu was laid to rest this morning, Tuesday 23 June.
Desha, a detective stationed at the George detective branch, tested positive for Covid-19 earlier in June and passed away in hospital last Thursday, 18 June.
The George police station in Courtenay Street was temporarily closed on 5 June after he tested positive. This was also the day Desha was admitted to hospital and to the same ward where his dad, Sarile Desha (64), who also had Covid-19, was receiving care. Desha Sr passed away on 13 June and was laid to rest on Saturday.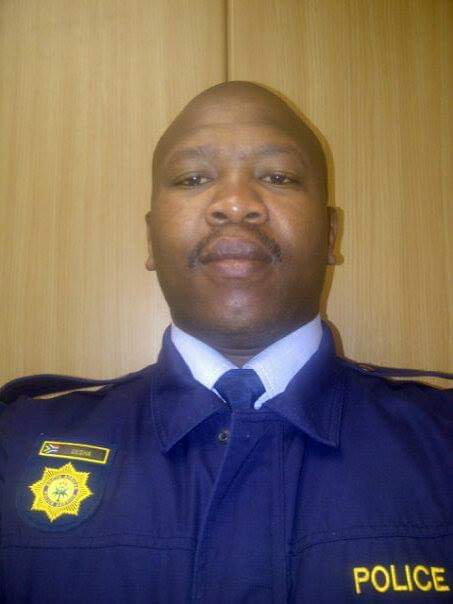 Sergeant Desha
Family spokesperson Bonisile Desha said Derrick's mom, Margaret, is currently in quarantine at the field hospital at PetroSA in Mossel Bay and is doing well.
Police officers from stations across George visited the Desha family at their home in Ntaka Street, Thembalethu yesterday to pay their respects.
Desha's uncle, Tobile Desha, thanked the police for the support. "We are the Tshawe clan, which means 'Kings don't die, they multiply'. Derrick did not die, but he will live on, his spirit will live on among us. For the past two days a lot of friends and colleagues came to visit the family, which showed us much love and support and for that we are thankful."
PHOTO GALLERY: SERGEANT LUZOKO DESHA FONDLY REMEMBERED
The family also thanked George Municipality and Desha sr's colleagues for their support. Desha sr worked at the environmental services department for 43 years, up until his passing.
Career in police
Southern Cape police spokesperson, Captain Malcolm Pojie, said Desha will be greatly missed by all whom he had encountered during his time as a police member at the George detective branch and beyond.
Pojie gave George Herald a brief overview of Desha's career in the police. Desha joined the service as a student constable on 19 September 2005. After completing his basic training course at the Oudtshoorn Police Training Academy, he was placed at Conville Police. It was here that he started his full-time career in visible policing, mainly working shifts. "He then furthered his career and took a transfer to George Detective branch where he was appointed as an investigating officer at general crime investigations on 9 October 2006," said Pojie. "His skills, dedication and love for his work elevated him to the Eden Cluster office where he was part of a dedicated task team of detectives for about eight years. This team mainly focused on high profile investigations into taxi-violence cases, Go George and public violence incidents.
"He was promoted to the rank of Sergeant on 1 October 2017 and held the rank until his passing on Thursday 18 June. During his career he was decorated with the Soccer World Cup Medal, Centenary Medal (1913-2013) and his Ten Years Loyal Service medal. Sergeant Desha also attended extensive training courses as well as seminars to expand his knowledge, and equipped himself with the tools of the trade to become a better investigator," said Pojie.
Desha leaves behind his mother, four brothers, a sister and four children - three daughters (16, 11 and 8) and a son (7).
Two colleagues who worked closely with Desha over the last six years, Sergeants JJ Maton and CH Papers, told George Herald that at first Desha was just a colleague, but he soon became a very good friend. "All the secrets we keep, the laughter we shared and arguments we had, were and will always be remembered. You will always be in our hearts with love. You have become our brother and we shared a bond which nobody would understand. Rest in Peace Brother," reads a message from the pair.
Local rugby clubs that Desha played for, amongst others Evergreens and Crusaders, also conveyed their condolences to the Desha family.
Condolences on Facebook:
Granville Jansen: Our hearts are broken losing you, Desha you did not go alone as part of us will always be with you. Yesterday when God called you home we are left with precious memories, our chain of camaraderie are broken now and nothing seem the same, but as God will call us one by one, the chain will link again.
Monique Liebenberg: This is truly heart breaking...I got him every morning bringing his daughter to school I could see the love and care he has for her... how they'd say goodbye and how he'd walk away looking back....??he'd always greet with a smile. Condolences to the family.
Watch videos below.
'We bring you the latest George, Garden Route news'