Update
GARDEN ROUTE NEWS - A woman from Sedgefield, Marianne Roux (32), spent last weekend in custody at the Conville police station after she was arrested in connection with a theft case that was reported to the police in January this year.
Acting as a booking agent, Roux, who was arrested at her home in Sedgefield on Friday 21 June, allegedly conned prospective holidaymakers and accommodation establishments out of thousands.
She appeared in the Thembalethu Magistrate's Court on Monday where the case was postponed to 11 July for a formal bail application. She remains in custody.
According to Southern Cape police spokesperson, Capt Malcolm Pojie, Roux allegedly defrauded people by using deposits meant for accommodation establishments throughout the Southern Cape to finance her own lavish lifestyle.
"So far 13 complainants have come forward. This scam is believed to have swindled innocent people out of thousands of rand amounting to more than R70 000. We believe that more people could have been conned and appeal to potential victims to report it to their nearest police station. People from as far as Lephalale, Midrand, Kempton Park and Bellville have fallen prey to this scam," said Pojie.
She has allegedly been approaching people searching for holiday accommodation in the Garden Route on social media since last year, and would then put deposits and rental fees in her own pocket.
Anneke de Bruin and her husband Shane, from Carltonville in Gauteng, discovered that the holiday they've been saving and waiting for for years, was nothing more than a sham.
"Months after we paid a R2 000 deposit to Roux for our December holiday accommodation in Knysna, I saw someone on Facebook asking about Marianne Roux and if anyone knew her. I responded and we soon realised that we were victims of her scams," Shane told the George Herald.
The De Bruins lost a total of R9 600 - R2 000 in the form of a deposit and the rest as down payments on their accommodation.
"This was going to be our first holiday with the children in seven years. We were so excited to finally have a holiday at the sea. Now our holiday is destroyed," said Anneke.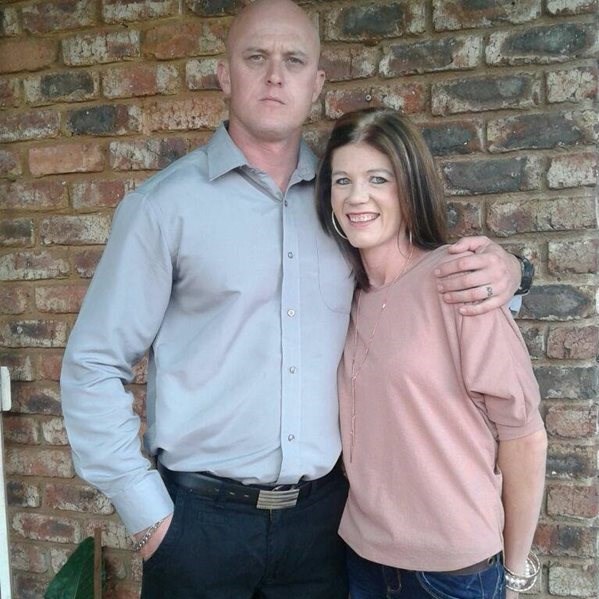 Anneke and Shane de Bruin.
Owners of Kouwdouw Guesthouse in Waboomskraal, Lizelle and Otto de Kock, as well as one of their guests, also allegedly fell prey to Roux.
"She charged our guest R550 per night more than our actual rate. Besides that she charged him a breakage fee - which we don't do - and we had to pay her commission. On top of everything, our guest paid her in full for his two-night stay and she never paid us a cent," said De Kock.
Estelle Ciaglia from Cape Town lost a deposit of R4 000 to Roux's alleged scamming when she booked accommodation for her and her family in Sedgefield. Ciaglia opened a case in Bellville after she realised that she had been conned. "We would have been stuck in Sedgefield over December without any accommodation. Four adults, a baby and two bull terriers with nowhere to go," she told the George Herald.
Ciaglia paid the deposit into Roux's account and when she realised things were out of place and the guesthouse owner had no knowledge of their booking, she demanded that Roux pay her back.
According to Ciaglia, Roux complied to the refund and even sent Ciaglia a proof of payment, which Ciaglia soon found out was false.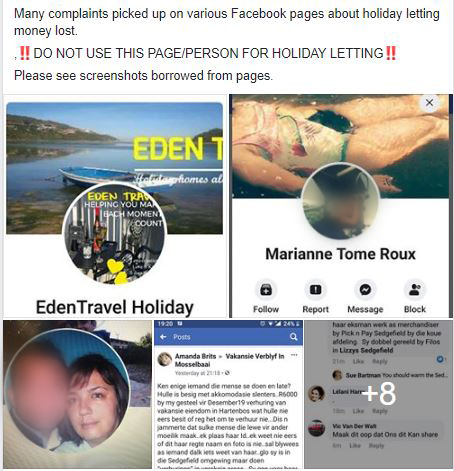 A post that appeared on Facebook shortly after Roux's court appearance. Eden Travel is the Facebook page Roux created and used.
'We bring you the latest Garden Route news'