TUINROETE DISTRIKNUUS - AfriForum het sowat 3 000 botteltjies handreiniger aan instansies in verskeie Wes-Kaapse dorpe geskenk.
Hierdie instansies sluit die metropolisie, brandweerstasies, ouetehuise, kinderhuise, teenbende-eenhede, munisipale wetstoepassingsowerhede, rampbestuureenhede en tehuise vir persone met beperkte vermoëns in.
"Handontsmetting is die belangrikste voorsorgmaatreël wat elke persoon kan tref om homself, sy gesin en die algemene publiek teen die opdoen en verspreiding van Covid-19 te beskerm en daarom het AfriForum hierdie projek van stapel gestuur," sê Thomas van Dalen, AfriForum se veiligheidshoof vir die suidstreek.
"Ons het hoofsaaklik op instansies gefokus waar mense weens die aard van hul werk ekstra blootgestel is en moontlik ook ander aan die virus kan blootstel, asook op diegene wat by instansies werk waar die inwoners die kwesbaarste is," sê Deon de Jager, AfriForum se hoof van gemeenskapstrukture vir die suidstreek.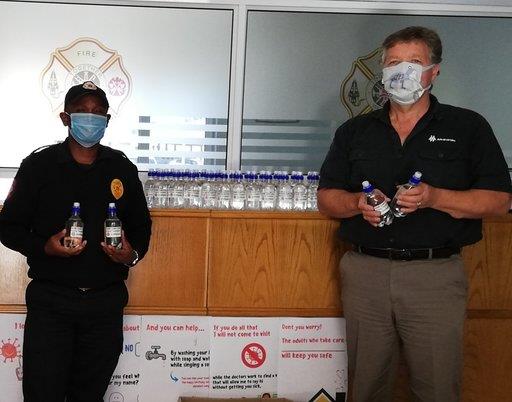 Jonathan Pietersen (links) van George-brandweer ontvang hul handreiniger van Thomas van Dalen.
Die Suid-Kaap is die handreiniger versprei in George, Mosselbaai, Oudtshoorn, Riversdal en Stilbaai.
Die skenkings is hartlik ontvang en indien moontlik sal AfriForum 'n tweede fase van hierdie projek aanpak.
As jy betrokke wil raak by hierdie projek, stuur 'n e-pos na deon.dejager@afriforum.co.za.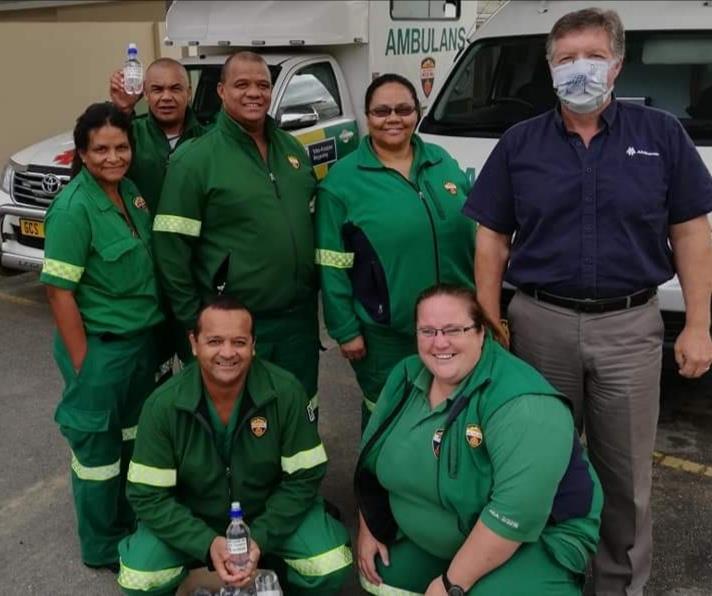 Nooddienspersoneel van Riversdal het ook handreiniger van AfriForum ontvang.
Brandweerpersoneellede van Mosselbaai.
Dear reader, As your local news provider, we have the duty of keeping you factually informed on Covid-19 developments. As you may have noticed, mis- and disinformation (also known as "fake news") is circulating online. Group Editors (publications and online platforms) is determined to filter through the masses of information doing the rounds and to separate truth from untruth in order to keep you adequately informed. Local newsrooms follow a strict pre-publication fact-checking protocol. A national task team has been established to assist in bringing you credible news reports on Covid-19.
'Ons bring jou die nuutste Tuinroete, Hessequa, Karoo nuus'