Sponsored Content
BUSINESS NEWS - In the digital age, the world has become smaller and offshore investing has become a critical part of any investment strategy.
Today we consider the ABC of offshore investing and also look at a few myths when it comes to offshore investing.
Opportunities are endless
There are currently 345 companies listed on the JSE in comparison to 1 644 companies listed on the Shanghai Stock Exchange in China, and 3 300 companies listed on the Nasdaq Stock Exchange in America. If we take the market capitalisation of all the shares on the JSE (share price times number of shares) and compare it to the MSCI World (covering large and mid-cap shares from 23 developed market countries), the JSE accounts for less than 1% of the MSCI World. There are many more opportunities out there than what is offered locally, and if you do not have a significant part of your wealth invested offshore, you are definitely missing out.
Protection against the weakening of the rand
Almost all the appliances we use in our homes and some of the cars we drive are imported. As the rand weakens against other currencies these items become more expensive. By investing offshore, you mitigate this risk as you are investing in offshore currencies and you exchange your rands for example for US dollars. Below is a graph of the rand vs the US dollar since 2001.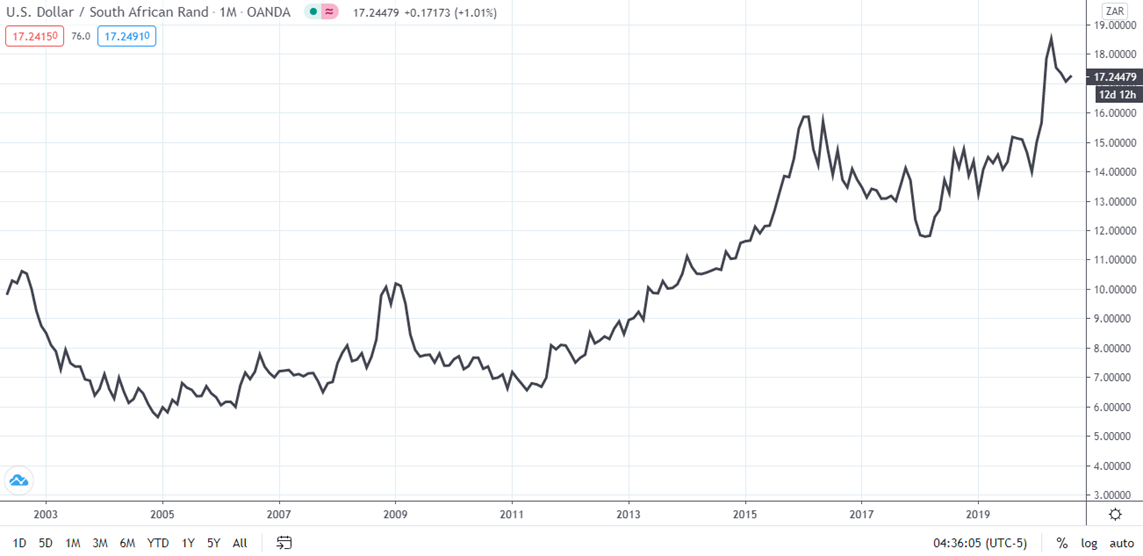 Offshore investing is only for the wealthy
This is the biggest myth when it comes to offshore investing. People think that you require millions of rands to invest offshore. With certain investment platforms, however, you can start to invest in US dollars with as little as R20 000 and if you want to make additional contributions after the initial R20 000, the minimum amount is only R5 000.
Offshore investing is complex and exchange rules are strict
Offshore investing has become more accessible and therefore the paperwork should not prevent an individual from investing. Currently, each South African resident older than 18 years can take R1 million offshore per calendar year without any SARS or South African Reserve Bank approval. In addition to this discretionary allowance, each resident is also allowed to take an additional R10 million offshore per calendar year subject to tax clearance. Tax clearance sounds daunting, but it is an easy process if your tax affairs are up to date with SARS.
Offshore investing is very expensive
This is most definitely not the case, especially if you look at share portfolios and ETFs (exchange traded funds). There has been a big drive to lower costs and it has definitely become more affordable for South African investors to invest offshore in recent years.
In conclusion, you need to ensure that offshore investing plays a pivotal part in your investment strategy and should start sooner rather than later.
Our office details in the Garden Route:
PSG Mossel Bay Diaz
Sioux Building
16 Sioux Street
Mossel Bay
PSG George Central
Dynarc House, 2nd Floor
31 Courtenay Street
George
Follow us online:

'We bring you the latest Garden Route news'