Advertorial
GEORGE SAKE-NUUS - Grow Green Organics het onlangs twee ultra-moderne produksiemasjiene by hulle vloot van voertuie en masjinerie gevoeg wat die besigheid in staat sal stel om die verskaffing van hulle tuinbouprodukte uit te brei.
Die nuwe verpakkings- en sifmasjiene is onlangs tydens 'n spesiale geleentheid aan hul kliënte bekendgestel.
Eienaar, Michael du Plessis, sê die onderneming is besig om 'n opwindende groeifase te betree. Hulle verpakkingsvermoë het 'n reuse-sprong vorentoe geneem danksy die nuwe B & C-verpakkingsmasjien, ingevoer uit Italië, wat die verpakking meganiseer. Daar is net twee van die masjiene in die land. Dit kan tot 9 000 sakke per dag verpak. "Deur met die hand te verpak, kon ons ongeveer 1 000 sakke per dag doen, so ons is baie opgewonde oor ons vergrote kapasiteit, " sê Du Plessis.
Hy het ook 'n mobiele, afstandbeheerde sifmasjien uit Ierland ingevoer wat die sifproses van die kompos versnel om sodoende by te hou by die vinniger verpakkingstempo en kwaliteit en vooruitsig om nuwe produkte te verbeter. Die sifmasjien kan tot 230 ton per uur growwe produkte sif, na groottes van 6mm tot 50mm en growwer. Grow Green Organics se produkreeks sluit 'n verskeidenheid tuinprodukte in, soos organiese kompos, potgrond, grasperkbedekking (lawn dressing), kraalmis, bas en nog verskeie ander.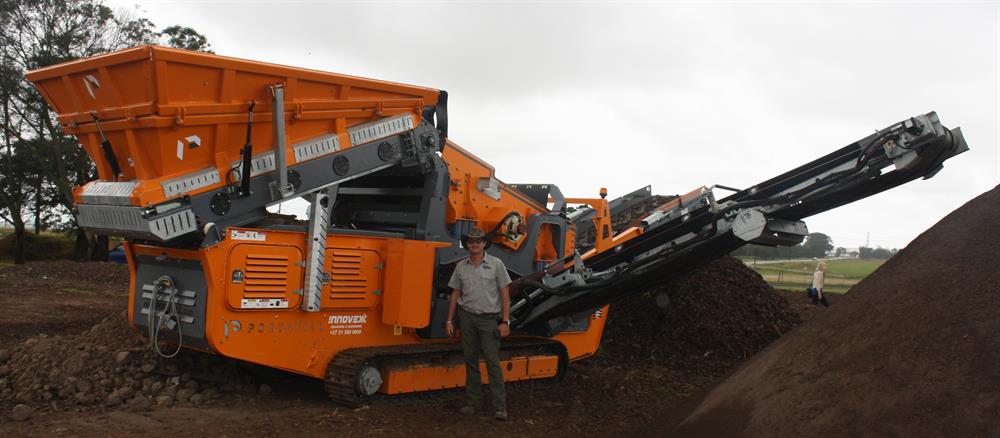 Die sifmasjien is mobiel en beskik oor afstandbeheer. Grow Green Organics kan nou baie groter volumes verwerk.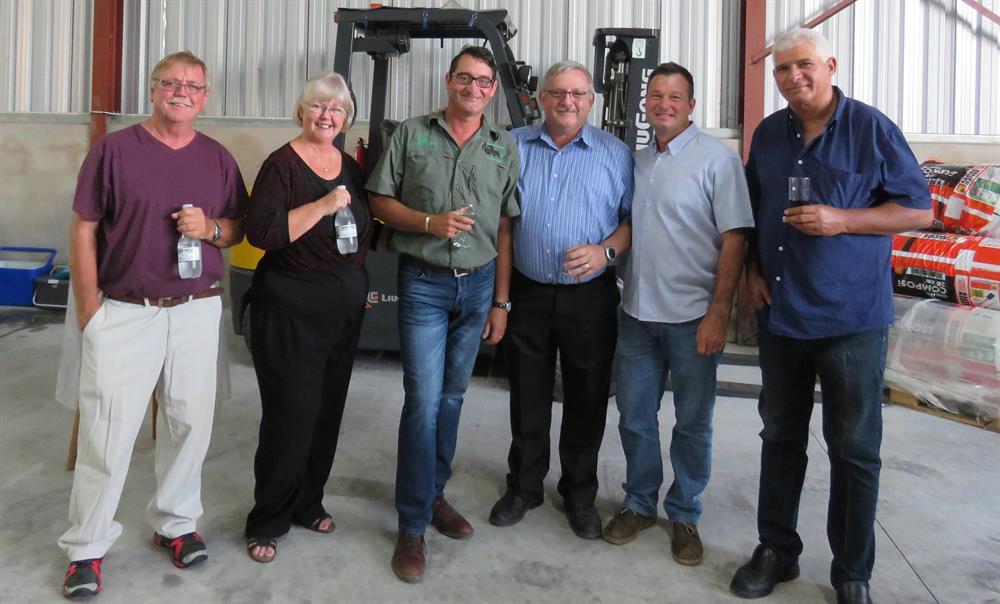 In gesellige luim by die bekendstelling van die nuwe masjiene, van links: Tony Cronje, Ingrid Cronjé (Sakekamer se uitvoerende hoof), Michael du Plessis (Grow Green Organics se eienaar), dr. Willie Cilliers (voorsitter van die AHi Wes-Kaap), pastoor Riaan Bezuidenhout en Keith Sharpe ('n direkteur op die Sakekamer se raad).
"Ons lewer reeds aan kwekerye en takke van Builders Warehouse en Sentraal-Suid Koöperasie deur die hele Wes-Kaap, en nou kan ons ons vlerke nasionaal sprei. Daar is 'n gaping in die mark met al meer mense wat eerder na organiese tuinboumateriale terugkeer. Met die opgradering van ons masjinerie is ons geposisioneer om in hierdie vinnig groeiende mark te voorsien," sê Du Plessis.
Hulle verskaf aan die groothandel en die publiek.
Die besigheid het 'n tweede been wat gefokus is op die verskaffing van langafstandvervoer, grondverskuiwingsdienste en die uitverhuring van trokke en grondverskuiwingsmasjiene.
Du Plessis, die George-sakekamer se 2016 sakeman van die jaar, het Grow Green Organics in 2007 begin en van 2017 het sy seun, MC, by hom aangesluit en bestuur hy die gondverskuiwingsafdeling.
Grow Green Organics se verpakking het 'n vars, nuwe voorkoms soos Wikus Oosthuizen (links) en Michael du Plessis hier wys. Foto: Alida de Beer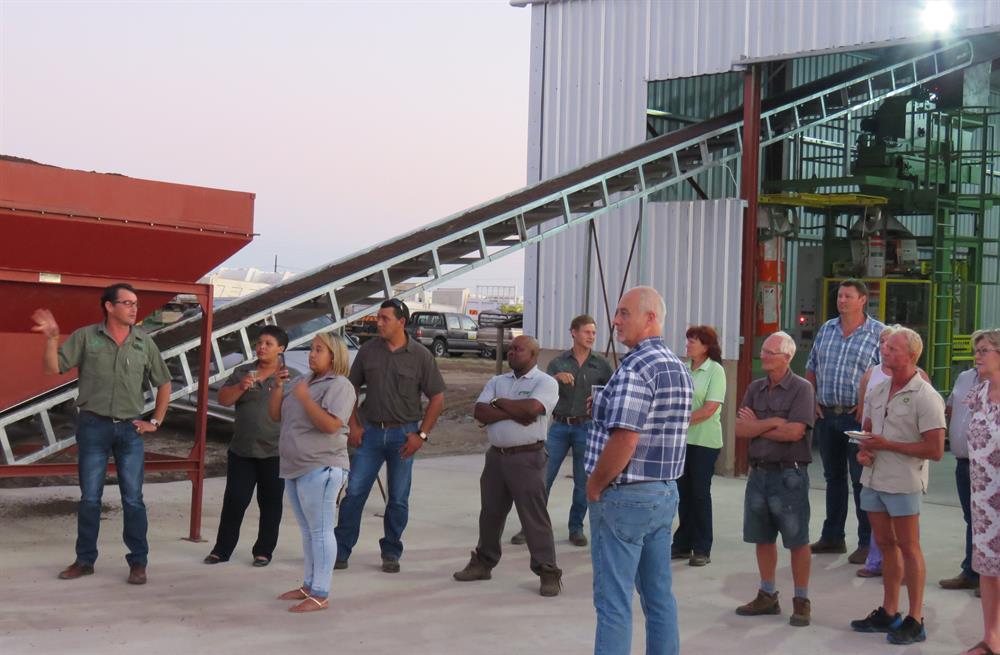 Michael du Plessis (Grow Green Organics) explaining to his guests how the new production line works.
Wikus Oosthuizen en Michael du Plessis van Grow Green Organics met die nuwe verpakkingsmasjien in die agtergrond. Foto: Alida de Beer
'Ons bring jou die nuutste George, Tuinroete nuus'