SUID-KAAP NUUS - 'n Wye verskeidenheid van kunstenaars stal uit in wyduiteenlopende mediums by die Klein Karoo Nasionale Kunstefees wat vanjaar plaasvind vanaf 8 tot 15 April op Oudtshoorn.
Die werke val vanjaar onder die oorkoepelende tema Hebsug en vrees. Die kern van visuele kuns by die 2017 KKNK is 'n spesiale uitstalling getitel Die moontlikheid van sig onder kuratorskap van prof. Raimi Gbadamso.
Kunsliefhebbers word genooi om hul te verlustig in die beste visuele kuns wat soos gewoonlik in die Prince Vintcent-gebou uitgestal word en altyd sorg vir visuele stimulering.
Ander uitstallings sluit in Antonym, Broeigrond, Caputring State, Fear the Avarice, Filmverse 2, Future Talent, Inside Out, Kakatopia, Sacred Hyms and Asphalt Prayers, Thanatophobia, Blind side/Invisible in the City, The Confessional en Ways of Being.
Die uitstalling by Prince Vintcent is gratis en is daagliks vanaf 09:00 tot 17:00. Plaaslike kunstenaar wat vanjaar uitstal is Marinda Combrinck, wat gewoonlik 'n diverse reeks van onderwerpe aanpak, en Lisl Barry wat die Klein-Karoo se skoonheid besing in haar skilderye.
Barry en Henley weer saam
In 'n letterlike en figuurlike uitstalling genaamd Seeing the Wood and the Trees stal die bekende Klein-Karoo-kunstenaar Lisl Barry haar skilderye uit saam met die Knysna-houtmeubelmaker Richard Henley, by die Kunskwartier in Baron van Reedestraat, oorkant die Queens Hotel en die Montagu House-teetuin vanaf 8 April tot 16 April vanaf 09:00 tot 17:00. Barry, 'n beeldende kunstenaar, versinnebeeld haar verwondering in die natuur in haar olieverfskilderye en houtskooltekening.
Sy jukstaposisioneer die verwondering met die impak van die mens op die omgewing. Richard Henley, ontwerp unieke kontemporêre meubels met kunstige flair en vertoon sy meesterlike vakmanskap in inheemse hout in gebruikersvoorwerpe en meubels.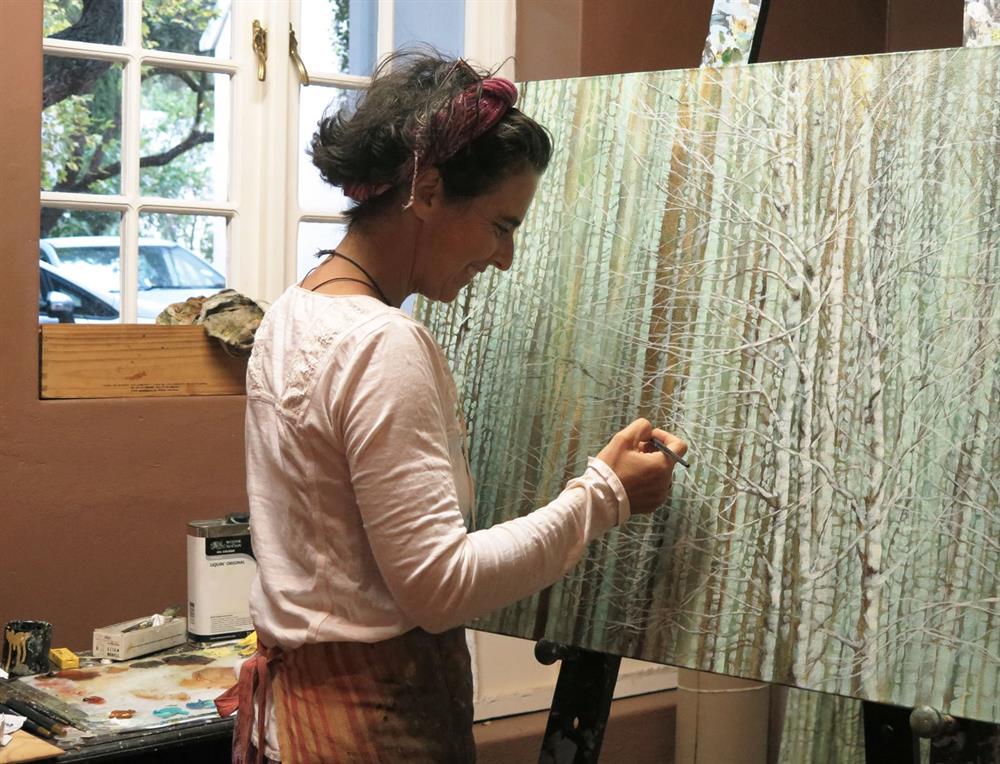 Die Klein-Karoo-kunstenaar Lisl Barry, is hard aan die werk ter voorbereiding vir die Klein Karoo Nasionale Kunstefees (KKNK).
'Ons bring jou die nuutste Klein Karoo, Hessequa, Tuinroete nuus'