SUID-KAAP NUUS - Die Amici-strykkwartet en Evolution of 4-strykkwartet sal vir die eerste keer by vanjaar se Klein Karoo Klassique optree.
Feesgangers sal kan uitsien na musiek deur twee van Suid-Afrika se voorste strykkwartette. Klassieke musiek, kos, kuns en wyn, sal deel uitmaak van die winterfees wat aangebied word vanaf 13 tot 16 Augustus, vir die sewende keer op Oudtshoorn.
Die Amici-strykkwartet gestig in Kaapstad in 2006, met Suzanne Martens (eerste viool), David Bester (tweede viool), Karin Gaertner (altviool) en Peter Martens (tjello), word gereken as een van Suid-Afrika se beste ensembles, met van die land se mees gerespekteerde strykers.
Hulle uitvoering, Sielsnare, vind op Vrydag 14 Augustus om 15:00 in die NG Kerk Park plaas, met 'n repertoire wat bestaan uit boeiende en uiteenlopende werke.
Hul musikale spyskaart sluit in Mozart se beroemde Eerste Salzburg Simfonie, Hendrik Hofmeyr se Tweede Strykkwartet met sy fabelagtige fuga en Dvorák se geliefde Amerikaanse Strykkwartet, 'n mengsel van Boheemse en Amerikaanse volksmu-siek.
Iets om na uit te sien is twee uitvoerings deur die Evolution of 4-strykkwartet. Dié kwartet gestig in Pretoria in 2011 bestaan uit Johanna Roos (viool), Ané van Staden (viool), Valery Andreev (altviool) en Jessica Bailey (tjello).
Hul voer musiek van hoogstaande gehalte deur plaaslike en internasionale komponiste uit. In 2012 verskyn hulle op BBC World News met hulle uitvoering by die Wieg van die Mensdom, waarmee hulle geld vir minderbevoorregte mu-siekstudente in Suid-Afrika ingesamel het.
Op Vrydag 14 Augustus om 18:00, sluit hulle by die Charl du Plessis-trio, Magdalene Minnaar (sopraan) en Musanete Sakupwanya (tenoor) aan, om die gehoor in Eine, Kleine Jazzmusik op 'n opwindende jazz-reis te neem.
Dit sluit in die meesterlike musiek van Mozart, (verwerk in die unieke styl van Suid-Afrika se voorste Steinway-kunstenaar, Du Plessis, te neem). Op die program is onder meer die Elvira Madigan en Rondo Alla Turca.
Op Saterdagoggend, 15 Augustus om 9:30, neem hulle die gehoor vanaf Wene na die Karoo en terug in 'n musikale reis na kontrasterende wêrelde met Beethoven se Strykkwartet op.18 no.6, Van Wyk se Vyf Elegieë vir Strykkwartet en Schubert se Rosamunde. Albei hierdie uit-voerings vind in die NG Kerk Park plaas.
Smul-etes sal by 'n verskeidenheid restaurante en koffiewinkels op die dorp aangebied word ten tye van die fees.
Daar sal ook spesiale kunsuitstallings wees deur die vele kunstenaars wat hier woon, asook ander besoekende kunstenaars.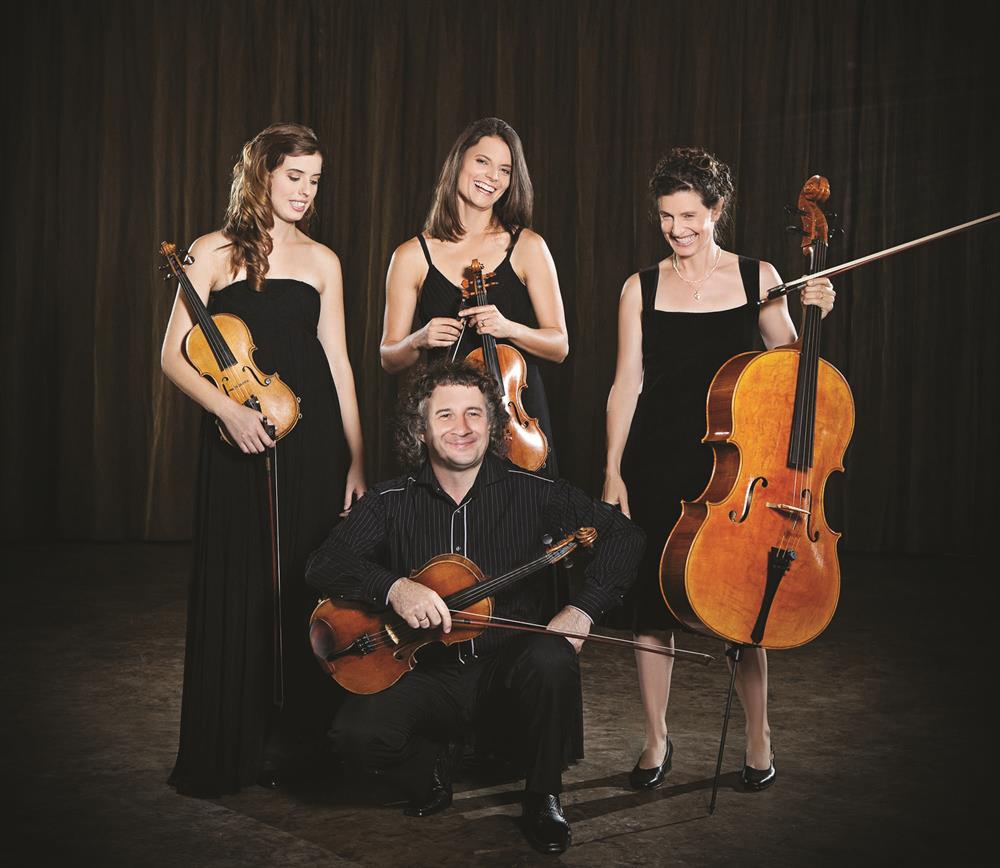 Evolution of 4-strykkwartet
'Ons bring jou die nuutste Klein-Karoo, Tuinroete, Hessequa nuus'