GEORGE NEWS - The first in a series of special food and art evenings at The Rose on York Restaurant, turned out to be a huge success with the Harris family (all of them foodies), treating guests to an array of traditional dishes from the golden era of writer, poet, cook and doctor, C Louis Leipoldt.
Between each of the six courses, Chef Francois Ferreira regaled the audience with stories about Leipoldt and the food he loved to cook.
The evening was filmed by the De Kat TV crew, who kicked off their special programme on the Southern Cape by capturing the special evening at The Rose on camera Sandra Harris told De Kat how her own grandfather and Leipoldt became close friends and that she initiated the food and art evenings because of her deep love for all things cultural. "Theatre, books, the arts, writers and of course, beautiful food are close to my heart and at The Rose, we want to bring all these different elements together."
The cultural food evenings (Don't worry, its not stiff upper lip!) take place every six weeks, so be sure to book your place for the next one.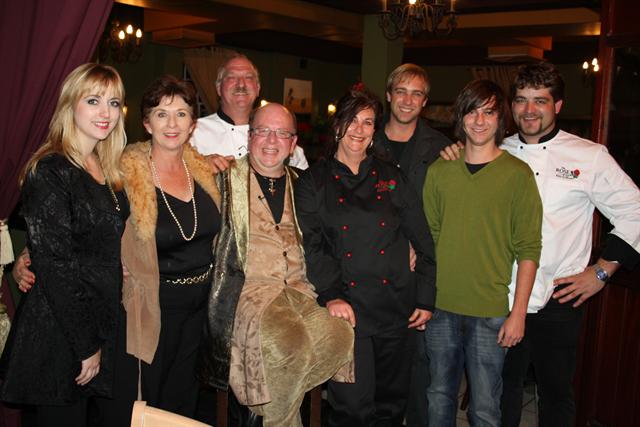 The Rose on York Restaurant is a true family business and here, all the roleplayers are seen with Chef Francois Ferreira (seated in front) during the literary food evening last Thursday. The family are from the left Loren Harris, Sandra Harris, Heyn Neethling, Tia Neethling, Ashley Harris, Christian Neethling and Ryan Harris. Photos: Ilse Schoonraad