GEORGE NUUS - Johan Beukes wou nog altyd van kindsbeen af skilder, en tans gee hy uiting aan hierdie wens deur dit uit te leef as stokperdjie.
Maar as hy 'n halwe kans sou kry sou hy voltyds agter die esel staan. Dit is heerlik ontspannend en hy kan hom behoorlik inleef in die prentebeeld wat hy skep.
Sy lewensgetroue skilderye wat tans in die George-museum hang - is deel van the Southern Cape Artist Association of Visual Art (SCAVA) se someruitstalling wat tot die einde van die maand duur.
Sy skilderye in die museum is kleurvol en onbeskaamd nostalgies.
Sy kwashale getuig van 'n selfversekerde, maar passievolle kunstenaar wie se fyn waarnemingsvermoë op 'n realistiese wyse op doek uitgebeeld word.
Hy het 'n heldeverering vir Suid-Afrikaanse sportpersoonlikhede soos Hashim Amla asook die renjaer Michael Schumacher en filmster Marilyn Monroe.
Gaan kyk gerus na sy skilderye en die van Susan Alexander, Jean Goetsch, Ken Smith, Karin Combrink, Jacques de Bruyn, William Bennett, Yooko Rijn, Rosa Snyman Wessels en Ester Zonnestein - om maar net 'n paar name te noem.
Beukes is prakties aangelê en maak sy eie verf en doen sy eie raamwerk. Hy is verheug om die geleentheid te kry om as nuwe lid van SCAVA te kan uitstal.
Johan Beukes se skildery getitel Forgotten beeld die gewilde Hudson van vervloë tye uit. Foto's: Pauline Lourens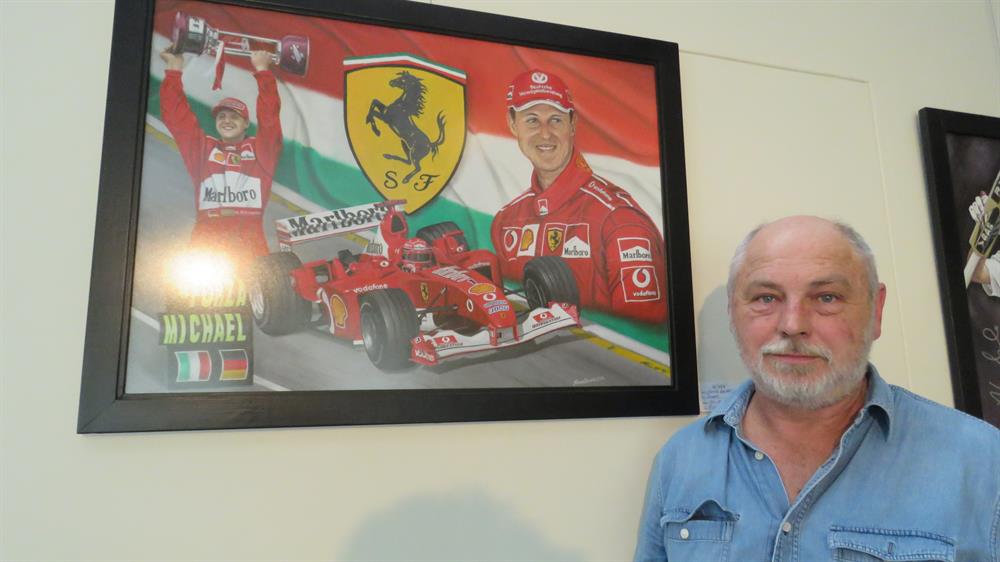 Johan Beukes is die jongste en mees geesdriftigste lid van SCAVA wat tans hul someruitstalling by die George-museum aanbied. Sy werke is super realisties.
ARTIKEL EN FOTO'S: PAULINE LOURENS, GEORGE HERALD-JOERNALIS
'Ons bring jou die nuutste George, Tuinroete nuus'