Video
GEORGE NEWS & VIDEO - If the launch party of charming local author Carla Eveleigh's debut novel is any indication of its future success, Isle of Legends - surrender to the tide, is set to be a best seller.
The book launch, held at the Kingswood Golf Estate clubhouse last Wednesday evening, was a roaring success with more than 100 guests in attendance - a number that would turn many well-known authors green with envy. Isle of Legends - surrender to the tide is a fantasy novel that will grip and enchant the reader, with the author taking you on a multi-textured journey into her imaginary world.
Eveleigh told the audience that her entire heart and soul is in the book. "It is said that to read is to dream with open eyes. To me writing is to dream with a pen in my hand. This is a book for everyone. It is an easy read that will take you away from the day-to-day strife."
She thanked her close friend, Glenda Barnard, who proofread the book, for her support. "She encouraged me throughout the writing process and finally convinced me to let go and publish before Christmas."
Watch a video below.
Eveleigh (middle) with her mother, Linda Sonnekus (left) and family friend, Pretoria based artist Liana van Dyk, who showcased her art at the launch. Her work is also on exhibition at the Diaz Art Cafe in Mossel Bay.
Eveleigh is planning two sequels to Isle of Legends, the first of which is a work in progress and will be published the same time next year.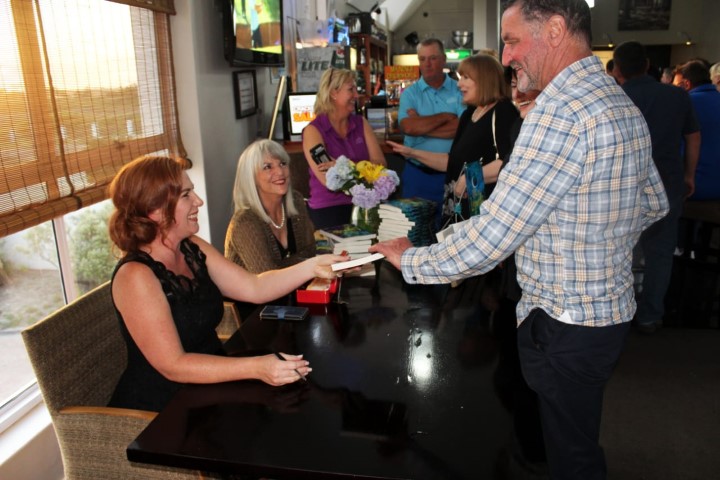 Eveleigh busy signing her book. Photo: Melissa Joubert.
Publisher Myra Lochner of KREATIV SA said the book is like a whirlpool that pulls the reader inside. "Isle of Legends is a search for a safe haven in a cold world. A lot of thought went into this book and the characters' names are far more than just names, they all have a deeper meaning personifying the specific character. I can't wait for Carla's next book - and everybody who reads this debut novel will feel the same." The striking front page was designed by Lochner's son Herman.
The book will soon be available on amazon.com, but for the moment the book can be ordered directly from Eveleigh via Facebook and Instagram, or e-mail her at carla.evemail@gmail.com.
'We bring you the latest George, Garden Route news'