ENTERTAINMENT NEWS - Carpe Musicam! Orchestra and Choir – the very popular Garden Route-based light music performance group of about 110 members – has been quiet this year without the chance to even performance once.
Cautionary measures against the spread of Covid-19 were announced five days before their first scheduled event of 2020 – "The Last Night of the Proms", which would have included plenty of participation from the world-class Durban Callies Pipe Band.
Provisional plans were laid in the event of the quarantine period being over relatively quickly, but all shows for 2020 have at this stage been put on ice.
In a recent newsletter Carpe Musicam! assured would-be concert-goers that within four weeks of cultural events once again being allowed, Carpe Musicam! will put on a bumper show.
There will be no virtual performances or streamed concerts, as Carpe Musicam! has always performed live with a live audience, and will continue to do so once permitted. The interaction between performers and audience is an integral part of the success story of the group.
But don't fear, Carpe Musicam! has not come to a grinding halt. In addition to the normal practising of orchestral parts by members at home, an initiative by orchestra leader Cherith Bain has made technical studies available to members of the string sections, with on-line help being offered by Bain and some professional ex-colleagues of hers. All the wind players have also received advanced technical exercises to keep them occupied should they get bored. Choir members have sheet music and recordings of their parts to practise and perfect.
All these ongoing activities will result in orchestra and chorus members with much-improved musical skills by the time the world wakes up again, and it should not take long at all to put together a show.
Carpe Musicam! still has financial needs during this period. Please email cmusicam@gmail.com for details of how you can help, or to be added to the newsletter mailing list.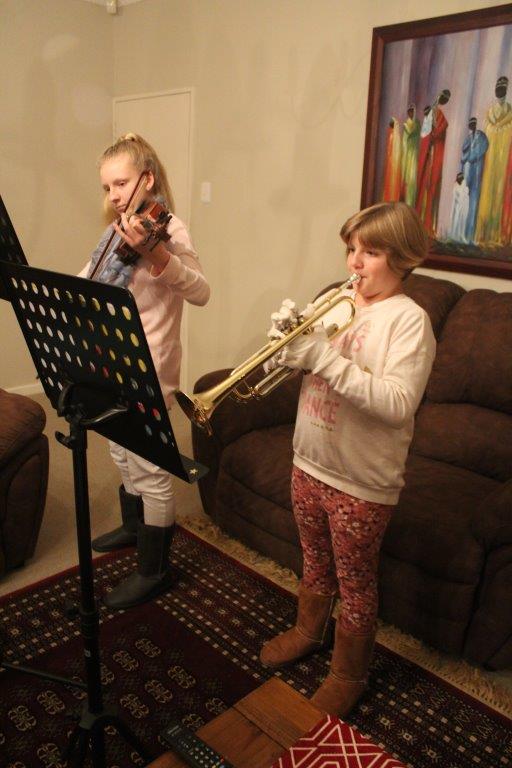 Sisters Annika and Inge Schröter fine-tuning their skills.
'We bring you the latest Garden Route, Hessequa, Karoo news'