Gallery Update Video
GEORGE NEWS & VIDEO - A festive atmosphere reigned at the Oakhurst Insurance George Arts Theatre on Saturday evening when the George Society of Arts celebrated 50 years on the theatre's stage.
The society, currently in its 71st year, purchased the building in 1969 for R12 000 and spent another R14 000 on renovations to convert it from a public school, turned cinema, into a theatre. As part of the celebrations, The Sleeping Prince was performed.
Among the guests were Melvin Naik, mayor of George, Peter Grindlay, managing executive of Oakhurst Insurance and Dr Dennis Farrell, chairperson of George Business Chamber.
Two honorary life members of the society, Patricia Jehring and Barbara Sawers, were honoured for their service over may years.
In her opening remarks, chairperson of the society Madie Calitz called the theatre "our lovely lady". "She looks lovely for 50 years," she said.
Calitz thanked the people who supported the theatre over the years for making it possible to keep the doors open.
Click here for a photo gallery.
Grindlay pointed out the importance of maintenance, mentioning that the 117-year-old building was in dire need of maintenance when his company got involved. He said it is very fortunate to have a municipal council and community that help the company with the theatre.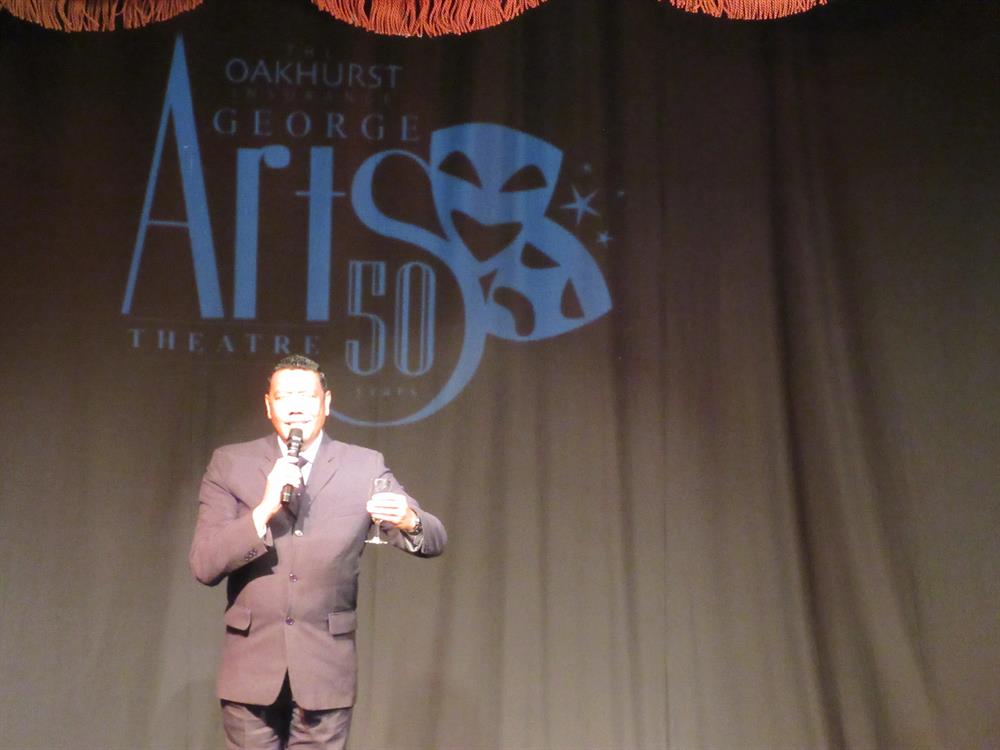 George Mayor Melvin Naik at the celebratory event on Saturday evening. Photo: Eugene Gunning
He said South Africa's cultural heritage is very important for the continent.
Naik asked people tot stand for a moment of silence for the honorary members who have already passed away.
He thanked people who are involved with the theatre and said George is privileged to have such a facility.
Watch a video below:
He thanked people for upgrading the theatre and expressed hope that the theatre would remain a source of entertainment for another 50 years.
Naik told the George Herald that while much, much more could be done for the theatre, the arts are alive and well in George and the Garden Route.
He would like to see that more residents and especially schools and the youth get involved.
Two honorary life members of the George Society of Arts, Barbara Sawers (left) and Patricia Jehring, were honoured on Saturday evening. With them is Madie Calitz, chairperson of the society. Eugene Gunning
Ilze Tulleken, director of The Sleeping Prince, the play that was presented on Saturday evening, said as it was the first play produced on the theatre's stage 50 years ago they decided to perform it again for this special celebration. The theatre gets money from members and people that attend shows. People are welcome to make donations.
Calitz said the theatre tries to cater for the whole community.
Its doors are open for visitors and they would like to see more people use the opportunity to see the "lovely lady".
Read a previous article | Arts Theatre: "50 years on stage"
'We bring you the latest George, Garden Route news'