OUDTSHOORN NUUS - Absa het Donderdag 29 Maart vier permanente, funksionele kunsinstallasies in Oudtshoorn onthul om die opening van die 24ste KKNK te gedenk.
'n Vyfde funksionele kunswerk sal buite die Oudtshoorn-biblioteek in Voortrekkerstraat geïnstalleer word. Dit is tydens die 2018-fees deur lede van die publiek voltooi, wat genooi was om 'n reeks geometriese vorms te verf as 'n looppad tot by die biblioteek se ingang.
Die vyf kunswerke vorm saam die Maakit Mooi-projek, wat kuns uit galeryruimtes neem en dit reg in die hartjie van Oudtshoorn plaas om interaktiewe installasies te skep wat vorm en funksie vermeng.
Die onthulling is deur die burgemeester van Oudtshoorn, Colan Sylvester, raadslede van die KKNK, die organiseerders van Kunste Onbeperk, KKNK-kunstenaars en -kurators, plaaslike en nasionale verteenwoordigers van Absa en 'n aantal ander hooggeplaastes onder leiding van Absa se kunskurator, dr. Paul Bayliss, bygewoon.
Vier van die installasies is die resultaat van samewerking tussen Absa L'Atelier-kunstenaars, wat rondom die 2018 L'Atelier-tema - Gee Kuns Lewe -gewerk het. Die kunswerke is: Wipplank deur Maral Bolouri en Elias Njora (De Jager-sportsentrum, Voortrekkerstraat); Never Out of Touch deur Dale Lawrence en Banele Khoza (hoek van Voortrekker- en Baron van Reedestraat); Neseiers deur Priscilla Kennedy en Bright Ackwerh (Pick n Pay Sentrum, Voortrekkerstraat) en Kringe om die Maan deur Wilma Nell en Manyatsa Monyamane (kruising van Vrede- en Langenhovenstraat).
Wipplank is 'n funksionele, versierde wipplank wat die gemeenskap se deelname en betrokkenheid deur vorm en funksie aanspoor.
Never Out of Touch is 'n ikoniese telefoonhokkieontwerp wat aangepas is van internasionale voorbeelde, maar wat ook estetiese kenmerke aanneem wat gepas is by die plaaslike konteks van die installasie.
Volstruise is sinoniem met die dorpie van Oudtshoorn, en die Neseiers, wat soos volstruiseiers lyk, verskaf 'n nodige stukkie infrastruktuur aan die dorp. Die klip wat gebruik word om die sitplekke te maak, is plaaslik opgespoor en weerspieël die kleure en teksture van die Klein-Karoo.
Kringe om die Maan is 'n sonwyser wat tyd en die elemente verteenwoordig; hierdie installasie gaan na verwagting 'n uitsonderlike kenmerk in die dorp van Oudtshoorn wees. Die sonwyser sal gegraveer wees met 'n aanhaling van 'n plaaslike digter, Poem Mooney.
David Wingfield, hoof van bemarking by Absa sê deur kuns deel te maak van die alledaagse lewe van die mense van Oudtshoorn wil hulle die inspirerende krag van kuns met 'n wyer gehoor deel en die kragtige uitwerking daarvan toon.
Gaan kyk na Kringe om die Maan deur Wilma Nell en Manyatsa Monyamane by die kruising van Vrede- en Langenhovenstraat.
Wipplank deur Maral Bolouri en Elias Njora is te sien by die De Jager-sportsentrum, Voortrekkerstraat.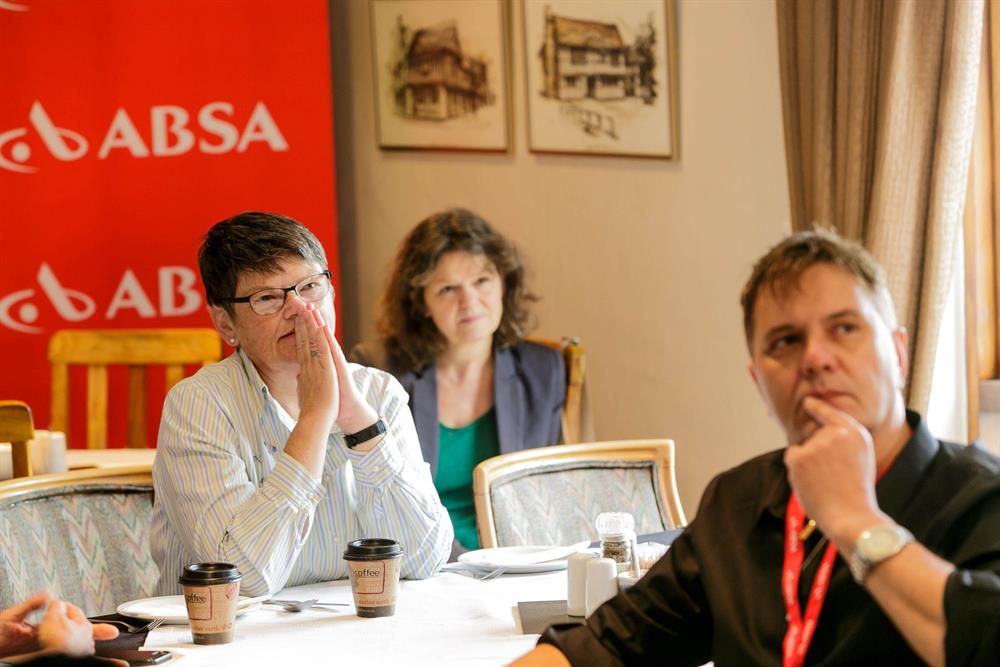 Rhodé Snyman, uitgaande uitvoerende hoof van Kunste Onbeperk (links) wat jaarliks die KKNK aanbied en Kwêla-aanbieder Hannes van Wyk luister aandagtig.
'Ons bring jou die nuutste Klein Karoo, Tuinroete nuus'