GEORGE SAILING NEWS - With good sailing conditions, all three scheduled races for the President's Trophy (senior fleet) and the Junior Championship could be completed at the George Lakes Yacht Club on Sunday.
In the first race Henry Paine crossed the line with a lead of 10 seconds ahead of Malcolm Osborne. David Laing was third. Georgou Divaris, who started late, was able to catch up to be the fourth finisher.
In the junior race Sean Vonk, on a Tera Sport, was able to extend a lead of four minutes ahead of Conrad Holm (Optimist) during the race. However, this failed to secure a first place, as class handicap ratings give the race win to the Optimist.
In the second race Divaris made no mistakes, taking the lead and extending to a winning margin of two minutes. Paine finished in second place with James Vonk, sailing a Laser 4.7 for the first time after graduating from Tera Pro, in third place after class ratings were applied. In the junior fleet Sean Vonk was able to extend a lead of five minutes ahead of the Holm Optimist.
This was just enough to also secure a win on handicap for the Tera Sport.
The third race once again was dominated by Divaris with a lead of two 2 minutes at the finish, while Sean Vonk won the junior race. His margin of four minutes was, however, insufficient to secure the race win. Overall, Conrad Holm ended the day with two wins to one.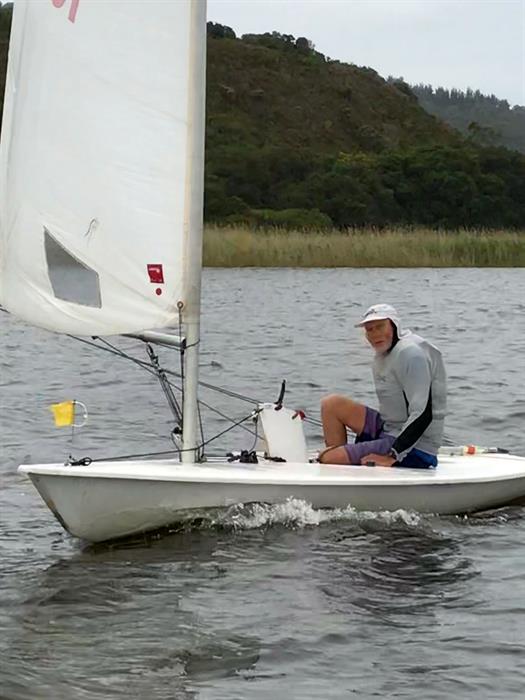 Veteran sailor Bill Turner is celebrating his 84th birthday this year and still competes in the GLYC racing.
Lasers at the start of the second race with Georgou Divaris (left), Henry Paine (middle) and Charles Norman.
The George Lakes Yacht Club's annual interclub regatta takes place this Saturday and Sunday. Entrants from Mossel Bay and Knysna are expected. For more information about George Lakes Yacht Club see its website, www.glyc.org.za, or like its Facebook page, GLYC.
'We bring you the latest George, Garden Route news'