GEORGE RUGBYNUUS - Die oud-Springbok Anton Leonard, wat Suid-Afrika al by 'n wêreldbekerrugbytoernooi verteenwoordig het en die Curriebeker drie keer omhoog gehou het, is terug in George. Hy het onlangs by die Blou Bulle bedank en het saam met sy broer, Leon, die bekende eet- en kuierplek, De Dekke in Groot-Brakrivier gekoop.
Leonard (45) het diep spore in Suid-Afrikaanse rugby getrap. Hy het onder meer vir die Stormers, SWD Arende, die Blou Bulle en die Springbokke uitgedraf. By die Blou Bulle was hy een keer onderkaptein en twee keer kaptein toe die span die Curriebeker gewen het.
Buiten as speler was hy ook betrokke by afrigting van die SWD Arende en tot onlangs as voorspeler-afrigter van die Blou Bulle.
Die afgelope paar jaar was hy in Pretoria gebaseer terwyl sy vrou en twee kinders in George gebly het. Hy het tussen George en Pretoria gependel.
Leonard het aan die George Herald gesê sy besluit om permanent terug te keer na George was 'n familie-en sakebesluit.
"Ek is mal oor die Suid-Kaap. Dis die mooiste plek in die wêreld. Ek het my vrou en kinders gemis."
Leonard het benadruk hy is nie klaar met rugby nie. Hy is van voorneme om sy kennis en ervaring terug te ploeg. Hy was voorheen betrokke by rugbyafrigting by Hoërskool Outeniqua.
Vir eers gaan hy 'n breek van rugby vir drie maande neem en sal daarna beskikbaar wees om weer te help met skolerugby.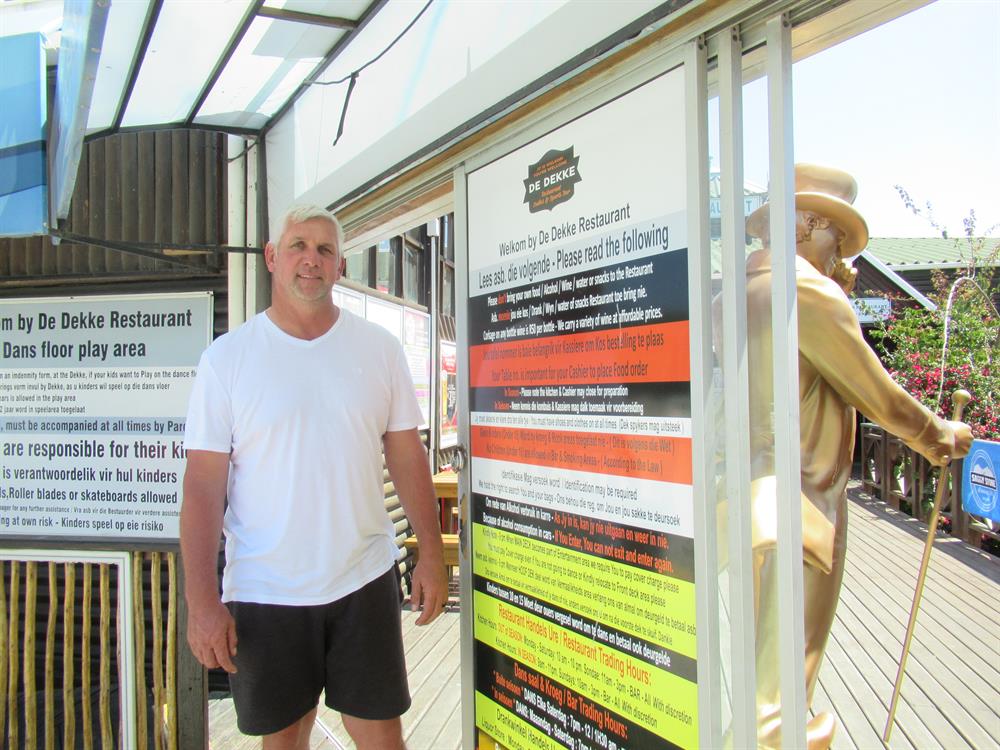 Die oud-Springbok Anton Leonard, is weer terug in die Suid-Kaap.
Foto: Eugene Gunning
Volgens Leonard was rugby baie goed vir hom oor die jare. "Ek het baie dinge beleef en plekke gesien. Rugby is 'n baie goeie leerskool. Dissipline moet in plek wees as jy rugby speel."
Hy het gesê mense besef nie altyd wat 'n groot voorreg dit is om rugby te kan speel nie.
Deesdae is mede-dinging in rugby baie hoog. Die tempo van die spel is baie vinniger as in die verlede en dis baie fisiek. Hy is saam met miljoene Suid-Afrikaners bly dat die Springbokke suksesvol was in Japan.
"Suid-Afrika het dit nodig gehad. Rassie (Erasmus) het 'n goeie plan gehad en die spelers het ingekoop daarin."
Nou lê 'n volgende hoofstuk in Leonard se lewe voor en hy het groot planne met De Dekke wat vandeesmaand 25 jaar oud is.
A well-known former Springbok rugby player, Anton Leonard (45) is back in George. The past few yeas he was involved in coaching the Blue Bulls in Pretoria. His family stayed behind. According to Leonard his decision to return was because of family and business.
'Ons bring jou die nuutste George, Tuinroete nuus'