Video
GEORGE NUUS EN VIDEO - Daar is geen verskoning om nie fiks te bly tydens die algemene inperking nie. George Herald het aangeklop by Mauritz Jansen van Rensburg, 'n aanlynafrigter vir beginners tot professionele atlete, om te hoor wat gedoen kan word om fiks te bly.
Hy rig atlete reg oor die wêreld af, en kan 'n menige maratons en prestasies, soos 'n tweede plek in die Arktiese ysmaraton wat einde verlede jaar plaasgevind het, agter sy naam skryf.
Jansen van Rensburg het 'n paar fiksheidswenke vir mense tydens hierdie tuisblytyd. 'n Gesonde liggaam huisves 'n gesonde gees. Hy sê selfs mense wat nie aktief oefen nie, beweeg in hul normale dag meer rond as noudat hulle tot die huis beperk is, so dit is baie belangrik om te beweeg.
"Om nie te oefen nie is nie goed vir jou liggaam en gemoed nie. Tydens oefening skei jou liggaam 'n voelgoed-endorfien af wat jou beter laat voel." Hy stel voor jy kyk by jou huis rond wat jy kan gebruik om mee te oefen, byvoorbeeld verfblikke, bakstene, trappe ens.
Kyk 'n video hieronder:
Hier is sy wenke:
Stap trappies vinnig op en af tot jou hart vinniger klop;
Gaan sit op 'n stoel en staan weer op - herhaal 'n hele aantal kere;
Stap in jou tuin of draf om jou huis. Jy kan selfs op een plek stap as jy nie 'n tuin het nie;
Doen sterspronge (star jumps) op die plek;
Doen opdrukke (push ups);
Moenie die tuinslang gebruik om jou plante water te gee nie, gooi die plante nat met 'n emmer. Dit sal jou dwing om heen en weer te beweeg;
Gebruik ou fietsbinnebande vir weerstandsoefeninge;
Staan op een plek en begin jou enkels te rol en werk die bewegings op tot by jou nek. Buig vorentoe en kom dan op, swaai jou arms ens. Dit stimuleer ook bloedvloei;
Speel buite met jou kinders of troeteldiere. Moenie verbaas wees as jy voor hulle moeg raak nie!
Laastens, lag gereeld.
Jy kan opdrukke doen. As gewone opdrukke te moeilik is, doen dit staande teen 'n muur: Staan 'n tree van die muur af met jou bolyf teenaan die muur en jou hande op borshoogte teen die muur, druk met jou hande om jou bolyf eers weg en dan nader aan die muur te bring. Herhaal.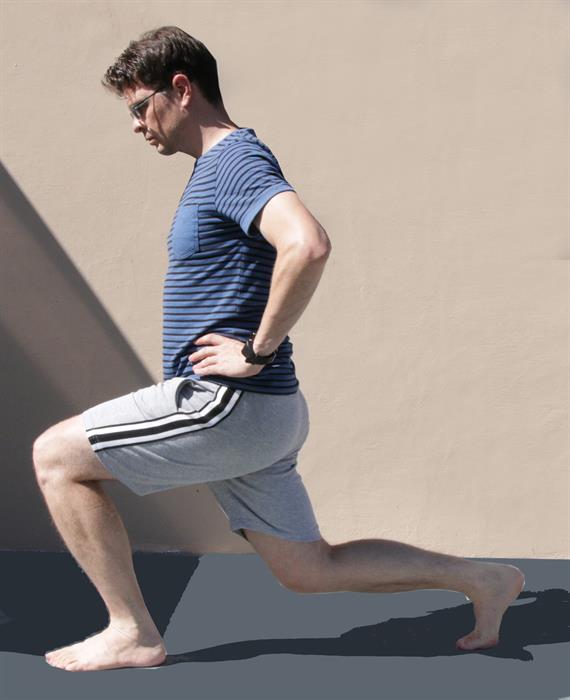 Doen 'n klompie uitvalle (lunges) om jou beenspiere sterk te hou.
Speel met jou kinders of troeteldiere om fiks te bly.
'Ons bring jou die nuutste George, Tuinroete nuus'