GEORGE NEWS - The Avis Van Rental Run2Raise, a registered Nedbank Running Club George event subject to the rules of Athletics SA and Athletics SWD, is once again taking place on Workers' Day, 1 May, in Geelhoutboom in George.
The 10km and 3km fun run and fun walk end at the premises of the venue sponsor, Farm and Fellow Guesthouse and Restaurant at Tramonto.
The money raised last year secured nine special-needs bicycles for children at Binah Legacy Centre for autistic children.
"We will keep our promise and ensure that 2018 is even bigger and better," says Elna Schwartz, financial and station manager of Avis Van Rental George, the event organiser. Income generated this year will be used to contribute to a "runner blade" for Ronaldinho Davids, who was nominated as beneficiary by Mike Barkley and Allen Oates of Barkley Oates Inc.
Davids was born on 8 December 2009 with Type II Tibial Aplasia - the absence, partial or mal-formation of the tibia, the weight-bearing main bone in the leg below the knee.
Barkley Oates Inc. will assist with the make and fit of Ronaldinho's blade to be ready on 1 May. Schwartz urges everyone to attend and celebrate Ronaldinho's first 3km walk.
Entry forms can be collected at Avis Van Rental in Saffier Crescent; Sport Centre in York Street or at the Eden Meander; Top Gear Sport on the corner of Hibernia and Meade streets or online at www.entrytime.co.za.
Participants can also enter between 06:00 and 07:30 on race day.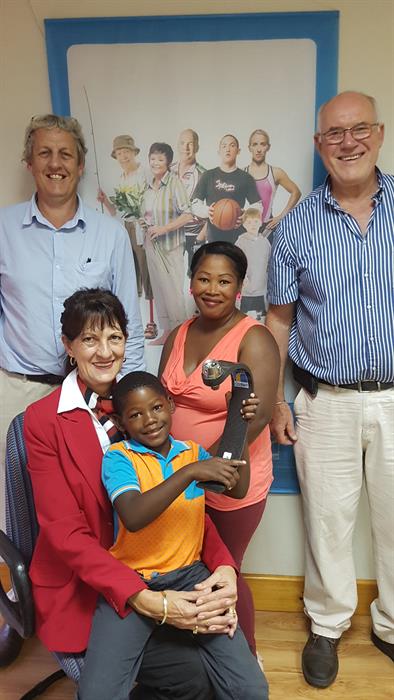 In front, from left are Elna Schwartz of Avis van Rental, the recipient of the blade, Ronaldinho Davidson and his mother, Fahima. Back: Allen Oates and Mike Barkley who nominated Ronaldinho as recipient.
The entry fee is R55 for 10km and R20 for 3km. The tradition of boerie sausage rolls will continue and each participant will receive a medal. Lots of lucky draws will take place and the cash prize for the main draw is a whopping R2 000! There will also be an optional raffle ticket of R10 in a special draw and the winner takes home a tent to the value of R4 000.
"This is a day filled with love, care and support and we are extremely excited to present our new category, 'blade runners'," says Schwartz.
She invites all blade runners in George to contact her on 044 884 0144 for a special entry to the event.
'We bring you the latest George, Garden Route news'