NATIONAL NEWS - Two crocodile sightings in 2 weeks have set social media alight, but where did the animals come from?
A 1.4m juvenile Nile crocodile was spotted on the banks of the Tongaat River, and another was found on the side of the N2 highway near Umdloti last week.
Owner of the Crocodile Creek crocodile farm near Tongaat, Peter Watson, said crocodiles were often used in the muthi (traditional medicine) trade.
"The crocodile in the river is a non-story," said Watson.
"That is their natural habitat and people who are frightened because of it are being ridiculous. People are willing to swim among sharks, but are scared to be in the proximity of a river that has crocs."
The Umdloti crocodile was more interesting, he said, because it was extremely unlikely that a crocodile would leave the safety of its environment for the busy highway.
"I am convinced that the highway croc escaped while being illegally transported, particularly given the continued thefts we have had at Crocodile Creek over the years."
Crocodile Creek has experienced some thefts every year, but in a 14 month period in 2014 and 2015, they had 305 crocodiles stolen.
These crocodiles are stolen to be broken up into their component parts for the traditional medicine trade, he said.
A number of crocodile parts are used by informal medicine traders worldwide, particularly in Asia and in Southern Africa, where a thriving trade exists.
"A crocodile does have many legitimate uses. Aside from the skin being used as a leather, crocodile fat has healing properties and can be used to treat burns and to heal scarring. Oil from the fat can also be used to cook with and the meat is edible," said Watson.
The muthi trade, however, is more focused on the intangible advantages of the animal.
Research conducted by Vivienne Williams and Martin Whiting at South Africa's largest traditional medicine market, the Faraday street market in Johannesburg, indicated that only 36% of muthi was actually used for medicinal purposes.
"Animals were mostly used for 'strength' (physical or overcoming fear), but also as love charms, warding off bad luck or bad spirits or improving one's luck," wrote Williams and Whiting in the Journal of Ethnopharmacology in 2016.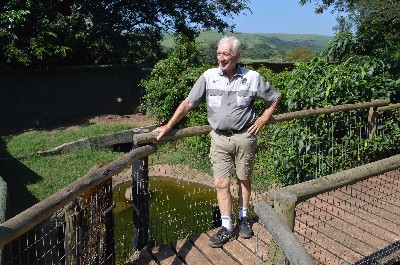 Peter Watson of Crocodile Creek believes his crocodiles are stolen for use in the muthi market.
Closer to home, one can buy crocodile teeth at the Durban muthi market on Victoria Street.
The animal components to fuel the trade have to come from somewhere and Watson believes his farm and others like it countrywide are the primary targets.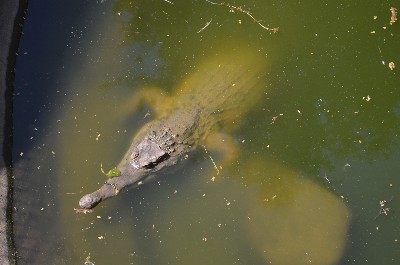 Although some crocodiles are taken live to be sold, most are killed outside property lines with a panga. The horns on this West African slender snouted crocodile are noticeable above the eyes, this is where thieves hit the animal to stun it.