NATIONAL NEWS - Former minister and ANC national executive committee (NEC) member Derek Hanekom is suing former president Jacob Zuma for half a million rand following a tweet declaring that he was a "known enemy agent".
Zuma's tweet was a reaction to claims made by Economic Freedom Fighters (EFF) leader Julius Malema outside the High Court in Pretoria after the matter between Public Protector Busisiwe Mkhwebane and Public Enterprises Minister Pravin Gordhan on July 23.
Malema claimed Hanekom and SACP deputy secretary-general Solly Mapaila had participated in a plot to oust Jacob Zuma.
According to Malema, Hanekom met with the EFF last year to discuss Zuma's removal by way of a vote of no confidence. He also allegedly planned to break away from the ANC alongside others if the attempt to oust Zuma failed, something which Hanekom has denied.
On Twitter, Zuma said he was "not surprised" about Malema's "revelations regarding" Hanekom.
"It is part of the plan I mentioned at the Zondo commission," he continued, before claiming that Hanekom was a "known enemy agent".
Business Day reports that Hanekom is suing Zuma for defamation in a case set for August 21.
Hanekom said Zuma's claim had caused "immense harm and damage" to his reputation, harm that would continue as long as "this statement remained published without censure".
At the Zondo commission, Zuma accused two ANC leaders, Ngoako Ramatlhodi and Siphiwe Nyanda, of having been spies for the apartheid government, providing no evidence of these claims. Addressing supporters a few days later, he said he would expose more "spies" in the ANC saying: "They will think I am mad when I reveal them one by one."
In his tweet, he adds Hanekom to the list of those he is accusing of being "enemy agents", also without evidence.
On SABC news, Hanekom admitted to meeting with the EFF and defended the meeting.
"I had a meeting with one member of the EFF at the time and when you're in Parliament, you have such meetings all the time. I sat down and had coffee with one prominent member the EFF at the time, a meeting he requested, I should say. We discussed how to deal with [the] difficult time in the country's history and there was no way I would refuse discussions of that nature. 2017 was a year in which we saw mass action… our country was in a crisis and we know all that centred around our then president," Hanekom said.
He said many political parties discussed issues centred on Zuma's leadership at that time and that it was well known that the African National Congress (ANC) national executive committee also discussed the former president in its meetings.
As well as denying the allegation that he planned to form a new party if Nkosazana Dlamini-Zuma beat Cyril Ramaphosa to the ANC presidency at the Nasrec elective conference in 2017, Hanekom also rebutted Malema's claims that he furnished the EFF with a list of ANC MPs who would vote for Zuma's removal in Parliament.
Hanekom said: "That I certainly didn't do, he will have to provide that list. There was an assessment of what we can achieve, and if done through parliamentary means, what the ANC attitude would be at that time… that was the nature of the discussion. Those discussions were happening and that is well-known. Civil society, which I am also part [of] as chairperson of Ahmed Kathrada Foundation, was demanding that Zuma step down at that point. I supported that demand and it happened," he said.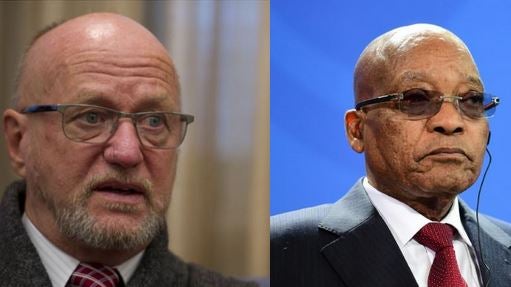 Derek Hanekom and Jacob Zuma. Photo: The Citizen