MOTORING NEWS - A young South African apprentice, Rachel Kobo, is one of the Volkswagen Group's best young talents in the entire world.
Winners were selected from a massive 7 000 apprentices.
Kobo, who works for the Volkswagen Group South Africa (VWSA) in Uitenhage in the Eastern Cape, is among only 50 young men and women worldwide to receive the Best Apprentice accolade, which recognises outstanding performance of young employees within the group. The awards, which are normally presented during a ceremony in Wolfsburg, Germany, were instead handed over to each recipient in their home country due to the Covid-19 pandemic.
Kobo (28) joined VWSA as a graduate in February 2019, and currently works as a component engineer in the Uitenhage-based product engineering division.
"Since I first heard in 2019 that there was a Best Apprentice award, I knew I wanted to earn that title," said Kobo. "To me, this award means that my commitment and efforts are being recognised. It's a great first step for me to keep improving and set my bar higher every time."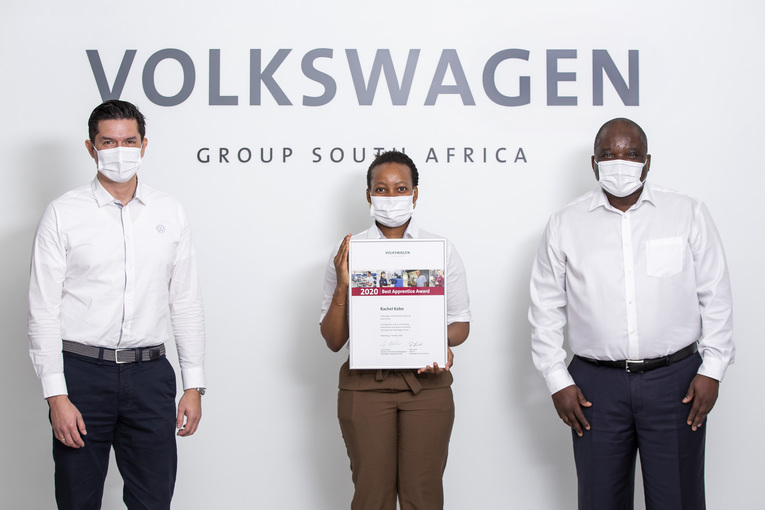 From left: VWSA Chairman and Managing Director Dr Robert Cisek, Best Apprentice winner Rachel Kobo, and Human Resources Director Thabo Nkoane.
Director of Human Resources at VWSA, Thabo Nkoane, said they are very proud of Kobo. "As a company we invest in talented, deserving graduates through our graduate trainee programmes. This award serves as proof that such programmes are crucial for nurturing talent and developing dedicated employees and future leaders."