MOTORING NEWS - The all-new, latest-generation Honda Civic Type R raises the bar in the highly competitive performance hatchback segment.
Honda's latest thoroughbred makes use of the marque's Type R heritage and motor sport expertise while applying meaningful innovation, thus further enhancing real driver appeal.
The 2018 Civic Type R combines cutting-edge technology and race car-derived aerodynamics with a new, lighter and stiffer platform, which delivers exhilarating dynamics and unparalleled front-wheel drive handling.
The high-revving, turbocharged four-cylinder engine links exceptional power output to impressive efficiency.
This results in performance as well as outstanding fuel economy.
A new six-speed manual transmission with rev-matching technology adds to the Type R's engaging, driver-focused character.
The lively power output of 114kW and a power-to-weight ratio of 168kW per ton means this Civic Type R builds on the exceptional performance of its predecessor.
The Honda rockets from 0 to 100km in a mere 5,8 seconds and achieves a top speed of 272km.
To enhance the Type R experience even more, the newcomer offers three possible driving modes, ranging from Comfort and Sport to the track-focused "+R" mode.
Each setting invokes relevant adjustments to the suspension, steering and throttle response.
While its performance is undisputed, the new Civic Type R also scores high in terms of refinement and safety.
The new flagship was developed in parallel with the latest Civic hatchback range.
It therefore also benefits from its ultra-rigid, lightweight body shell and new, sophisticated suspension.
The extensive use of structural adhesive is not only an innovative measure that benefits both structural integrity and low mass, but is also reminiscent of the seam welding employed in racing cars.
The suspension comprises an advanced, dual-axis front set-up specifically designed to address torque steer while enhancing turn-in and steering feel, despite the Type R's front-wheel drive configuration and considerable power potential.
Also new is the dual-pinion, variable-ratio power steering system, derived from the standard Civic hatchback.
In this version it is adapted specifically for the Type R application to ensure direct, confidence-inspiring steering.
AGGRESSIVE STYLING
The aggressive styling of the new Civic Type R reflects its dynamic character - and it's not just for show.
The new shape is longer, wider and lower than previous Type R models, while short overhangs and a muscular stance reflect the hatchback's dynamic aspirations.
The aerodynamic elements include a smooth underbody, a front splitter and integrated spoiler creating a front air curtain, a prominent rear wing and vortex generators on the trailing edge of the roof line.
The result is an optimised balance of lift and drag, allowing exceptional high-speed stability.
The new Civic Type R boasts an interior perfectly suited to the hatchback's extrovert character and performance prowess.
The car's increased dimensions translate into enhanced space and comfort front and rear.
Driver-focused ergonomics with LCD instruments, sculpted bucket seats, eye-catching red accents and carbon fibre detailing, as well as a pervasive sense of premium quality, are some of the cabin's key features.
The new Honda Civic Type R has already received numerous awards and accolades, and holds the current lap record for front-wheel drive cars at the daunting Nürburgring circuit in Germany.
The new lap record of 7 minutes 43,8 seconds is more than 7 seconds faster than the previous Type R's lap time.
DRIVER FEEL
Contributing to the new Civic Type R's exceptional driver feel that we mentioned earlier, is Honda's agile handling assist (AHA) - an electronic stability system also fine-tuned for its Type R application.
AHA can apply subtle braking to the inner wheels when turning, resulting in increased response and stability at both low and high speeds. In the Type R, AHA even includes specific parameters for the car's "+R" driving mode.
With so much performance potential, the Type R also has to feature a high-capacity braking system.
The front wheels are fitted with specially developed 350mm ventilated, cross-drilled discs and Brembo four-pot callipers.
The rear brakes comprise solid 305mm discs; 9mm larger than the previous model's.
Type R enthusiasts will be pleased to know that the latest, fifth-generation Civic Type R not only retains its benchmark 2,0-litre VTEC turbo engine with Earth Dreams Technology, but that the power unit has been further enhanced for its application here.
ENGINE POWER
This latest Type R turbo-charged, four-cylinder engine was named by an automotive website, WardsAuto, as one of its 10 best engines of 2018.
As before, the 1 996cc four-cylinder unit employs direct injection, VTEC variable valve timing and lift control and advanced turbo-charging to deliver a maximum output of 228kW at 6 500r/min, coupled to a torque peak of 400Nm, maintained between 2 500 and 4 500r/min.
While the output statistics remain the same, the engine has undergone a number of refinements and improvements for its application in the new Type R.
For instance, the engine control software has been adapted to improve throttle response and tractability.
Other notable changes include the fitment of a single-mass flywheel for improved engine response and reduced inertial weight and a bespoke triple exhaust that modulates the exhaust note.
Performance remains thrilling: the new Type R is credited with a 0 to 100km acceleration time of 5,8 seconds, while it goes on to achieve a maximum speed of 272km.
While the new Civic Type R clearly targets the needs and expectations of performance-orientated enthusiast drivers, Honda has also recognised the need for a broader range of possible driving modes.
The default "Sport" and "+R" modes have been retained, but a new "Comfort" mode has been added, which offers softer damping and smoother steering feel.
The new mode ensures greater suspension compliance, especially on choppier and compromised surfaces.
The "+R" mode is a track-biased setting, with changes to the torque mapping and engine response allowing a more aggressive configuration with more torque on offer at lower engine speeds.
The steering feel becomes more resolute, while the Vehicle Stability Assist system allows greater leeway in both yaw and slip rate before intervening. VSA and traction control can also be switched off completely in "+R" mode.
CREATURE COMFORTS
The Honda Civic Type R has a driver-focused interior that emphasises the car's performance character while it also ensconces its occupants in a safe, comfortable and comprehensively equipped space.
The cabin is sophisticated, while the ergonomic execution is focused on the desired interaction between car and driver.
The instrument binnacle is located directly in front of the driver and features a 7" driver information interface (DII) display incorporating virtual instruments and an information display. It incorporates a gear shift indicator, turbo boost pressure gauge, G-force meter and lap time recorder.
The information screens can be scrolled through and selected using a thumb pad on the multifunction steering wheel. The steering wheel also incorporates controls for the Bluetooth-based hands-free telephony system, cruise control, and the audio system.
The top of the centre console is home to a full-colour touchscreen display which offers intuitive access to the eight-speaker audio system, integrated satellite navigation and the dual-zone climate control system.
It also acts as a display for the integrated reverse camera and features full Apple CarPlay compatibility.
The centre stack also offers a two-tiered storage area and access to the entertainment system's USB and HDMI ports.
The 414-litre luggage compartment is equipped with a novel, side-opening and removable tonneau cover, and can be extended to 780 litres by folding down the 60/40 split rear seat.
Other convenience features include an electric parking brake, heated electric mirrors with fold function, as well as electric front and rear windows.
The Type R offers an impressive array of active and passive safety features. The uprated braking system is equipped with ABS anti-lock control, including electronic brake force distribution (EBD) and emergency brake assist (EBA).
Hill start assist (HSA) and vehicle stability assist (VSA) are also standard, the latter incorporating agile handling assist (AHA).
A key passive safety feature is the advanced compatibility engineering (ACE) body shell, which ensures progressive deformation and passenger safety cell integrity in the case of a collision.
Successful in-house crash testing included side impact testing up to 62km and rear crash testing up to 80km.
ACE operates in conjunction with no less than six SRS airbags (front, side and curtain airbags), as well as a front seatbelt pre-tensioning system, inertia reel seatbelts front and rear and ISOFix child seat anchors.
The array of standard security features includes remote central locking with keyless entry and walk-away door locking, speed-sensitive auto door locking, and selective unlocking. An engine immobiliser and integrated alarm system are also provided, as is rear privacy glass.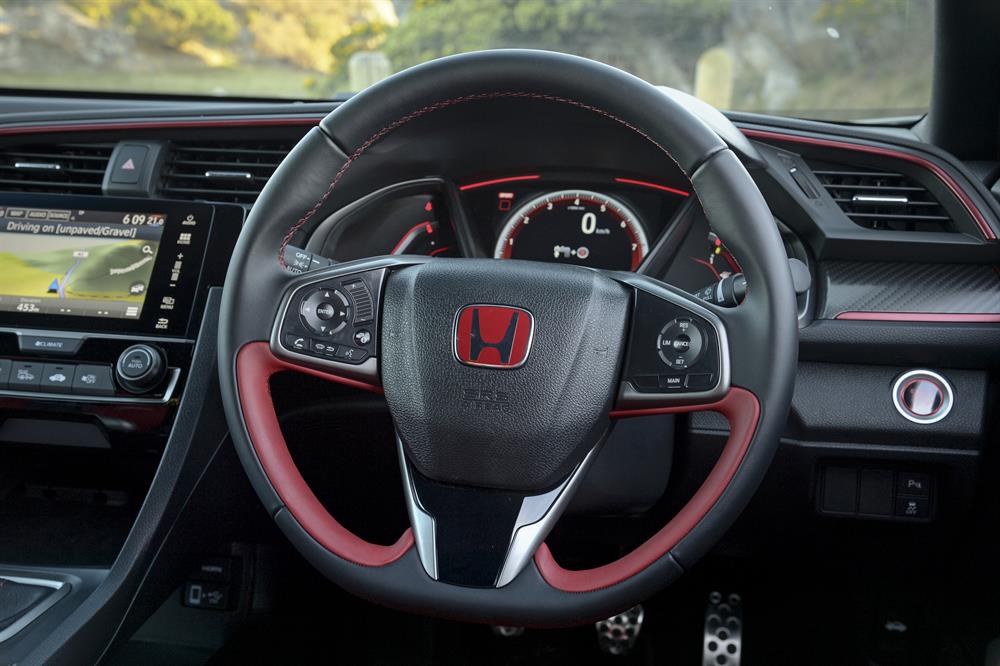 DETAILS
The new Honda Civic Type R is available in six colours: Championship White, Crystal Black Pearl, Polished Metal Metallic, Rallye Red, Brilliant Sporty Blue Metallic and Sonic Grey Pearl.
The retail price of R627 900 includes a comprehensive five year or 200 000km warranty, as well as a five year or 90 000km service plan and a three year AA Roadside Assistance plan.
Scheduled services are at 10 000km intervals.
'We bring you the latest Garden Route, Hessequa, Karoo news'