MOTORING NEWS - Toe die wêreld nog normaal was en mens steeds mekaar se gesigte kon sien, het ek 'n storie oor renjaer Anita Cusens en haar Fiat vir CarMag geskryf. Intussen het ek ook kennis gemaak met Noel Gargan van Denneoord in George en sy seldsame Fiat Abarth. Saam met Anita het ek en hy 'n wonder in Wilderness beleef.
Maar eers meer oor Noel se Fiat
Noel is die trotse eienaar van 'n pragtige 2005 Fiat Stilo Abarth aangedryf deur 'n 5 silinder 2,4 liter Volvo enjin - dieselfde enjin wat die blitsige Ford Focus ST aandryf.
Noel se Abarth, wat hy uit 'n boedel gekoop het, se topsnelheid is 215 km/h. Die enjin ontwikkel 125 kW en druk 221 Nm wringkrag uit. Die Stilo het pragtige baklyne en steek glad nie af by enige 2020 model Fiat nie.
Na 'n groot ge-oe en ge-aa oor Noel se pragstuk, het ek, hy en Anita met groot verwagtinge na haar broer Jerian Spaans se kleinhoewe in Wilderness gery.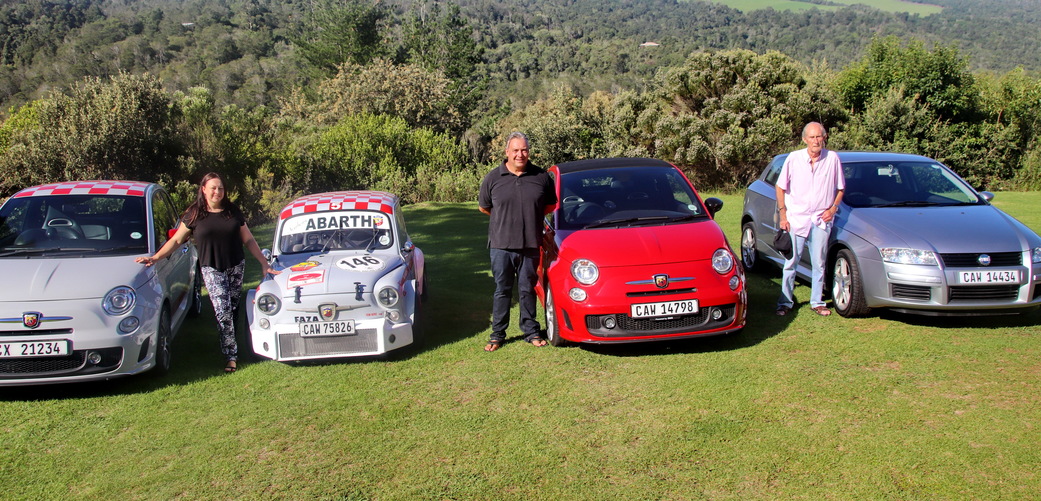 Van links is Anita Cusens by haar twee Abarth Fiats, Jerian Spaans by sy 500 Abarth SS, en Noel Gargan met sy indrukwekkende Stilo Abarth.
'n Fiat-paradys
Met ons aankoms het Jerian stadig sy skuur se deur oopgestoot. Heel eerste kyk jy vas in sy pragtige Fiat 500 Abarth SS. Die SS model verskil bietjie van die gewone Fiat 500 Abarth model wat Anita elke dag ry. Die SS model ontwikkel 118 kW met sy 1 400 16v Turbo enjin met 'n topsnelheid van 210 km/h. Anita se Fiat ontwikkel 119 kW, en sy hoogste spoed is 205 km/h.
'n Paar treë dieper in die skuur staan Anita se beroemde Knysna-heuwelren Fiat 600 Abarth TC-renmotor. Jy kan eenvoudig nie ophou kyk na dié legende nie.
Net langsaan staan 'n nog groter legende toegemaak onder 'n blou Fiat-doek. Jerian lig stadig die kleed op, en 'n oorspronklike Fiat Scorpione GT SS uit 1971 maak sy verskyning! Dis die Fiat met die mooiste baklyne wat ek nog ooit aanskou het, selfs al is Jerian nog besig om die Scorpione tot sy volle glorie te restoureer.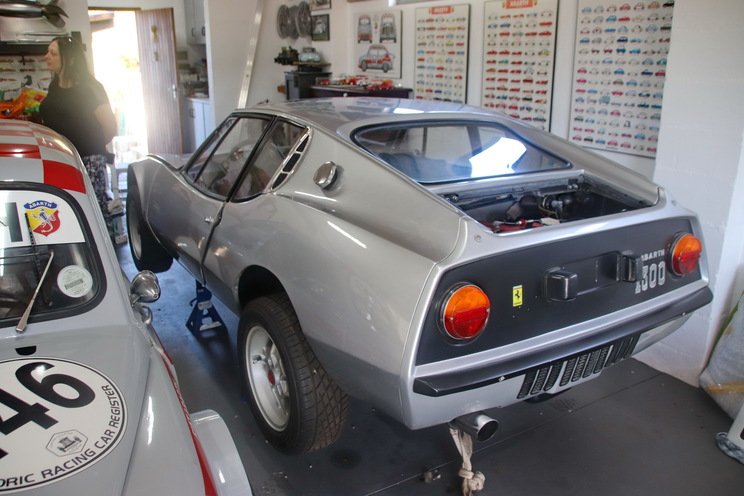 Die Fiat Scorpione Abarth is die Fiat met die mooiste baklyne ooit. So 'n ietsie van Ferrari dalk...?
BO: Anita Cusens se Fiat 600 Abarth TC. Foto's: Francois GermishuysDie 1 300cc enjin in sy agterkant skop 'n skaflike 75 perdekrag uit. Die Scorpione is net 42 duim of 1,02 meter hoog... net so bietjie hoër as die beroemde Ford GT 40.
Ek skeur my weg, en sien 'n pragtige Fiat X19, maar toe ek die mure sien, kan ek net my hande verstom saamslaan. Plakkate van al die Fiat Abarth modelle sowel as skaalmodelle van Fiat Abarths pryk trots in die mini museum.
In 'n kas vind jy al die Fiat-handleidings, en oorspronklike wielvellings en vergassers van ou Abarth-modelle word ook uitgestal. Pa Jerry Spaans se roemryke renloopbaan word ook hier vereer.
Gou is die Fiats op die gras parkeer vir 'n fotosessie terwyl Jerian en Anita entoesiasties planne maak vir 'n Fiat Abarth saamtrek in die Suid-Kaap.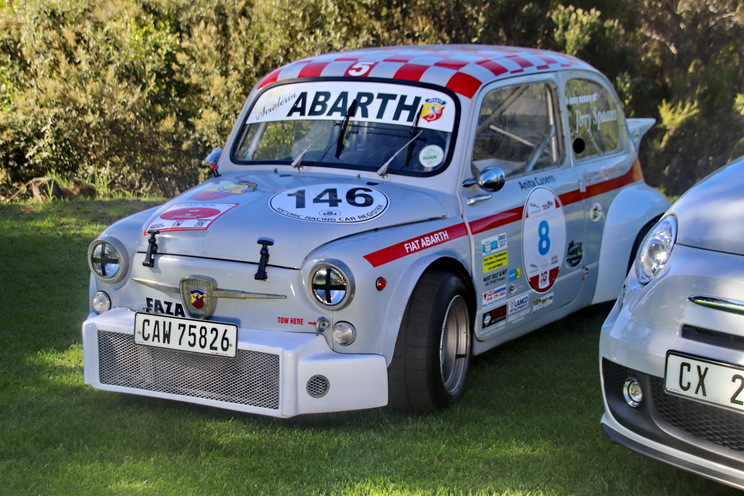 Anita Cusens se Fiat 600 Abarth TC.
So, as jy 'n Fiat Abarth, of enige Fiat besit en belangstel in 'n saamtrek ná al die Covid-19 malligheid op 'n end is, kontak my, Francois Germishuys, by 082 526 1186 of fpgimaging27@gmail.com sodat ons 'n Fiat-makietie van formaat kan hou.
'We bring you the latest Garden Route, Karoo, Hessequa news'