LIFESTYLE NEWS - MSG is a natural flavour enhancer that has the ability to make any food taste better. It is an amino acid that contains sodium and is a cousin of ordinary table salt or sodium chloride.
Natural glutamates are chemically identical to the glutamate in MSG and can be found in, among many others, blue cheese, Parmesan cheese, soy sauce, fish sauce, anything with tomato, mushrooms, broccoli, oysters, olives, corn, potatoes, chicken, mackerel, anchovies, cured meats, beef broth, cows milk, human milk, and anything made with a yeast extract such as marmite.
Glutamate is a naturally occurring substance in our bodies. It is also what gives food a characteristic umami or savoury taste. It has been scientifically proven that adding a little MSG to a dish to enhance its flavour will not do harm.
The total sodium content of MSG is about a third of ordinary salt which means that using it in your cooking instead of salt will reduce your sodium intake and enhance the flavour of the food.
Science repeatedly comes to the conclusion that MSG is glutamate and glutamate is MSG. Scientific research has found no reason why MSG would have an adverse effect on the body.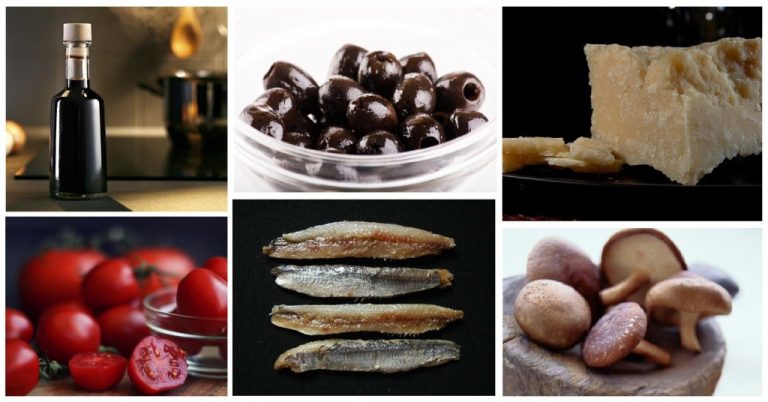 Umami rich foods.
Chinese Restaurant Syndrome and the demonisation of MSG
It is MSG that gives Chinese and other Asian dishes their exceptional flavour. It was popular as an additive across the world until 1968 when Dr Robert Ho Man Kwok wrote a letter to the New England Journal of Medicine stating: "I have experienced a strange syndrome whenever I have eaten out in a Chinese restaurant, especially one that served northern Chinese food. The syndrome, which usually begins 15 to 20 minutes after I have eaten the first dish, lasts for about two hours. The most prominent symptoms are numbness at the back of the neck, gradually radiating to both arms and the back, general weakness, and palpitations."
And thus, the Chinese Restaurant Syndrome was born. Nutritionists and scientists rushed out to prove the syndrome true by conducting severely flawed experiments. Unfortunately, the myth persists, even after numerous studies have concluded that MSG does not cause adverse reactions or allergies.
Hyperactivity in children
MSG was stigmatised as an evil chemical that was going to make you sick. Even revered British nutritionist and author Patrick Holford claimed that MSG was linked to hyperactivity in children.
MSG is still widely used
We probably eat glutamate (the G in MSG) every single day without realising it, as it is in many natural foods, and because it is still used in foods commercially, but under other guises.
Since MSG was vilified, the food industry found ways to continue using it – especially since it had been proven to be safe. They just call it "natural flavouring" or monopotassium glutamate, glutavene, glutacyl, glutamic acid, autolysed yeast extract, calcium caseinate, or sodium caseinate, instead.
World famous celebrity chef Heston Blumenthal said: "The biggest old wives tale is that MSG is bad for you. That is complete and utter nonsense."