GEORGE NEWS - The Up with Downs School in Blanco is in their 21st year of existence and, with some of the children that it started out with having grown into young adults, now more than ever needs to look towards the future of the school.
The school is having a fundraiser together with Lets Go Bowling, the ten pin bowling venue in York Street.
Teams of five can enter as from 1 September and can play until 5 October to qualify for the finals. As Lets Go Bowling's charity of choice, Up With Downs receives the money the public puts in a big donation can at the venue's counter.
Lets Go Bowling then generously matches the amount inside as extra donation to the school.
The school's director, Janet Seegmuller, says money raised with the event will be used to build a permanent home for the young adults, who are currently staying in the residence next to the school.
According to Brenda Boshoff, a facilitator at the school, they will start with ten rooms and take it from there.
"This is a great initiative from the people of Lets Go Bowling. Our kids have been involved with their programme for the last four years and it has been great for them," she says. "It is a wonderful family sport and the kids love it."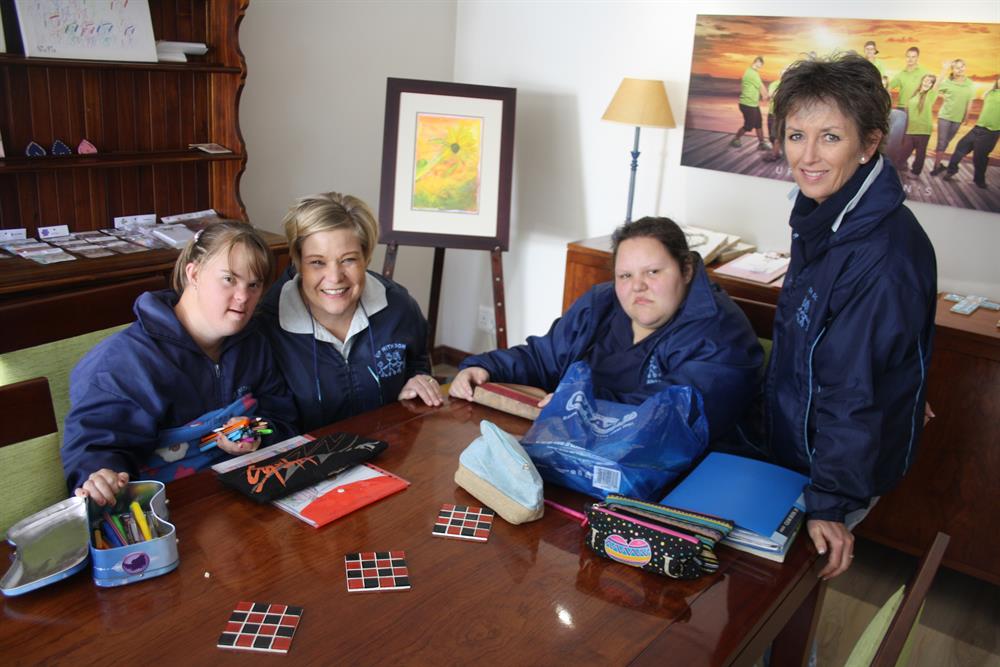 Doing homework. From left are Marné de Koker, facilitator Brenda Boshoff, Lisa van der Westhuizen and director Janet Seegmuller.
The fundraiser is one of many fundraising projects they are running to build the new adult home. Seegmuller says they already own the land across from the school and can't wait to start this new journey.
If you want to get involved, please contact Boshoff on 044 870 8770 at the school or enter here.
Marné de Koker washes Janie Claasen's hair. This is just one of the life skills the kids at Up with Downs are taught.
'We bring you the latest George, Garden Route news'