Gallery
GEORGE NEWS - Ward Councillor Mercia Draghoender has been donating and assisting the school in her Ward for the past 8 years and have been assisted by pastor Alexander who also runs the Faith and Trust Outreach Family Church in the community of Borcherds.
Draghoender said it's her passion to help where she can as Ward Councillor. She said if she can only make a difference in one person's life, it will be a good thing. She says she strives to uplift the community of Borcherds. "Ward 20 is the poorest Ward in the Southern Cape," she says.
Click here for a photo gallery.
Past Alexander, who celebrated his birthday on the 23rd of January put his birthday celebrations on hold to be part of the event at the school. Alexander who turned 47, hails from Borcherds. He encouraged the learners to do their best in school because they can be the good that come from Borcherds.
Janine Fernold, Manager: Environmental Services, explained briefly to the learners what an ecobrick is and how they can make their own. She told learners to also educate their parents not to illegally dump refuse.
Heidedal Primary will start collecting unrecyclable plastics, such as chips and chocolate wrappers, foam cups etc in order to fill 2l plastic bottles. The bottle is screwed closed and then used as a building brick. The ecobrick is used like a clay brick with cement to build. Visit www.facebook.com/ecobrickexchange or www.twitter.com/ecobrickxhange.
Alderman Mercia Draghoender, Pastor Christo Alexander and teachers from Heidedal Primary with all the grade 1's at the event.
Material that is considered ecobrick material includes laminated paper, photos and transparencies, polystyrene trays, plastic fruit punnets, silvery packets from chips and chocolates, Wax paper and dogfood bags etc.
Ecobricks alleviate pressure from landfill sites and teaches residents that the trash littering their streets actually holds value.
Draghoender encouraged the learners and the residents of Borcherds to keep the Ward clean and not to illegally dump refuse.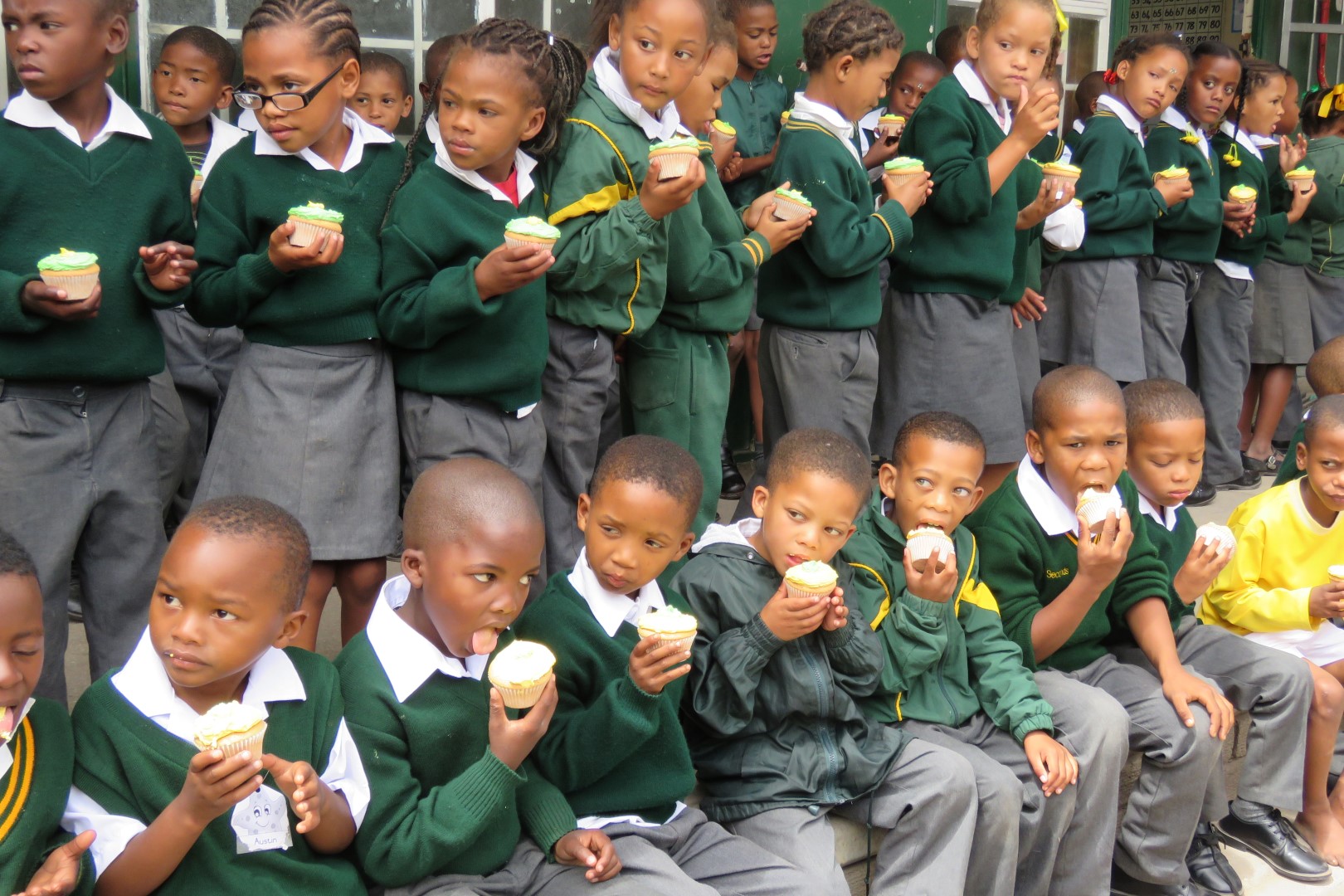 Enjoying the cupcakes.
'We bring you the latest George, Garden Route news'