SOUTHERN CAPE NEWS - Over the past weekend a serious wildfire on the slopes of Table Mountain was successfully put out. The strong winds made the fire particularly intense and hard to combat.
Anton Bredell, the minister of Local Government, Environmental Affairs and Development Planning in the Western Cape, has called on the public to take great care over the next few months as the fire danger risk is high.
"Summers in the Western Cape can be hot and very windy and this has in the past contributed to the severity of wildfires. The provincial authorities along with all our partners are on standby already to tackle wildfires that may occur."
Bredell says the public's help is critical and he called on visitors and residents of the Western Cape to act quickly and responsibly to prevent fires and when seeing fires.
"Early fire warnings remain critical to controlling fires quickly. When a fire does break out, getting control over it as quickly as possible is vital. If we can get to a fire within the first hour the possibility of a major incident is minimized.
"We ask everyone to take extra special care and only make fires in designated places, do not throw cigarette butts out the window and make sure braai fires are properly extinguished before leaving them."
The Minister advises the public to report fires immediately and not to assume it has been reported.
When reporting fires in the Western Cape please contact your Local District Municipality:
City of Cape Town - 107 or 021 480 7700 and 080 911 4357
Overberg - 028 425 1690
West Coast - 022 433 8700
Eden - 044 805 5071
Central Karoo – 023 449 8000
Cape Winelands – 021 886 9244 / 021 887 4446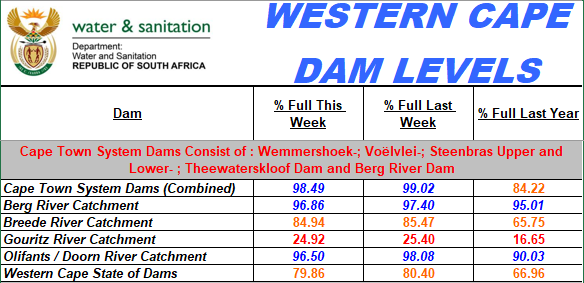 Dam levels
The latest average dam level for dams in the Western Cape is 79.8%. The latest levels for dams providing water to the City of Cape Town, are 98.4% (2019: 84.2%).
Major Dam statistics
Voëlvlei dam – 96.1% full this week (2019: 89.7%. Last week: 96.7%)
Bergriver Dam 99.7% full this week (2019: 100%. Last week: 99.9%).
Theewaterskloof dam – 100.5% full this week (2019: 75.2%. Last week: 100.53%)
Garden Route dam – 100% full this week (2019: 79.9%. Last Week: 100%)
Clanwilliam Dam 97.8%. (2019: 91.8%. Last week: 98.8%)
'We bring you the latest Garden Route, Hessequa, Karoo news'