WESTERN CAPE NEWS - I would like to thank all of those who have come on board to donate masks and funds in our Masks for Madiba drive ahead of Mandela Day tomorrow. We have received many generous donations, that will help us get masks to thousands more people in the province- helping to keep them and their loved ones safe.
It's not too late to donate- anyone wishing to pledge can still do so by visiting www.maskaton.co.za/masksformadiba.
You can decide how much you want to donate and no amount is too small. Your donation will also help to support small businesses and crafters in the province who will be making the masks.
Fill out the pledge form on the website and you will receive an email with further details on where to make your cash donation, or where to drop off any physical masks you may wish to donate.
This is a simple way that we can all help to slow the spread and save lives.
Western Cape Covid-19 figures
As of 13:00 on 17 July, the Western Cape has 13 756 active cases of COVID-19, with a total of 83 480 confirmed cases and 67 181 recoveries.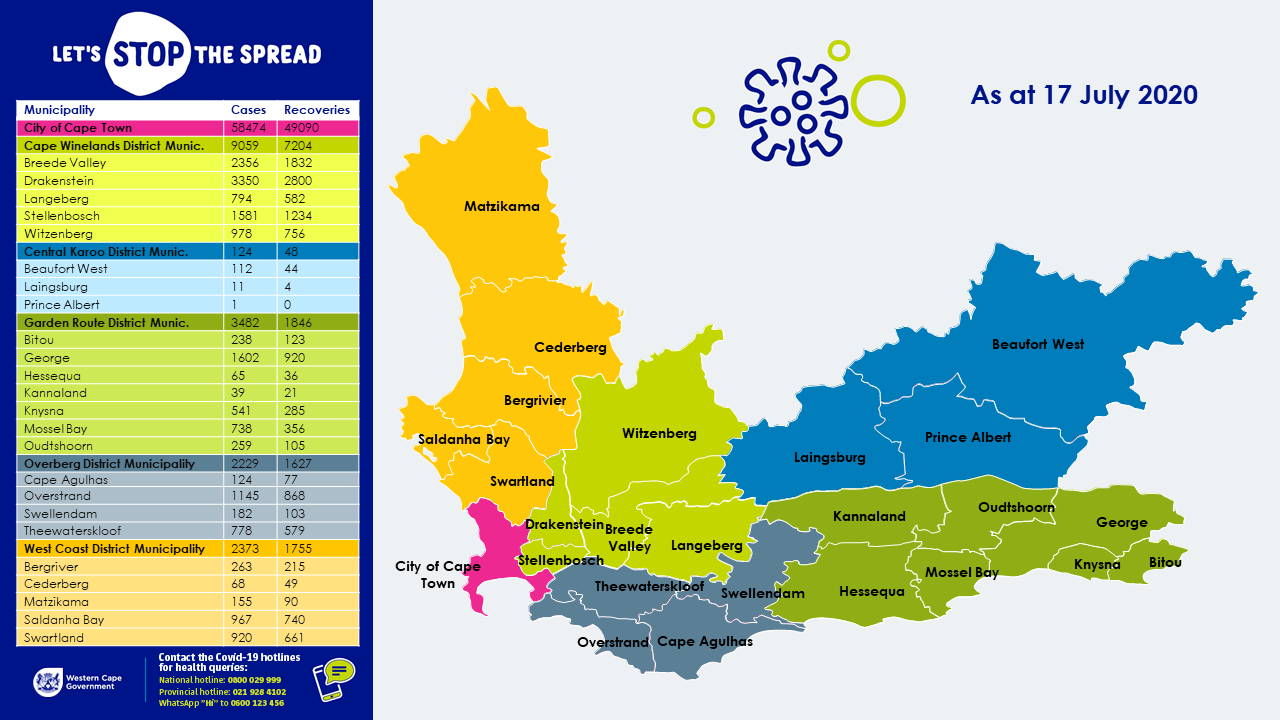 Department of Social Development assistance to ECD's:
The Department of Social Development in the province has re-prioritised R10.2 million in funding to assist Early Childhood Development centres to re-open safely.
The funds will be used to procure PPE, prepare sites for re-opening and to prevent and manage the spread of COVID-19 at registered and conditionally registered ECD services.
The funding will be issued to currently funded social service organisations, who will pioritise the need for support packages based on a defined set of eligibility criteria.
Diabetes and COVID-19:
As a diabetic who is currently recovering from COVID-19 myself, it is very important to me that those high risk groups, such as people over 55, and anyone who has a chronic condition, are aware of their risk and take suitable precautions to protect themselves.
Diabetics are particularly vulnerable to severe illness once they become symptomatic and require earlier care and intervention for a better health outcome.
Research in the province has shown us that many diabetics are only tested for COVID-19 when they arrive at the hospital with severe symptoms such as shortness of breath. My message to all diabetics today is that if you have any symptoms, get tested as soon as possible. This allows us to identify your risk and ensure that you become part of our risk stratified approach to treating diabetics with COVID-19.
The action plan focuses on low, medium and high risk to decrease the morbidity and mortality amongst people with diabetes.
Low risk: Those whose diabetes are well controlled with no additional comorbidities. They will receive daily calls from the Department's Contact Centre to check their symptoms. Should they struggle to control their glucose level and their condition deteriorates, they will be offered admission to a hospital where their condition can be treated and controlled.
Medium: Persons whose diabetes are well or moderately controlled with additional comorbidities. They will receive daily calls from "PODS" to check their symptoms and their blood glucose level and, if deemed medically necessary, will be offered admission to the Hospital of Hope where their condition can be treated and controlled.
High: Persons with poorly controlled diabetes, with additional comorbidities and over the age of 70 years old. They will be contacted and offered admission to a tertiary hospital to receive the necessary specialised medical care.
Quarantine and Isolation:
Quarantine and isolation are important aspects of our response to COVID-19 and those who are unable to self-isolate or self-quarantine at home safely, have access to safe and comfortable facilities to do this.
By choosing to use one of these facilities, you can protect family members and loved ones living with you. This is an important choice, especially if you live with elderly family members or anyone with an underlying illness.
So far, 4 198 people have been admitted to facilities since the start of the pandemic, with 606 currently in isolation, and 201 in quarantine in facilities in both our metro and rural facilities.
Anyone looking for more information or advice can contact our hotline on 021 928 4102.
'We bring you the latest Garden Route, Hessequa, Karoo news'