WESTERN CAPE NEWS - The Western Cape Department of Health continues with its logistical planning for the phase one vaccine rollout.
Dr Keith Cloete, head of the department, said in a digital conference today, 11 February, that 300 000 to 500 000 doses of the Johnson & Johnson vaccine will be available soon to be used as part of the open label clinical trial in healthcare workers.
"We have met with the principal researchers and they will confirm the allocation to the Western Cape. The limited doses will require further sequencing and prioritisation among healthcare workers," he said.
Nationally, the target is to vaccinate over 1,2 million healthcare workers. Doses of the J&J vaccine are being procured after the initial vaccination programme with the AstraZeneca vaccine was halted. The AstraZeneca vaccine initially showed good results, but new findings indicate it is less effective against the 501Y.V2 variant, which is dominant in South Africa.
The planned phase one rollout of the vaccination programme will continue with the J&J vaccine in mid-February. "This vaccine showed a 57% efficacy in South Africa but more importantly, it showed 85% efficacy in preventing severe disease and death due to Covid-19," said Cloete.
The vaccine will be registered for use in 12 weeks' time.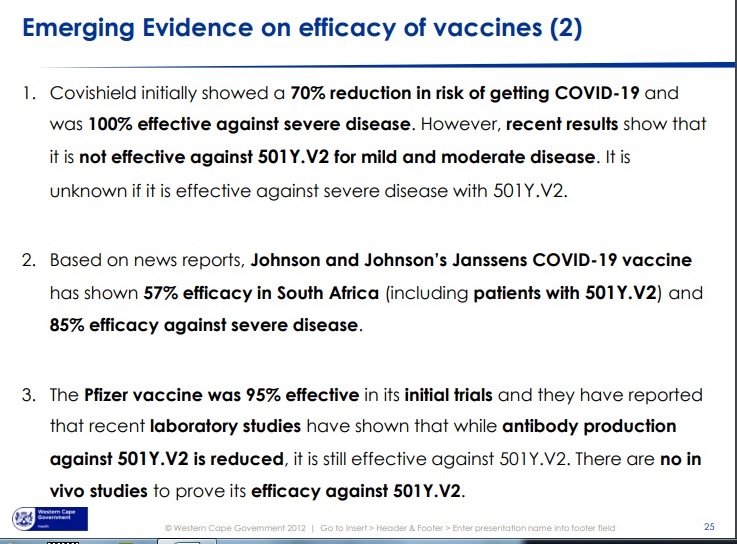 Premier Alan Winde said they are making sure they are 100% ready to roll out the vaccine when it becomes available in the province.
Almost 150 000 healthcare workers in the public and private sector in the province have been identified to receive the vaccine. "With planning continuing, we now await further information on the quantities of the J&J vaccine to be distributed to provinces as well as the expected arrival date of these vaccines," said Winde.
Cloete said other global vaccination programmes have taught that there must be commitment from leadership at a high level as well as trust and buy-in from citizens. Meticulous monitoring and daily reporting are also essential.
The Western Cape Government's progress in the planning process:

* The province has identified 378 public sector facilities and 41 private facilities where vaccination will take place.

* It has procured 93 vaccine-friendly fridges to supplement its existing vaccine fridges.

* WHO pre-qualified cooler boxes and ice bricks are being procured.

* Consumables including needles, swabs and cooler boxes have been procured.

* The generators in various facilities have been assessed and portable generators are on standby.

* 3 084 vaccinators have registered for training. 583 have completed their training.

* Vaccine cards for recipients have been produced.

* -70 degree storage capacity for Pfizer vaccine has been identified with Stellenbosch University.

* The police and law enforcement are being briefed as things progress, to ensure safeguarding of vaccines en route.

* The CMD (Cape Medical Depot) will assume responsibility for distribution to public and private facilities.

* Courier is in place and dedicated to distribution.

* The national department has launched the Electronic Vaccination Data System (EVDS) registration portal.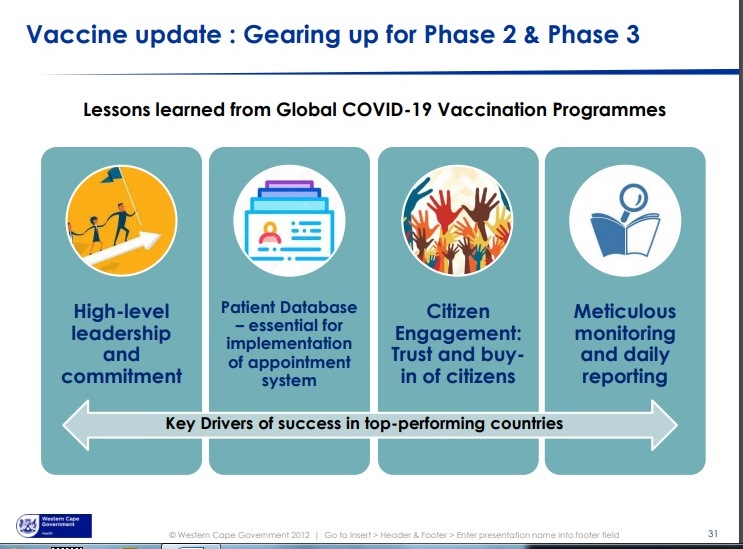 'We bring you the latest Garden Route, Hessequa, Karoo news'