WESTERN CAPE NEWS - The Western Cape Minister of Transport and Public Works, Bonginkosi Madikizela, today launched the Red Dot Service.
This forms part of the Western Cape's targeted hotspot response strategy for the Covid-19 pandemic in the Western Cape. This partnership between the Western Cape Government and the minibus taxi industry will deliver critical transport services needed during this challenging time.
This Red Dot service (which refers to the sticker on the bus) will provide a chartered transport service for those Department of Health employees who need to travel for work between 19:00 and 05:00. This is difficult outside of these hours because of limitation of transport under Alert Level 4 restrictions.
From 1 June, the service will also transport citizens who have tested positive for COVID-19 or are at high-risk of having been exposed to the virus to public isolation and quarantine centres in the Western Cape. The fleet will initially comprise 100 minibuses and will follow strict safety and hygiene protocols, including the rigorous cleaning and sanitization of vehicles after every trip.
"We are extremely thankful to SANTACO Western Cape for supporting this initiative, as we find innovative ways to make sure that we can assist our residents," said Premier Alan Winde in his latest statement today.
Western Cape COVID-19 cases update
As of 13:00 on 18 May, the Western Cape has 6031 active cases of Covid-19, with a total of 9927 confirmed cases and 3731 recoveries.

Total deaths - 165
Total active cases (currently infected patients) - 6031
Total number of tests - 94275
Hospital admissions - 424 with 111 in ICU or high care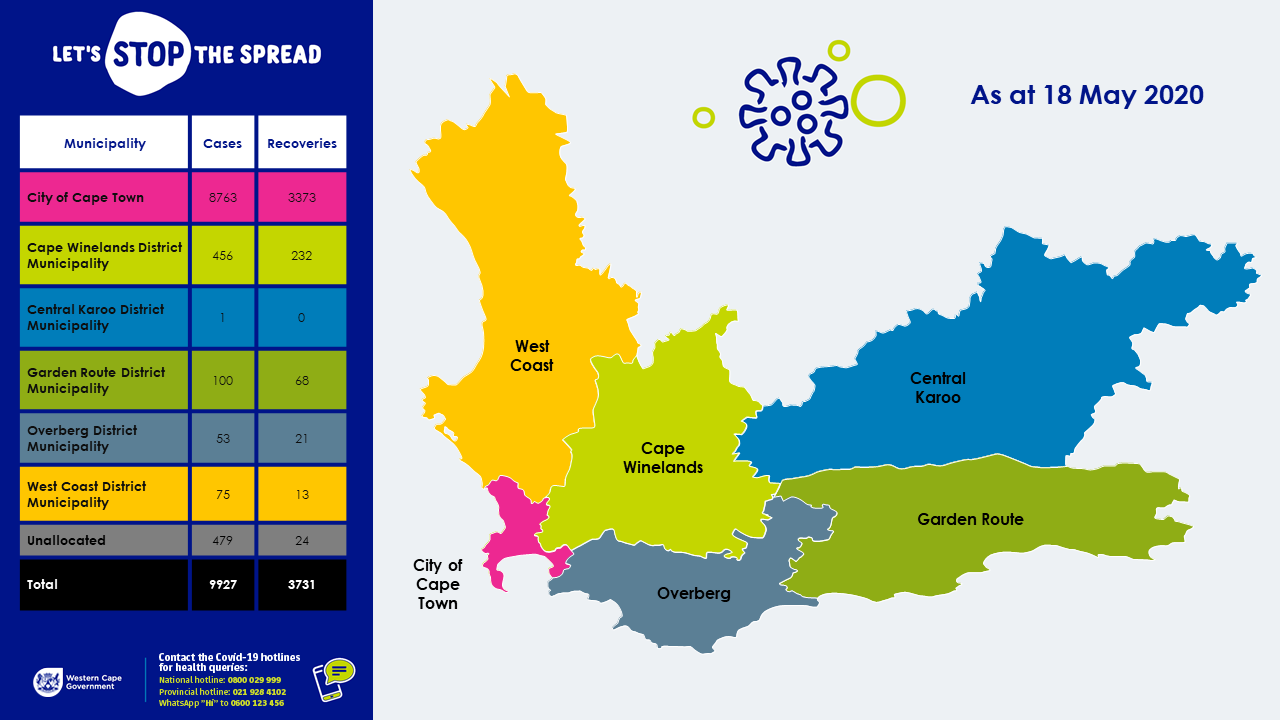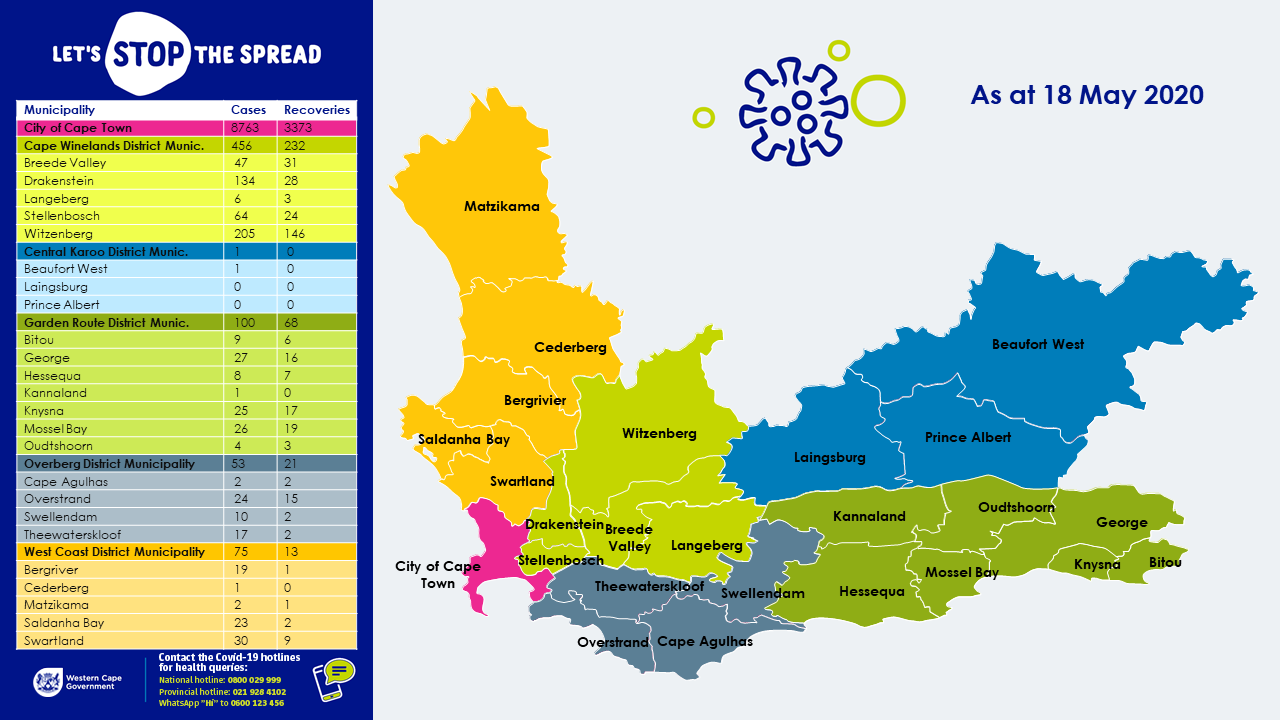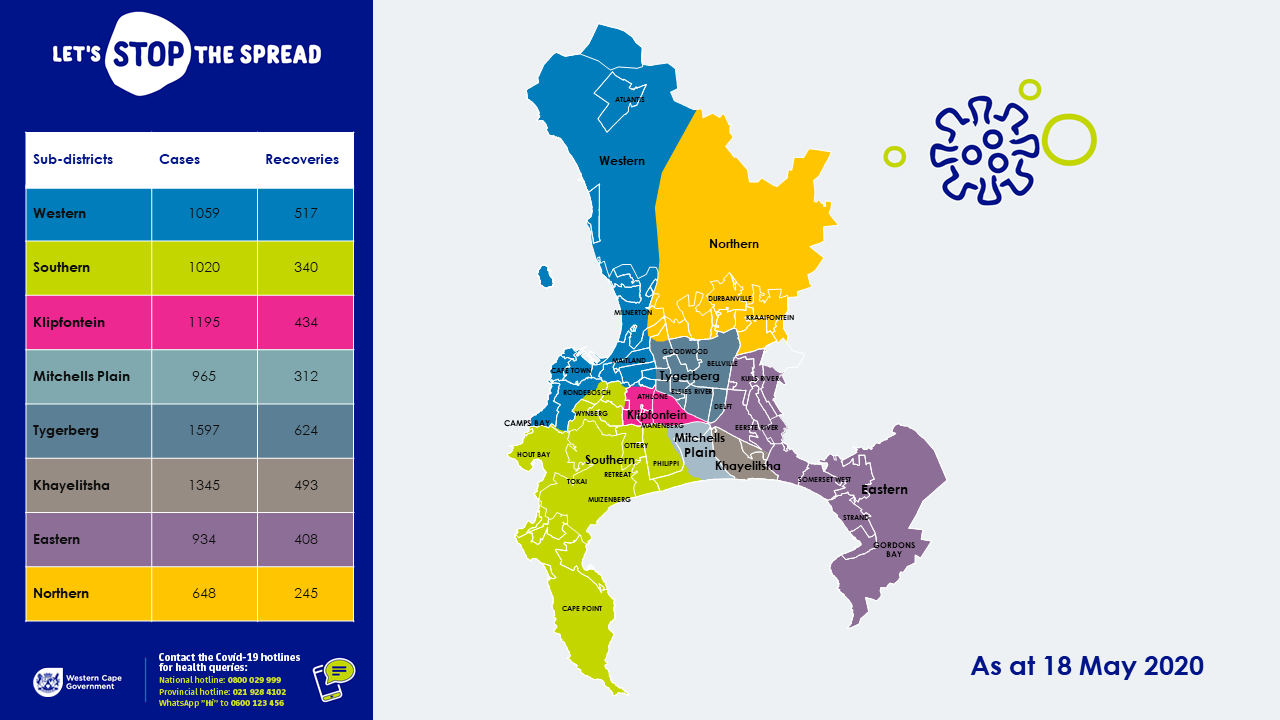 One case previously allocated to Langeberg, has been re-allocated based on updated address data.
Additional data can be accessed on the dashboard.
READ THE REST OF WINDE'S STATEMENT BELOW.
Recovery from serious illness
Earlier today, Health Minister Nomafrench Mbombo visited the Gatesville Melomed Hospital to celebrate the recovery of Bathandwa Zuzo, from Gugulethu.
Minister Mbombo said: "Mr Zuzo tested positive for COVID-19 and was admitted on the 26 April 2020, with severe respiratory problems. He was in ICU and on ventilators for 3 weeks. This also serves to demonstrate the strength of our health system and to showcase our health professionals' skills in dealing with this pandemic. This is a powerful story of a man who survived the most severe case of this virus, I hope this will give hope to the people who have been diagnosed with COVID-19."
"It is also important that we show our support for those who are ill- and treat them with kindness and care on their path to recovery," says Premier Winde.
Minister Anroux Marais supports creativity for young learners during the lockdown
The Western Cape Minister of Cultural Affairs and Sport announced educational resources available for young learners during the Lockdown. An online resource portal for NGOs to share has been developed through a partnership of the Department of Cultural Affairs and Sport's After School Programme, the Learning Trust, ASSITEJ-SA, and the Laureus Sport for Good Foundation. The Department is also developing printed materials to be used by learners who can't access the material online, while the site is being zero-rated.
I am grateful for the support of these organisations, as we continue to ensure the education of our children receives the attention it deserves. To view or contribute to this resource, please visit the Treasure Box.
Minister Tertius Simmers announces new homes as government work continues through the pandemic
Yesterday Minister Simmers announced that 1371 beneficiaries will benefit from new homes that are ready to be handed over across the Western Cape. This includes 267 houses in the Cape Metro and some 229 housing opportunities in Ceres, which is within the Witzenberg municipality. Our government is continuing to work hard throughout this pandemic to continue to deliver on its mandate, and I am excited that these residents will soon move into their new homes. Improving the lives of vulnerable communities is our top priority and a critical part of the response to the pandemic.
Dear reader, As your local news provider, we have the duty of keeping you factually informed on Covid-19 developments. As you may have noticed, mis- and disinformation (also known as "fake news") is circulating online. Group Editors (publications and online platforms) is determined to filter through the masses of information doing the rounds and to separate truth from untruth in order to keep you adequately informed. Local newsrooms follow a strict pre-publication fact-checking protocol. A national task team has been established to assist in bringing you credible news reports on Covid-19.
'We bring you the latest Garden Route, Karoo, Hessequa news'