GEORGE NEWS - A group of 88 workers of the Expanded Public Works Programme (EPWP) started on Tuesday 22 March on a new ward-based cleaning project of the George Municipality, supported by the Garden Route District Municipality.
Workers who completed the recruitment process started with the cleaning of main roads leading from the CBD, including York Street, Langenhoven Road, Nelson Mandela Boulevard and Madiba Drive.
When the rest of the workers finished the recruitment process, the teams will start moving into the rest of the neighbourhoods.
Acting Director of Community Services Allen Paulse said the aim is to recruit a total of 194 workers and 13 coordinators to pick up litter and remove grass and weeds along the roads in all 27 wards.
"Once the teams are done with the cleaning, a group of municipal workers will spray herbicide to keep weed and tufts of grass under control," said Paulse.
A group cleans up on the corner of York Street and Langenhoven Road.
The project will run for four months, whereafter Council will decide if it will be rolled out over a longer period of time.
The workers are provided with reflector bibs, tools, gloves, masks and sanitiser for the job.
The EPWP workers wait in the Banquet Hall for all the paperwork and planning to be done before they start with the day.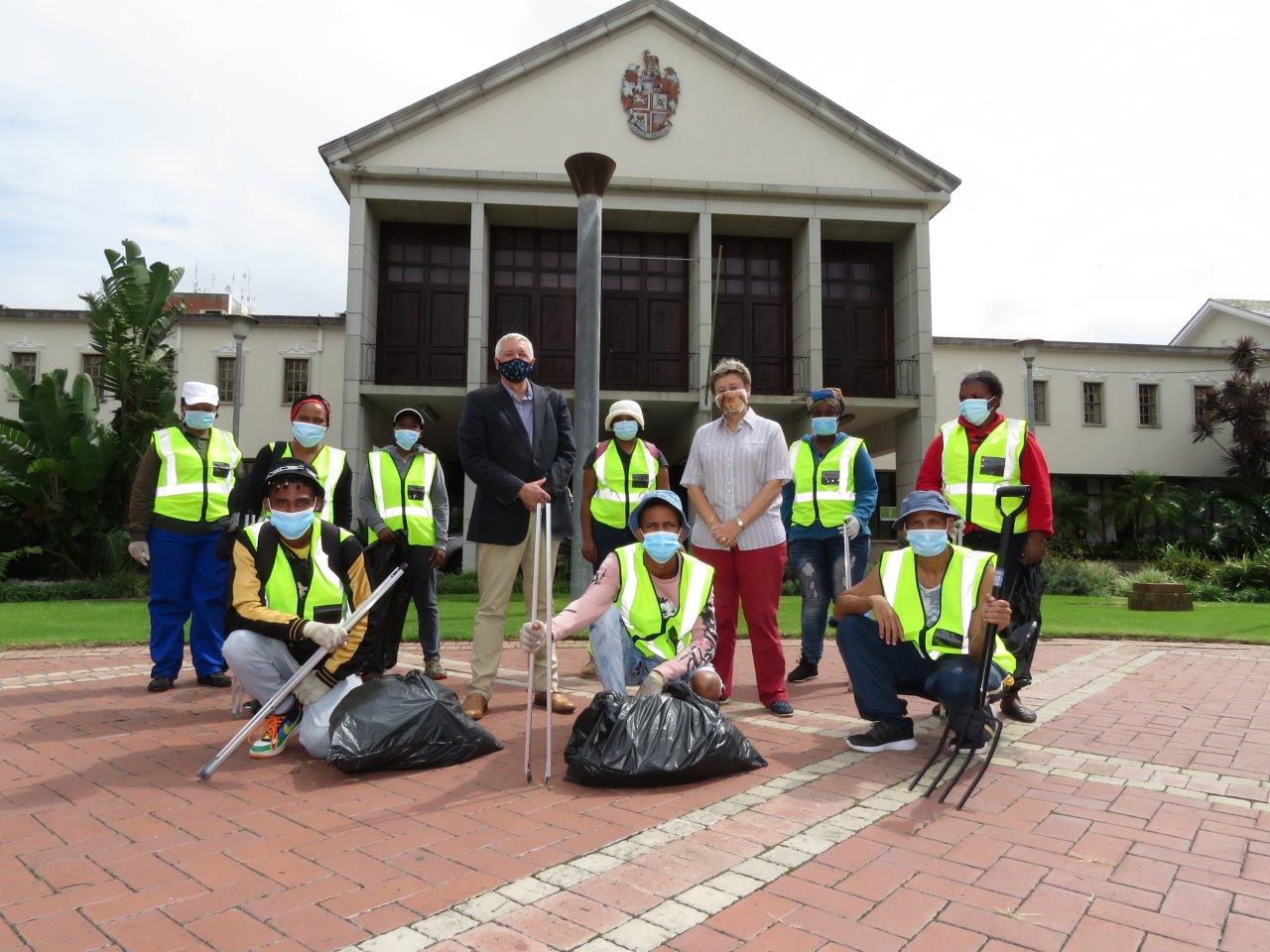 George Mayor Leon van Wyk, Acting Municipal Manager Dr Michele Gratz and workers of the Expanded Public Works Programme. Van Wyk said he is glad that the municipality can get George clean again and create jobs in the process. The group of workers include Carlo Muller, Rowan Petersen, Leonard Plaatjies, Siziwe Tiki, Nokuzola Njengele, Amanda Ntsimbi, Nonceba Mbotshelwa, Enshane Pietersen and Asive Ntsweli.
'We bring you the latest George, Garden Route news'