Warning: Graphic content
GEORGE NUUS - Sy lewe was tot verlede jaar nie juis een van gemak nie. En toe hy verlede week gesteel is, het sy nuwe eienaars die ergste verwag.
Maar nou is Manga terug by die huis en die man wat verbind word met sy diefstal eis nou die beloning.
Manga, 'n Staffordshire-terriër wat na een van Oudtshoorn Dogs in Need (Odin) se werknemers vernoem is, is verlede jaar deur Bertus van der Merwe aangeneem. Voor hy deur Odin gered is, het Manga se lewe hand aan hand met mishandeling geloop.
Op 27 September is Manga egter uit Van der Merwe se erf in Denneoord gesteel.
Die nuus van die hond se verdwyning het soos 'n veldbrand op sosiale media versprei. Van der Merwe het plakkate laat druk en met die hulp van Marlene Mennie, 'n plaaslike diereliefhebber, uitgedeel. Hy het ook 'n beloning aangebied en in 'n japtrap is Manga gevind - nie ongeskaad nie, maar veilig.
Volgens Van der Merwe het 'n man Woensdag 2 Oktober vir hom kom sê waar Manga weggesteek word. Vergesel deur die Tuinroete DBV se bestuurder, Salomé Bruyns, en lede van die George-polisie, het hulle 'n erg verbouereerde Manga in 'n sinkhuis in Geelhoutboom gevind.
"Hy was toegemaak in 'n sinkhut en het beserings aan sy kop en sy agterbeen opgedoen," vertel Bruyns.
"Ek het die man wat vir ons gesê het waar die hond was gevra hoe hy geweet het waar om Manga se eienaars op te spoor. Hy het gesê hy het in Denneoord rondgevra om uit te vind waar hulle woon. Daar was nie 'n adres op die plakkate nie."
Manga se seerplek op sy agterbeen.
Die man is kort na Manga gevind is, in hegtenis geneem ná hy glo erken het dat hy Manga gesteel het, maar omdat daar nie genoeg bewyse was om hom in hierdie stadium met die hondediefstal te verbind nie, is hy vrygelaat sonder om in die hof te verskyn. Kort daarna het dieselfde man weer by Van der Merwe se huis opgedaag en sy beloning geëis
Volgens George-polisie se kommunikasiebeampte, kapt. Nolonwabu Tshengu het die man vir die polisie gesê hy het die hond glo by twee ander mans gekoop, maar het ongelukkig nie hul kontakbesonderhede nie.
"Die saak word steeds ondersoek en wanneer genoegsame bewyse bekom word, kan die saak weer op die rol geplaas word," sê sy.
Manga, the Staffordshire terrier that was stolen from a yard in Denneoord on Friday 27 September, was found five days later in a shack in Geelhoutboom. The man who told Manga's owner, Bertus van der Merwe, where to find his dog, was arrested shortly afterwards. He was however released without appearing in court as there was not enough evidence to keep him in custody. The investigation continues.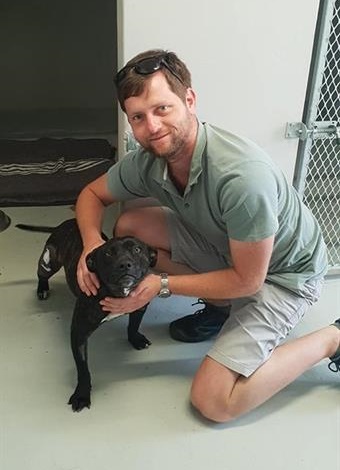 Op pad huis toe! Bertus van der Merwe en Manga word herenig.
'Ons bring jou die nuutste George, Tuinroete nuus'