GEORGE NEWS - For the second year in a row the Skateboarding for Hope Tour has given children from the ACVV Môreson Kinderhuis in Denneoord the experience of a lifetime when they attended a skateboard clinic on Saturday at the Skatelab Park in York Street.
Skateboarding for Hope, a community outreach programme, was held in conjunction with the Buck Tour Skateboarding Contest. This year was the 13th annual event, which took place under the auspices of the National Skateboarding Association (NSA). The George leg of the South African tour, which includes Johannesburg, Cape Town, Nelspruit, Port Elizabeth, Durban and Kimberley, is the oldest competition in the country.
The day's action included skateboarding clinics, demos, best trick competitions with cash prizes and there was even skateboarding merchandise up for grabs. Expert skateboarders conducted training sessions and showed the novice skateboarders the basic moves. Twenty-five kids from Môreson were again invited to be part of the fun and attended the skateboarding clinic. They were kitted out with skateboards and other merchandise.
The children said that last year those that attended said it was great fun and they were so pleased when they were told that they would be going this year. "It is great to be here. For the last year I have been on someone else's skateboard, now I have my own and they have shown me some clever moves. Everyone is so helpful and we really feel at home here. The only thing that is scary is to see a trick that goes wrong and the poor boy as he hits the deck," said one of the children.
The group was under the supervision of Maretha Joubert and Johanna Sanders, child and youth case workers at Môreson. Joubert said that the children asked if they were going again this year. "On this outing I can even relax as they are so well looked after and cared for by the organisers." Sanders added: "If I never had these boots on, I would also be on a skateboard, it looks exciting and thrilling."
The Skateboarding for Hope initiative was launched by the Northern Cape provincial government to offer South African youth the opportunity to challenge themselves mentally and physically. The programme presents local youngsters with a healthy, affordable and accessible lifestyle alternative and the chance to become part of the fastest growing sport in the country.
The Maloof Skate Park, next to the famous Kimberley Diamond Mine, has been built at a cost of R3-million and is one of the finest facilities of its kind in the world.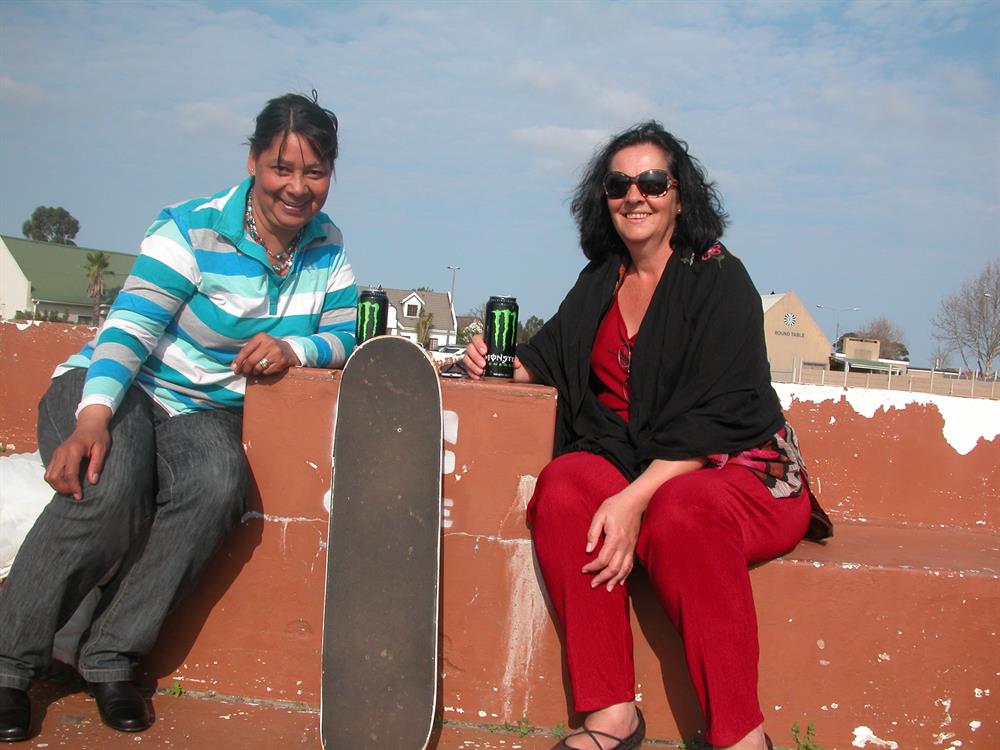 Johanna Sanders and Maretha Joubert, child and youth care workers from Môreson who accompanied the children.
Calvin Riley, Kevin du Rand, Christan Millard, Jerade la Grange and Joshua Hogan of George taking a break from the action.
ARTICLE: MYRON RABINOWITZ
'We bring you the latest George | Garden Route news'