GEORGE NUUS - Die vriendelike gelukbringer van die dorp se publieke vervoerdiens, Georgie, was die ster van die dag onder die kinders én volwassenes by die Up with Down's-sentrum in Blanco tydens 'n onlangse besoek.
Georgie het almal entoesiasties laat deelneem aan die Jerusalema-dans, maar hierdie keer moes hy egter die kollig deel met die fotobanier waar die leerders en inwoners tougestaan het om deur die vensters te loer en vir die kamera te glimlag.
Die Go George-kommunikasiespan het dié sentrum vir leerders en volwassenes met spesiale behoeftes besoek om inligting oor Covid-19-veiligheid te deel.
Hulle het ook meer gehoor oor die reëls wat van toepassing is wanneer hulle op die bus ry en passasier- en voetgangerveiligheid is beklemtoon.
Met die ontvangs van hul Go George-geskenksakkies het 'n paar kinders die opvoedkundige items wat hulle verlede jaar by Go George gekry het, gou gaan haal en kom wys.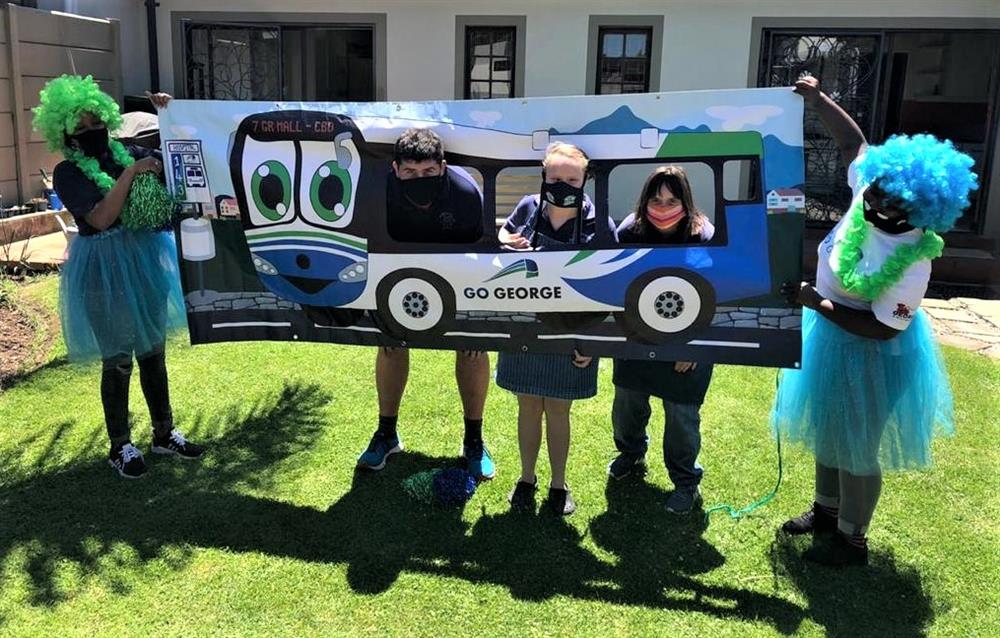 "Nou was ons almal op die bus!" Die fotobanier was 'n groot treffer tydens Go George se besoek aan die Up with Down's-sentrum.
Volgens James Robb, Go George-bestuurder, is die ontwerp van die busdiens gebaseer op die beginsel dat universele toegang in alle sfere van die lewe nie 'n voorreg is nie, maar 'n reg, verskans in die Grondwet.
"Go George as 'n openbare vervoerdiens het ten doel om so inklusief en toeganklik moontlik vir die hele gemeenskap te wees, en dit sluit mense met verskillende kategorieë spesiale behoeftes in," sê hy.
Verskeie skole en organisasies wat spesifiek voorsiening maak vir die behoeftes van mense met gestremdhede word by die busdiens se uitreikprogram vir die jaar ingesluit, en veral in November, die maand vir die bewusmaking van die regte van mense met gestremdhede.
Hierdie leerders by die Up with Down's-skool in Blanco het hulle gate uit geniet om die danspassies saam met hom te leer.
'Ons bring jou die nuutste George, Tuinroete nuus'