TUINROETE NUUS - Die Trans- en LGBTI-gemeenskap van George het verlede week die geleentheid gehad om oor al die kwessies wat hulle raak te gesels.
Gita November van Trans Tech SA het die gesprek gelei. November het kom gesels oor die pad wat sy moes loop om uit te kom by aanvaarding en om net haarself te wees.
Sy is die baasbrein agter Trans Tech SA en hoop dat die organisasie ander transvroue en -mans asook die homoseksuele en lesbiese gemeenskap die nodige ondersteuning sal gee wat hulle dalk nie in hul eie gemeenskappe kry nie.
November het ook gesels oor die gesondheidsorg vir die gemeenskap, of liewer die leemte daarvan in George. Van die kwessies was die 'onwettige' medikasie wat van die transvroue drink sodat hulle borste kan ontwikkel, hul baard kan verdwyn en hul stemme meer vroulik kan klink.
November was baie bekommerd oor dit, en het gesê dat diegene wat sulke medikasie gebruik meer skade as goed doen. Sy het gesê hulle sal soek na 'n dokter in George wat die pad saam met hulle kan stap, wat die regte medikasie kan gee sonder enige oordeel.
"Dis genoeg dat ons van kleins af reeds veroordeel is omdat ons nie volgens gemeenskapstandaarde inpas nie. Nou moet ons ons gesondheid ook in gevaar stel net om meer soos onsself te voel en lyk."
Jamin Davids, Foxi Griffin Brown (Jolin Hobbs) en Carly-Lee Adams het lekker saamgesels.George se eie Lady JoJo was ook daar en het sy opinie met die groep gedeel. Jonathan Fortuin, bekend as JoJo, sê wat en hoe hy aantrek moet hom nie in 'n boks plaas nie. JoJo sê ook sy sosiale mediaplatform, The Dawn, gee transgender mense 'n uitlaatklep om hul stories te deel. "The Dawn gaan van dorp tot dorp in die Tuinroete-distrik om stories te soek, nie net negatiewe stories nie, maar ook suksesverhale."
Wat JoJo en November met Trans Tech SA wil vermag is om 'n openlike gesprek te begin waar hulle insette kan lewer oor die kwessies wat hulle raak.
Hulle het ook werkloosheid aangeraak wat blykbaar baie van die lede werkloos laat omdat hulle vir onderhoude genooi word, maar nooit enige terugvoer kry nie. "Hoekom moet iemand soos 'n man aantrek as sy as vroulik identifiseer net om ander mense gemaklik te laat voel?" was een van die warm onderwerpe.
November sê hulle gaan begin volgende jaar Trans Tech SA se hoofkantoor in George open en hoop om so 'n groot verskil te maak.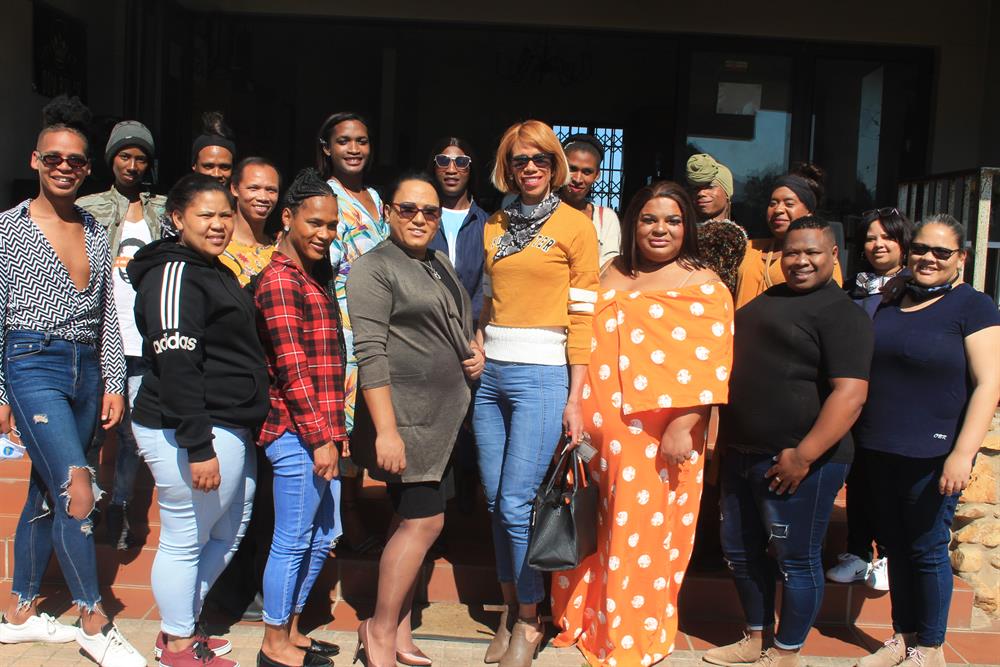 Die Trans en LGBTI-gemeenskap van George het openlik gesels oor al die kwessies wat hulle raak.
'Ons bring jou die nuutste George, Tuinroete nuus'