WESTERN CAPE NEWS - The Western Cape Government has worked hard to bolster its tracking and tracing systems, in an effort to contact every person who tests positive.
Our tracking and tracing efforts include:
- Tracing teams in each sub-district
- Community healthcare workers in communities
- The Track and Trace electronic platform, linked to the NICD and NHLS which allows us to easily communicate with people who have signed up on the platform. This is an opt-in service.
- Our call centre has been brought on board who are able to make approximately 1000 calls per day for cases and their contacts.
One of the stumbling blocks we have with tracking and tracing is that people either supply the wrong telephone number, or we cannot reach them when we call. It is imperative that if you do present to one of our healthcare facilities for a test, that you provide us with an accurate and correct telephone number and address.
These allow us to alert you should you be positive and give you the correct advice regarding self-isolation, medical care and link you with our quarantine and isolation facilities.
Update on the coronavirus by Premier Alan Winde
As of 13:00 on 15 July, the Western Cape has 14 470 active cases of COVID-19, with a total of 80 656 confirmed cases and 63 731 recoveries.

Western Cape figures: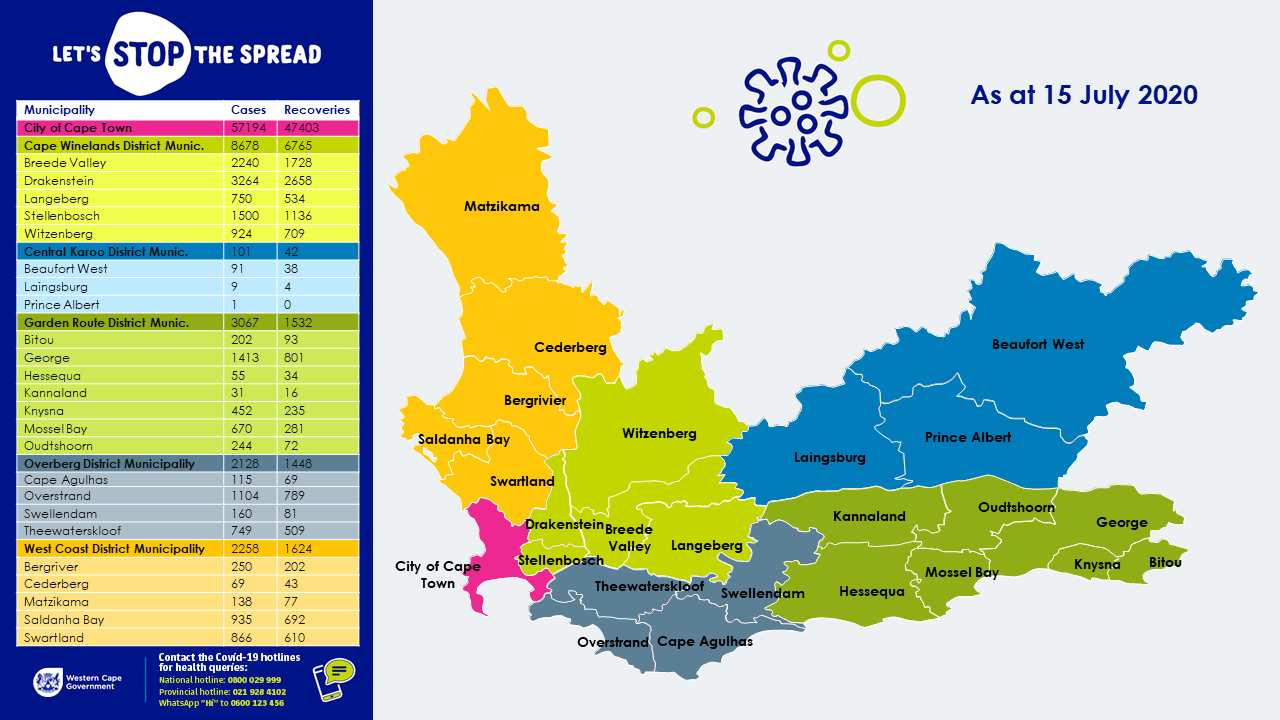 Data note: As the province moves closer to the peak and the Department of Health is recording over 1000 new cases daily, it is not possible to check and verify that the address data supplied for each new case is correct, within the time frames required to provide regular and timely updates.
This means that in some instances, cases could be allocated to the wrong sub-districts. We are working with the sub-districts to clean and verify the data and where errors are picked up locally, cases will be re-allocated to the correct areas.
Unallocated: 7230 (4917 recovered)
The Western Cape has recorded an additional 39 deaths, bringing the total number of COVID-19 related deaths in the province to 2455. We send our condolences to their loved ones at this time.
Masks for Madiba:
I would like to remind residents about our Masks for Madiba donation drive which aims to distribute masks to communities across the province, and which can help support small businesses with an income during this difficult time.
Those residing elsewhere in the province, can pledge a cash amount, which will be used to purchase masks from small businesses and makers through the Maskathon Challenge.
To pledge your donation, fill out the pledge form here.
Wearing a mask is one of the key steps in protecting ourselves and others from contracting COVID-19. Ensuring that our most vulnerable have access to masks is a way to show care at this time, and it can help to save lives.
I thank those who have already made their donations and pledges and I encourage everyone to round up their friends, family members and colleagues to see if together you can pledge 67 masks for Madiba this Mandela Day.
Mask wearing:
As President Ramahosa indicated on Sunday, regulations on mask wearing are now stricter, and access to public places will not be allowed without one.
Every one of us should wear a mask whenever we leave home.
The correct use of masks is important. Cloth masks must be clean when worn and they must cover both the nose and the mouth to ensure that spreading of respiratory droplets is reduced.
Don't touch the mask while you are wearing it, and only ever put it on and take it off by the straps or strings.
Wash your hands before and after putting your mask on and ensure that you wash it in warm, soapy water after wearing.
It is advisable for each person to have two masks- one to wash and one to wear.
'We bring you the latest Garden Route, Hessequa, Karoo news'