GEORGE NEWS - Two teachers at Thembalethu Primary School have came out tops at the Eden and Central Karoo District's National Teachers Awards held in Oudtshoorn recently.
Mthunzi Ngwane won the category Technology Enhanced Teaching and Learning, while Nomsa Charlie won an Excellence Award for Primary School teaching.
The awards are held annually on provincial and national level to appreciate and encourage those teachers who go beyond the call of duty to help learners achieve great results in their school work.
The teachers say they are happy and proud to have won these awards for their school. Ngwane's achievement has earned him a ticket to Cape Town where he will be representing the district in the provincial leg. He thanked everyone he works with at the school for their support.
"I also want to thank the learners that I am teaching. I know if it weren't for them I would not have been receiving this award," said Ngwane.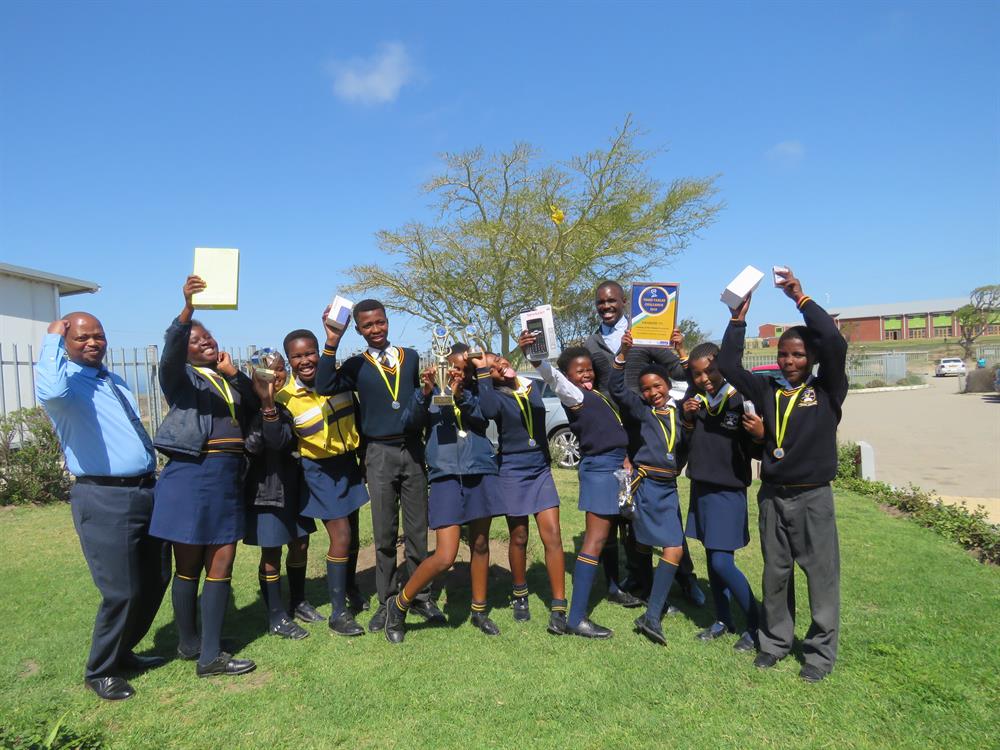 Principal Bathini Tyesi (left) with the winning learners. From left are: Amahle Mbula, Okuhle Sihlobo, Lathithaa Gungqwa, Emihle Siholoholo, Siyolise Gadaza, Asisipho Linoga, Mthunzi Ngwane (teacher), Ziyanda Luvatsha, Phelokazi Siholoholo and Luyolo Mbudede.
Olico Maths Competition
The teachers are not the only ones who recently brought home awards to Thembalethu Primary School. Twenty-two learners from the school entered the Olico Maths Education times table challenge, which was held on Saturday 14 September at the University of the Western Cape.
Ten learners from the school were awarded for best performance and Grade 7 learner Amahle Mbula (13) was crowned the overall winner.
The learners won prizes such as calculators and tablets that will help them with their academics.
Olico Maths Education is an organisation that utilises technology and tutoring to make maths make sense to learners attending under-resourced schools.
'We bring you the latest George, Garden Route news'