Gallery
GEORGE NEWS - Rallying the community to get rid of a local litter problem is not only leaving the Hoekwil and Touwsranten areas clean, but has also enabled the establishing of a soccer training clinic.
Residents rolled up their sleeves after a Hoekwil resident, Laurell Pelser, noticed in August 2019 that litter was becoming an issue in both Hoekwil and Touwsranten and decided to do something about it.
In conjunction with the Hoekwil Ratepayers & Residents Association (HRRA), the local ward councillor and children from the Touwsranten community, a major clean-up was organised along the Hoekwil Road and in an around Touwsranten, including the Seven Passes Road where there was a fly-tipping problem.
A skip and 700 black bags were filled and disposed of at the clean-up, and an informative talk about the environment was given to the 42 children who helped.
Photo gallery: Cleaning Touwsranten for football
Pelser spread the word about the clean-up on behalf of the HRRA and numerous residents saw the benefit of contributing a small monthly amount to pay a "litter crew" that collects, bags and disposes of the litter in Hoekwil and Touwsranten. The programme is going from strength to strength and it is hoped that it could be used as an example in other communities.
Many children from the community joined in the clean-up.
Saving for soccer
The litter crew is run by Touwsranten resident Johlene Buys and seven teenagers, who are saving up the money they receive for the monthly clean-up to start a soccer training clinic.
The children have also taken the initiative to pick up litter in their community every day after school, teaching other children and adults alike about the benefits of living in a litter-free environment. This has inspired more children from the community to join in and help clean up their community after school.
According to Pelser they will continue with the clean-up once a month, and will increase it to twice or even three times a month if they get further support from the community or local business.
She says not only does the initiative help to keep the environment clean, but the youth are learning that through their hard work they are able to start initiatives like the soccer clinic and at the same time make a difference.
After five months enough has been saved to have the soccer clinic up and running in mid-April, with children from the Touwsranten and Hoekwil community joining. This will bring children from both communities together to play and learn.
People who would like more information or want to join the project, can send an e-mail to Laurell at laurell.pelser@gmail.com or phone her on 044 050 1900.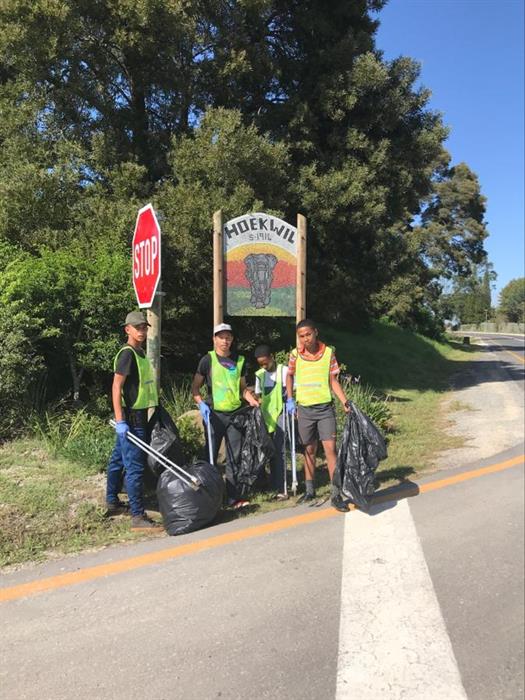 Residents of Touwsranten rallied to keep their environment clean.
'We bring you the latest George, Garden Route news'