WESTERN CAPE NEWS - Earlier today, Minister David Maynier announced a R27 million Business Relief Fund which is aimed at supporting small businesses in both the informal and the formal sector, which have been impacted by the Covid-19 restrictions.
The fund will provide financial assistance in the form of a financial grant to businesses who can apply to either the formal or informal business category.
The grant will be used exclusively to subsidise business expenses such as fixed costs, operational costs, supplier debt and other pressure cost items.
The lockdown has had a significant impact on businesses across the province and we know that this time has been a particularly difficult time for small businesses, in both the formal and in the informal sector.
The Western Cape Government has committed to focusing on jobs, dignity and safety in our recovery and the announcement of this relief funding will support job-creating small businesses at a time when we must do everything to save jobs.
I encourage small businesses who have been impacted by the lockdown to apply for this grant. You can do this by clicking here.
Covid-19 update:
As of 13:00 on 22 September, the Western Cape has 2 501 active cases of COVID-19, with a total of 108 900 confirmed cases and 102 266 recoveries.

Data note: It is not always possible to check and verify that the address data supplied for each new recorded case is correct, within the time frames required to provide regular and timely updates. This means that in some instances, cases could be allocated to the wrong sub-districts.
We are working with the sub-districts to clean and verify the data and where errors are picked up locally, cases will be re-allocated to the correct areas.
The Western Cape has recorded an additional 13 deaths bringing the total number of COVID-19 related deaths in the province to 4133. We send our condolences to their family and friends at this time.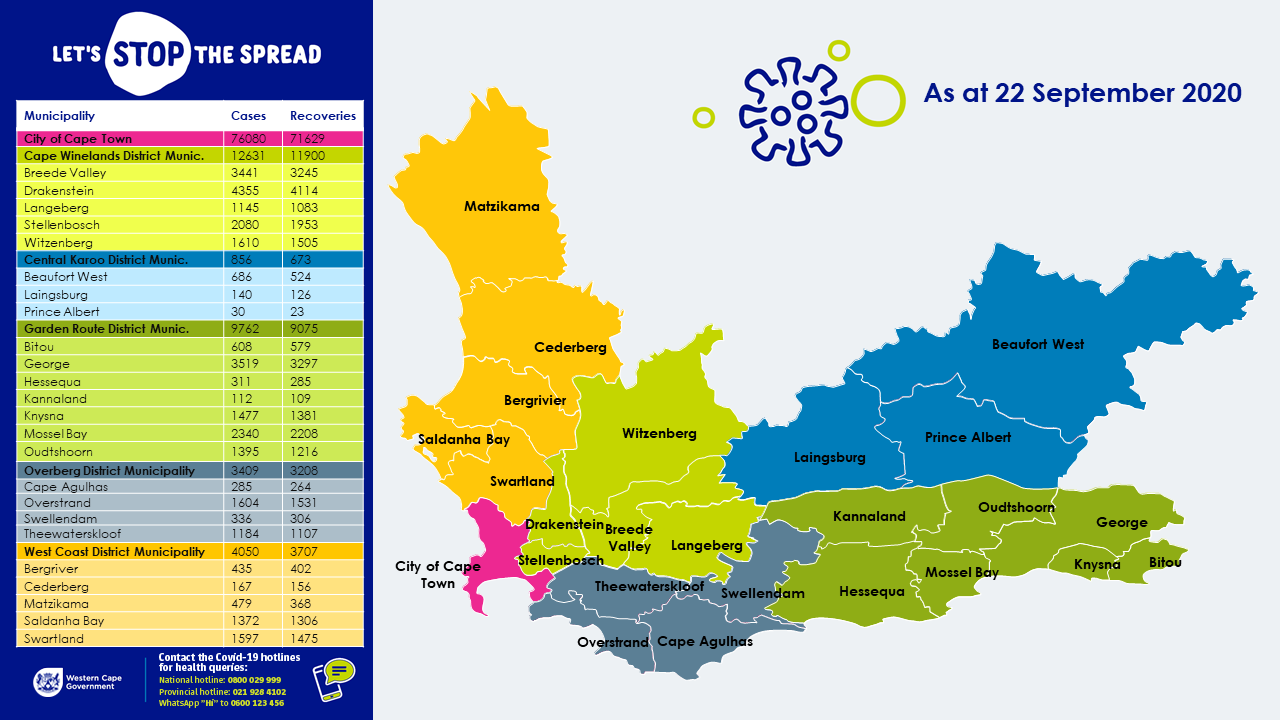 Sanitary Dignity Project:
The Department of Social Development, under the leadership of Minister Sharna Fernandez, also launched the Sanitary Dignity Project today. The first delivery phase started on Friday and so far, almost 2 million pads have been delivered to approximately 90 000 learners in 221 schools across the province.
In line with our data-led approach to governance, the Department analysed school attendance and retention rates for learners in grades 4 to 12 in quintile 1-5 schools to identify participating schools.
Both no-fee and paid schools have been chosen, with a particular focus on schools in rural areas, and special needs schools.
It is important to us as a government as we plot our post-Covid recovery, that the people of this province live with dignity. The provision of sanitary hygiene products to learners, addresses a basic human need, while at the same time addressing stigma, promoting learner well-being and removing a potential barrier to learning.
'We bring you the latest Garden Route, Hessequa, Karoo news'