WESTERN CAPE NEWS - Premier Alan Winde went on a site inspection of the Brackengate temporary hospital today, 1 July, which has officially been handed over from the Department of Transport and Public Works to the Department of Health.
All construction is now complete, and the Department of Health team are busy installing beds, and ensuring that all the systems are functioning and in place to receive their first patients on 10 July.
This 330 bed intermediate facility will provide medical care including oxygen, x-rays, and sonar for patients who are on the way to recovery but still need medical care. It also contains eight beds where high flow oxygen treatment can be administered.
The design flow of the facility, its paperless systems and its waste management system are all designed to reduce the risk of infection on site.
The IT system will also allow patients to video call their families and loved ones as visitors are not allowed.
This will be the province's third completed field hospital- after the Khayelitsha Thusong hospital and the CTICC Hospital of Hope.
The facilities allow us to still provide care to those who need it, while opening up acute care beds in our hospitals.
While the other two are not close to reaching capacity, opening up these sites allows us to also ensure that we are able to spread out the patient load, and ensure that the staff in any one facility do not become overwhelmed.
Today, the Department of Health also launched its Bed Bureau- an online bed management tool which allows them to track how many beds are available in any of our facilities and ensure that we are able to effectively and efficiently manage admissions and patient transfers.
I would like to extend my thanks to all of the people involved in bringing this project to fruition, who have worked long hours, with tight deadlines to ensure that we are able to provide hospital beds and care when they are needed.
I also want to send my thanks to the healthcare workers, from the doctors and the nurses to the technicians, pharmacists, porters, cooks and cleaners who will be working to make this hospital, and all of our other hospitals and healthcare facilities, beacons of hope and recovery. Your selflessness and your service to the people of this province must be applauded.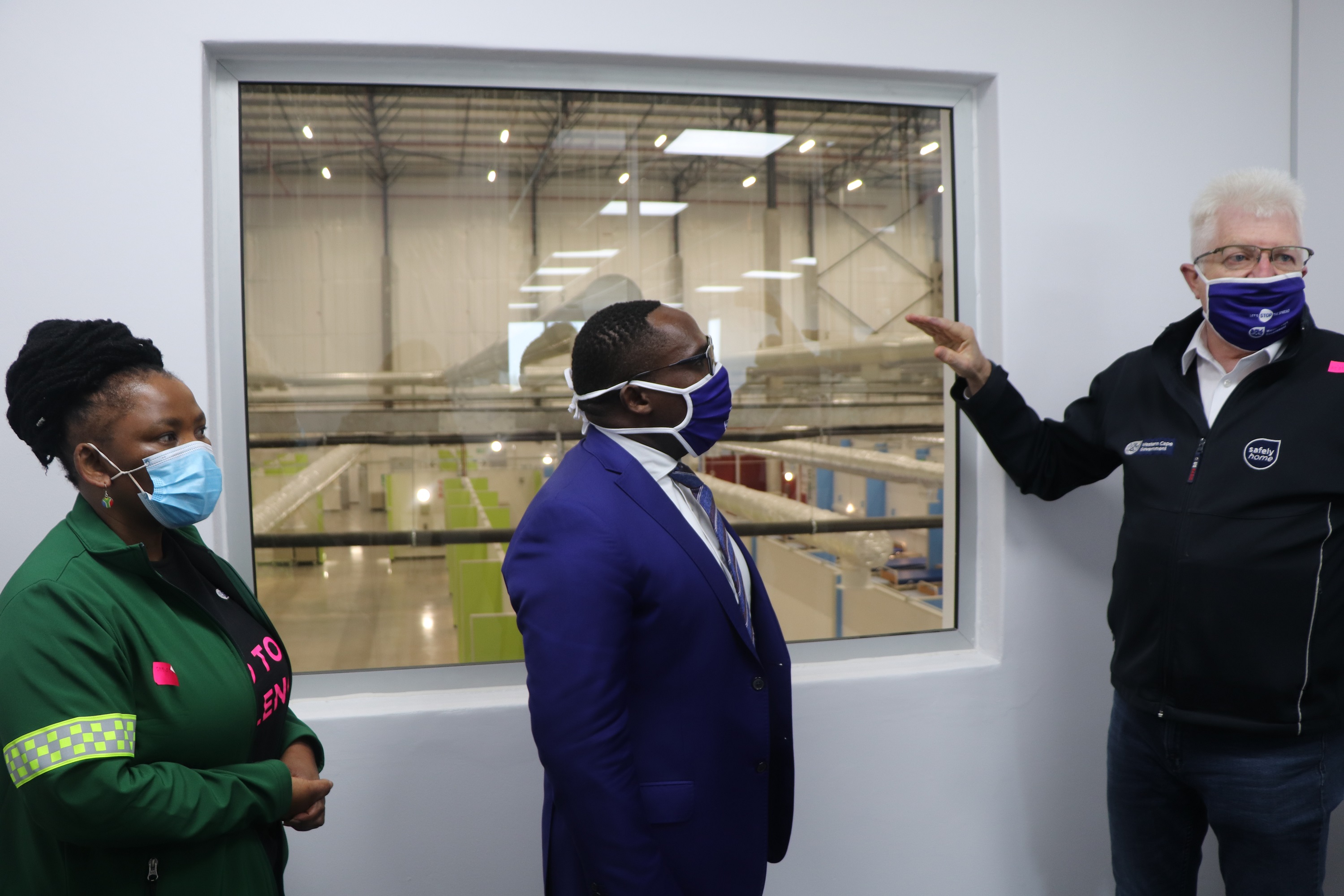 Premier Alan Winde, Minister Nomafrench Mbombo and Minister Bonginkosi Madikizela get a birds eye view of the Brackengate hospital, due to open on 10 July.
First Thursday:
Tomorrow, the Premier will be back in studio at Bush Radio for a live First Thursday Q and A between 6 and 7pm.
"When I became Premier, I committed to an open government with regular opportunities to engage me and members of my executive. While COVID-19 means it will be a while before we can host events again, our regular radio slot still allows me the opportunity to engage with members of the public and respond to questions and issues.
"I invite everyone to listen in- either on Bush Radio or one of the simulcast stations, or to the live stream on my Facebook page.
"You can call in on 021 448 6266, WhatsApp on 061 862 1065 or SMS keyword Covid-19 to 32158 followed by your question, name and area. Each SMS costs R1.00.
Western Cape Covid-19 update:
As of 13:00 on 1 July, the Western Cape has 17 019 active cases of COVID-19, with a total of 63 816 confirmed cases and 44 938 recoveries.

Unallocated: 6431 (3170 recoveries)
Data note: As the province moves closer to the peak and the Department of Health is recording over 1 000 new cases daily, it is not possible to check and verify that the address data supplied for each new case is correct, within the time frames required to provide regular and timely updates.
This means that in some instances, cases could be allocated to the wrong sub-districts. We are working with the sub-districts to clean and verify the data and where errors are picked up locally, cases will be re-allocated to the correct areas.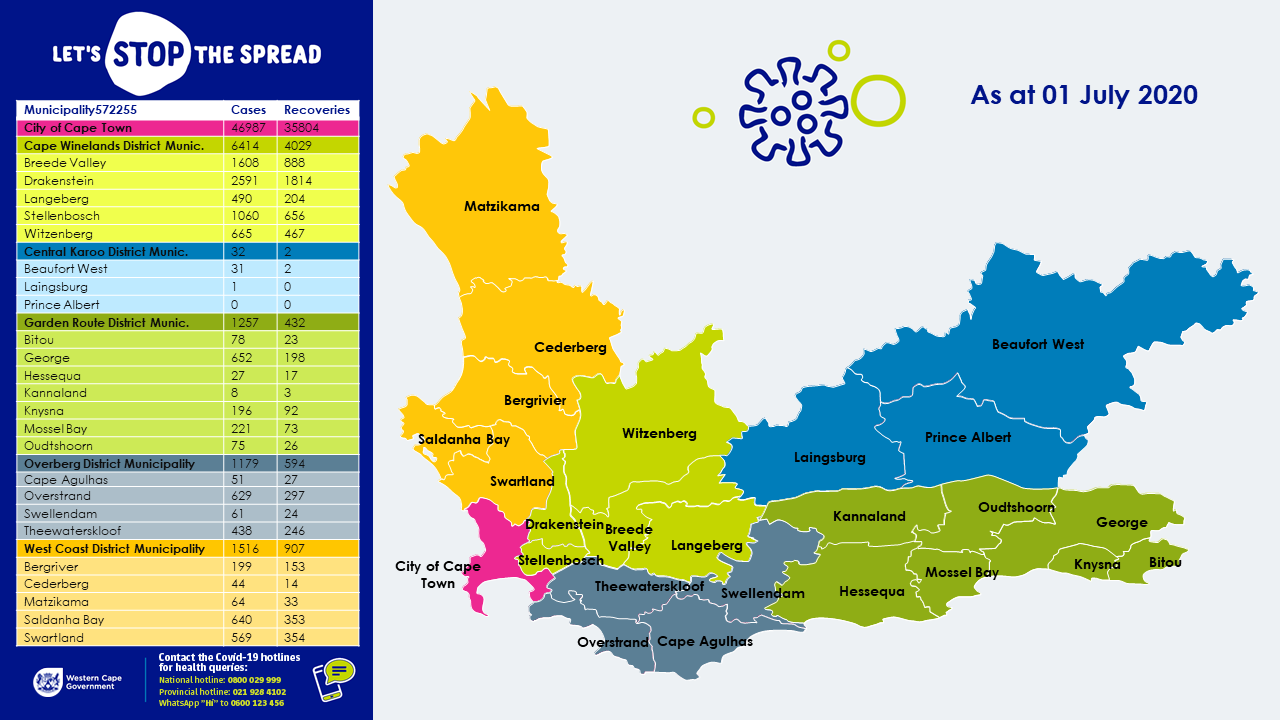 The Western Cape has recorded an additional 35 deaths, bringing the total number of COVID-19 related deaths in the province to 1 859. We send our condolences to their loved ones at this time.
Today's online dashboard reflects 1 854 deaths - however this is an error due to a data feed issue. The correct number is 1 859 as reflected above.
'We bring you the latest Garden Route, Hessequa, Karoo news'