GEORGE NUUS - Drie mans het die afgelope week in die hof verskyn ná twee afsonderlike voorvalle van beweerde dwelmhandel in George.
Op Donderdag 30 April is twee mans uit die Oos-Kaap deur lede van die polisie en die Valke in hegtenis geneem ná 'n jaagtog deur die strate van Conville.
Dagga met 'n straatwaarde van sowat R700 000 is in hul besit gevind waarna twee voertuie, 'n Toyota Avanza en 'n Ford Ranger-bakkie ook gekonfiskeer is.
Die verdagtes, Lindela Lofanie (41) en Mkhululi Khamba (33), het Maandag 4 Mei in die Thembalethu-landdroshof verskyn waar die saak tot 30 Junie vir verdere ondersoek uitgestel is. Albei is op borgtog van R2 000 elk vrygelaat.
In 'n afsonderlike voorval is 'n 37-jarige man op Woensdag 6 Mei in Yorkstraat met sowat R150 000 se Mandrax-tablette in sy besit betrap.
Volgens 'n woordvoerder van die Valke, luitenant-kolonel Philani Nkwalase, spruit die arrestasie uit 'n geïntegreerde intelligensie-operasie deur lede van die Valke, George en Oudtshoorn se eenhede vir misdaadintelligensie, asook die Tuinroete-distrik se eenheid vir misdaadvoorkoming.
Nkwalase sê hulle het 'n wenk ontvang waarna die man, wat vanuit Johannesburg na George gekom het, met drie pakke Mandrax-tablette in Yorkstraat vasgevat is.
"Die Mandrax-tablette was versteek in 'n aartappelsak agter in die man se voertuig," het Nkwalase gesê.
Die verdagte het kort na sy inhegtenisname in die George-landdroshof verskyn waar hy op borgtog van R5 000 vrygelaat is. Die saak is tot 30 Julie vir verdere ondersoek uitgestel.
*Die identiteit van die verdagte in die Mandrax-voorval is bekend aan George Herald, maar word op versoek van die Valke in hierdie stadium weerhou.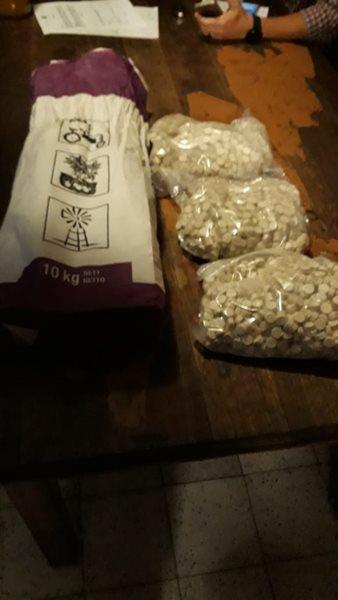 Die Mandrax-tablette wat in die voertuig gevind is.
Three people who have been arrested in two separate incidents of alleged drug dealing in George, have been released on bail. Lindela Lofanie (41) and Mkhululi Khamba (33), who were arrested in Conville on 30 April, were released on bail of R2 000 and were warned to appear in court on 30 June. Another suspect who was arrested in York Street after three bags of Mandrax tablets were found in his car, will appear in the George Magistrate's Court again on 30 July. He was released on bail of R5 000.
Lees 'n verwante artikel: Dagga busts during joint efforts
'Ons bring jou die nuutste George, Tuinroete nuus'