Video
GEORGE NUUS EN VIDEO - Die huishouding van Rein en Gerie Buisman van Kraaibosch-landgoed is 'n toonbeeld van 'n omgewingsvriendelike leefwyse.
Met vier 5 000 liter-watertenks het hulle nie 'n druppel munisipale water nodig nie en twee sonkragpanele sorg vir warm water vir twee geisers.
"Ons drink al vir 21 jaar lank onbehandelde water. Die reënwater gaan deur 'n filter wat ek een keer per jaar vervang," vertel Rein geesdriftig.
Hy het gesorg dat die vier watertenks almal op dieselfde vlak opgerig is en hulle is ondergronds met mekaar verbind.
As een tenk dus meer water as die ander een opvang, loop dit deur na die ander sodat die watervlak in almal dieselfde bly.
Die egpaar het 21 jaar gelede as nuwe intrekkers in die Tuinroete in Langvlei-duine huis opgesit toe daar nog niks was nie.
'n Karavaan was aanvanklik hulle blyplek totdat hulle klaar gebou het. Hulle was heeltemal selfvoorsienend.
"Ons was soort van pioniers. Daar was nie eers 'n pad na ons plot toe nie," vertel Rein, op 81-jarige ouderdom nog sterk en fiks.
Kyk 'n video hieronder:
Benewens werk aan die pragtige inheemse tuin wat hy geskep het by hul nuwe tuiste in Kraaibosch waarheen hulle twee en 'n half jaar gelede verhuis het, het Rein ook die amptelike 'agent' geword wat die landgoed se pampasgras in toom hou - op 'n vrywillige basis.
In Februarie en Maart, wanneer die pampas se pluime geil begin staan, trek Rein sy waterstewels en rubberhandskoene aan en gaan maak oorlog teen die ongewenste indringers.
Rein verduidelik hoe hy die watervlak in sy tenks dophou. Foto's: Alida de Beer
"Dit moet gedoen word voor hulle saad in die wind begin versprei. Ek haat die goed," sê hy driftig.
Hy sny die pluime af en dit word in 'n swart sak gesit voordat hy 'n mengsel wat diesel bevat met 'n kwas daarop spat. 'n Paar weke later maak hy weer 'n draai om te sien of die plant gevrek het.
Rein se ywerige tuinmakery het hulle erf van 'n moeras in 'n pragtige lushof omskep.
Tydens die George Herald se besoek aan hulle verlede week, was daar volop baldadige kleur.
Negentig persent van die plante is inheems.
Rein pak die pampas.
Daar is 'n welige groente- en kruietuintjie en bykans 30 Ericas wat voortdurend sorg vir kleur. In die helder water van 'n dammetjie blits klein vissies rond tussen die waterlelies.
Rein het 14 inheemse bome in die tuin en die vleigebied waarop hul huis uitkyk geplant en hy versorg almal self.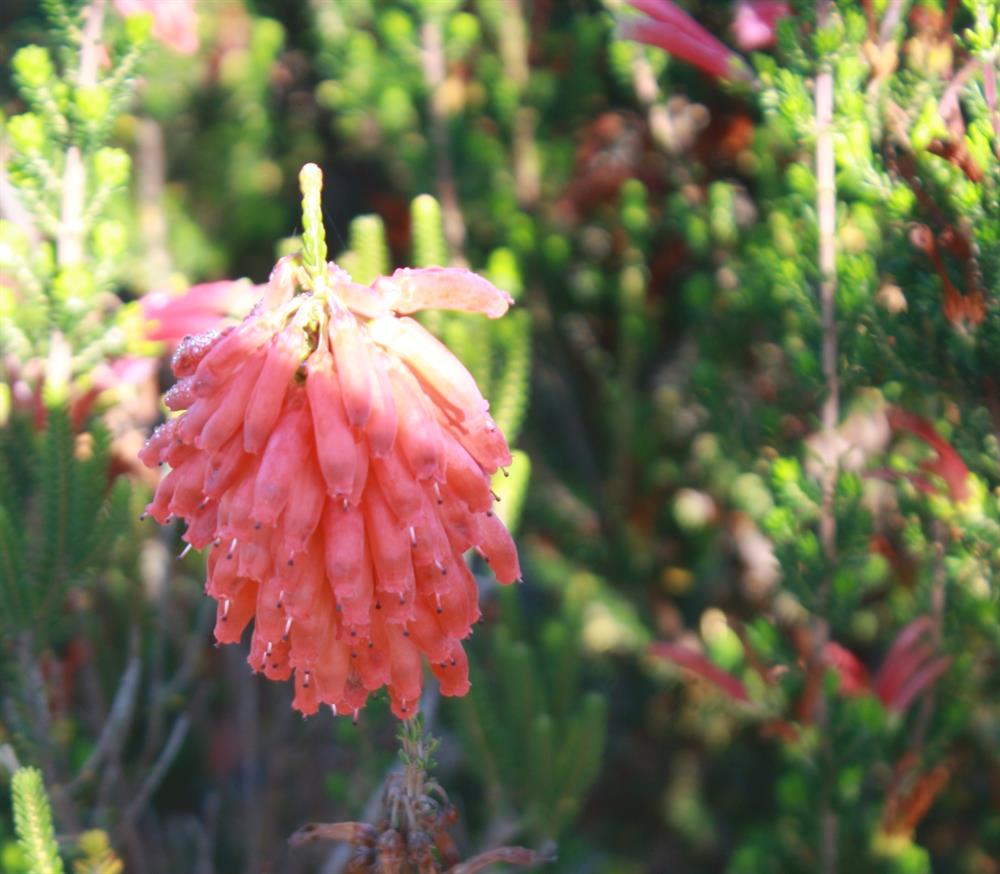 Die Ericas verskaf groot plesier in die Buismans se tuin.
Talle emmers water is al aangedra na die bome ver van die huis af, sê Gerie (ook op pad na haar 80ste verjaardag), duidelik trots op haar man se ywer. (Sy maak verskoning vroeg in die kuier, want sy is op pad gimnasium toe.)
Geen organiese materiaal gaan munisipale vullisterrein toe nie. Kombuisafval word verdeel tussen drie erdwurmstasies, 'n komposhoop en die jong bome 'n entjie verder van die huis.
Wat herwinbaar is, herwin hulle en gevolglik neem dit die Buismans drie of vier weke om 'n vullissak vol te maak.
Die Buismans se lewenslus, entoesiasme en verantwoordelike lewenswyse laat jou met 'n gevoel van verwondering wegry van hul blyplek waar jy elke hoekie deur die spreekwoordelike ring kan trek.
Hulle laat jou glo 'n mens is inderdaad nooit te oud nie.
''Ons bring jou die nuutste George, Tuinroete nuus'